MsgClub team members have made the task of sending bulk SMS very easy for their users. However, this spreadsheet add-on seamlessly integrates with Google Spreadsheet and enables clients to send text messages to hundreds of customers across the world from their desktops.
5 Incredible Features of our Bulk SMS Google Spreadsheet Add-On
Send SMS-
Get a chance to make your communication effective! Our Bulk SMS Google Spreadsheet add-onhelps you to reach out thousands of customers in one go. All you need to fill in some important credentials like Sender ID, Display service name, SMS route and more. Once you have submitted it, your SMS gets automatically sent to the customer's mobile number without any delay.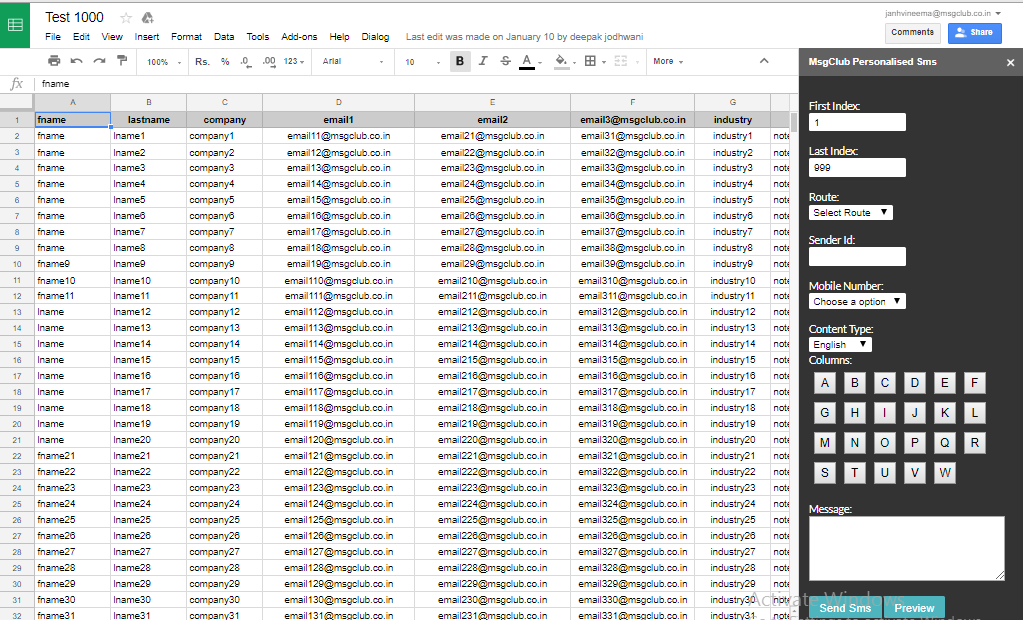 Send Personalised SMS-
Every business owner wants to convey information to a number of customers. By configuring personalize SMS on our panel, they allowed to send personalized SMS to each customer. With this feature, each customer unique information will automatically convey to them. This personalization helps businesses to build a healthy relationship with every customer.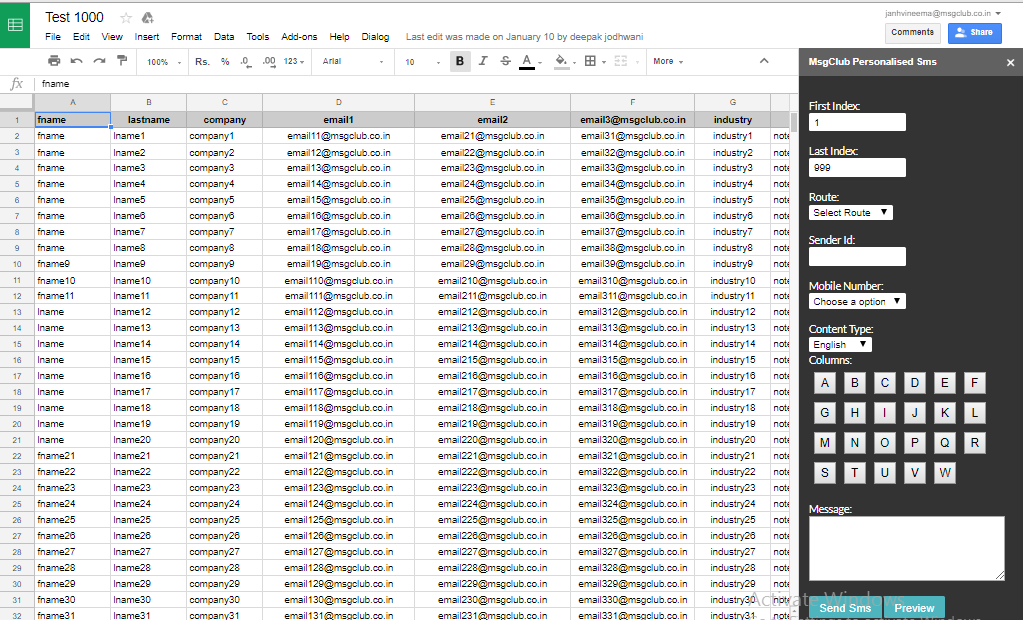 Schedule SMS-
In case, if you have workload and wants to convey information to all customers at a certain period. You can use schedule Send SMS From Google Spreadsheet option on Google Spreadsheet so that your text message gets automatically sent on filled date and time.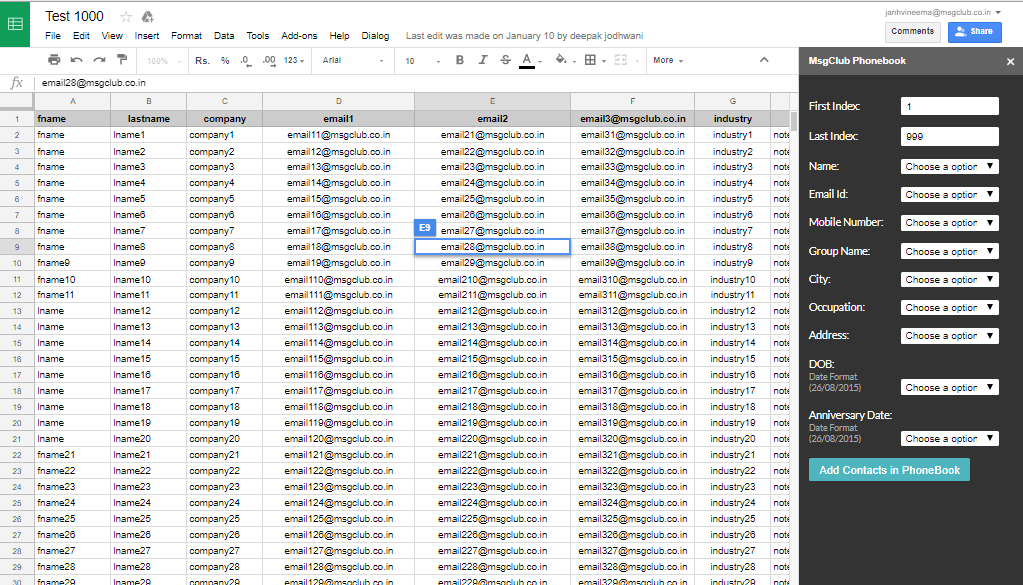 Add Contact to Phone Book-
You can manage your all contact information of people by saving new contacts from Google Spreadsheet data in our address book. Your contacts will automatically import into MsgClub panel so you need to upload it again and again for SMS marketing process.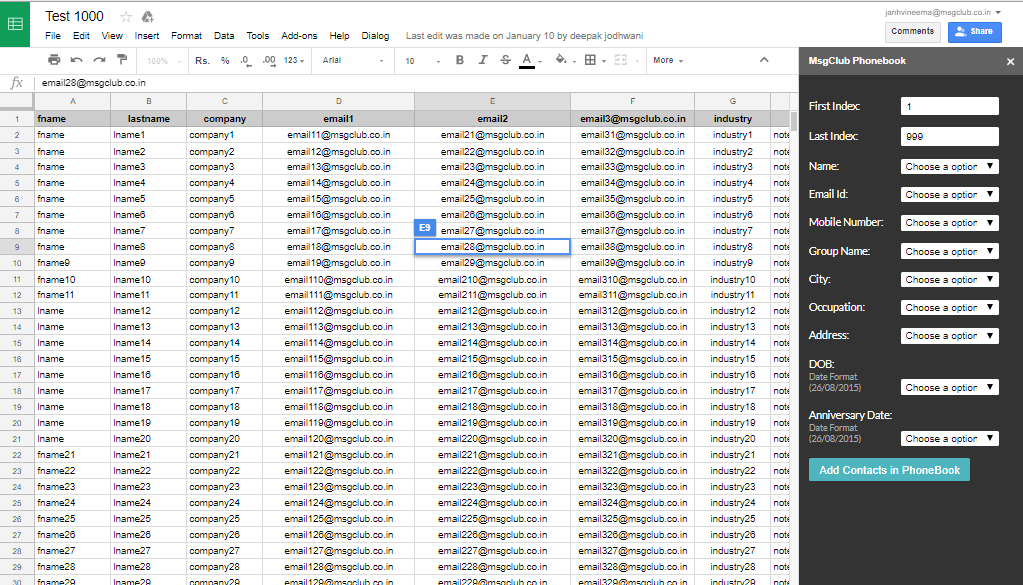 Apart from that, you can also use these two option to make your task complete in minutes.
Send SMS and Add Contact To Phone Book-
Make your task easy without wasting time & effort. Configure Send SMS and Add contact to phonebook simultaneously in Bulk SMS Google Sheets Pluginfor the smooth functioning of your company's mobile marketing.
What are you waiting for start sending, start adding contacts in a single step!
Send Personalised SMS and Add Contact To Phone Book–
Give a personal touch to your customers, employees and other members by sending custom SMS about any transaction, payment due, alerts, reminders and more. Similarly, update your phonebook with a new database that directly comes from Google spreadsheet. Our robust web interface will automatically add all contact details in MsgClub's Phone Book.
At last, if you have any query regarding the configuration of our Spreadsheet add-on feel free to contact our team members! They're ready to assist you anywhere at any time.
Contact us to get more innovative solutions of our company, MsgClub!