In this Era where technology has made the whole world a global village, where millions of people have easy access to information, it is very sad to learn how so easily people turn a blind eye to the deteriorating environment and excessively using the nature, knowing the fact that soon we will not have any natural resources to use.
Nowadays, to become eco friendly is a tough task for every one because the lifestyle, we have adopted is not allowing us to Go Green or to think about environment. But it is very essential for us to save environment.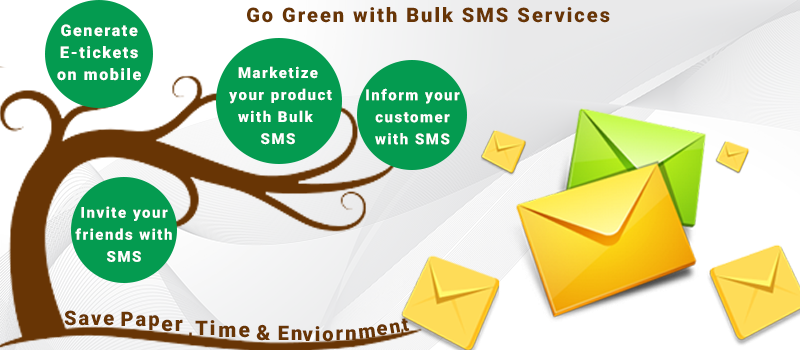 Now it is very important to use the available natural resources wisely. For that we should take advantage of our technology. In which SMS industry can play a big role to save environment. Bulk SMS can help us to contribute some how to save our environment.
As we all know paper is made from wood or log(is a natural resource). so to minimize the use of paper will help us to save trees and this will be possible by using SMS services.
Send SMS tickets on mobile phone rather than giving paper tickets.
Yes, Recently Government is planning to give SMS tickets in place of paper tickets in railways. Though to break this traditional way is quite tough, many questions have already raised in the minds of people that how this will execute and what if any one is not having mobile phone.These all can be solved, if we want to do so.
Talking about facts and figures, In reality 6 lakhs paper tickets sold every day so to save such huge amount of paper, issue SMS tickets is the best alternative to save paper and go green.
Use of SMS →
1. To inform, advertise, marketize your product/services by SMS is best way to save paper.
2. Voting by SMS will save time and paper both.
3. Generating E-tickets on mobile phone helps to save paper.
4. Giving Invitations and Informations through SMS is the best way to save huge amount of paper.
SMS Service gives various options to send Bulk SMS, Voice SMS , Long Code  and miscall to inform, invite, promote, advertise and  market your product/services. Use technology to save our environment is the best way to do something for our environment.
For more details Contact us.