"Promote our SMS software under your brand to your customers."
If you are planning to have your own business in SMS Industry as a reseller
then you are at right place, we have Best Bulk SMS Reseller program for you.
MsgClub has designed the reseller program to provide you with an opportunity to become a reseller. You can Send Bulk SMS, personal SMS and custom SMS through our reseller panel, you can receive delivery report and scheduled report also (if you had scheduled the SMS). Our software allows you to manage client, upload client, manage website and phone book.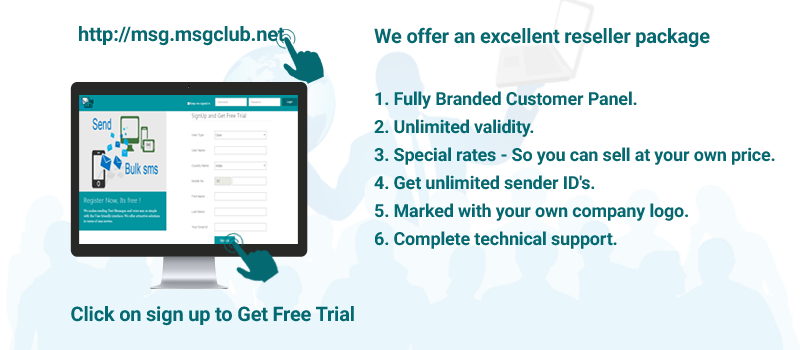 You can manage all your user accounts from your from our software with ease. Our Bulk SMS Reseller program serves SMS service,long code, miscall services, voice SMS and campaign.
With us becoming a Reseller is easy. All you have to follow some steps →
1. Click on this URL → http://msg.msgclub.net/login.html
2. This page will appear. Select user type – reseller , insert user name and all required information.
3. Click on sign up to Get Free Trial.
4. After this you will get Login details from us for Bulk SMS panel on your registered email Id and on mobile number.
5. Login into your account and start using our Bulk SMS panel as a reseller.
We offer an excellent reseller package which includes –
1. No setup costs.
2. Get unlimited sender ID's.
3. Complete technical support.
4. 100% risk free trial for the customer.
5. Simple and easy to use for the customer – Click on signup now to get registered as our reseller.
6. Marked with your own company logo.
7. Fully Branded Customer Panel.
8. Special rates – You can sell at your own cost.
9. Unlimited validity.
10. Instant activation of white labelled website – Hide your provider's identity and brand your own.
We're a leading Bulk SMS service provider offering you the opportunity to establish your own Bulk SMS business with our reliable and powerful Bulk SMS reseller package.
As a Bulk SMS reseller, you can offer our SMS program and software that allows your clients to easily send large amounts of SMS, to n number of clients. You can serve your clients under your own brand and logo, with our powerful servers, reliable networks and dependable services, all offered at low attractive rates.
To know more visit our Website.