Surely you are always bothering about route and its types ? But you never asked anyone about this and even if you asked anyone about it then you are never satisfied with the kind of answer you have received till now.
But now we will explain you about routes and its type, when to choose a particular route, How to choose that route, what happen if we choose the wrong route.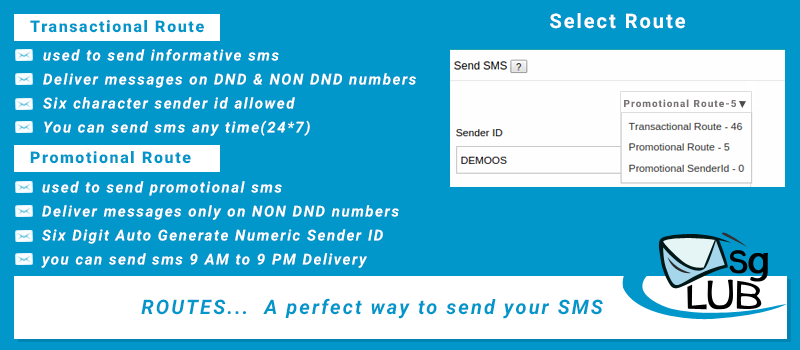 What is route
It is a way,network or path to Send SMS. You can say path from which messages are sent.
How many types of routes ?
There are two types of route.
1. Transactional route
2. Promotional route
What are these routes and when to choose a particular route ? Transactional route →To send informational sms,choose transactional route. This is used to send informative sms.
About Transactional route →
You can send SMS to your Registered user.
It is used to send informative sms (Transactional sms only)
Deliver messages on DND and NON DND numbers.
SMS Type :- Only Informative sms Allowed
SMS Time :- You can send sms any time. (24*7)
Sender ID :- Six character sender id allowed (Special character and number not allowed)
Note :-
1. Promotional content is not allowed.
2. SMS would get rejected and also would not be credited to your account.
Promotional route →To send promotional content, choose promotional route.About Promotional route →
It is used to send promotional sms.
You can do promotion of your brand or services from this route.
Deliver messages only on NON DND numbers.
SMS Type :- Any kind of sms content. Spamming not allowed.
SMS Time :- 9 AM to 9 PM Delivery
Sender ID :- Six Digit Auto Generate Numeric Sender ID
Note :-
1. Doesn't deliver on DND.
2. Spamming is not allowed. If you do then SMS will be rejected and will not be credited in your account.
How to select a route ?
While sending sms, click on the dropdown of routes present at the screen. Select the route according to the sms content you are going to send.
Example → Select transactional route, to send informative sms content.
What happen, if we select the wrong route ?
According to TRAI rules sending Promotional content from transactional route is
not allowed. It is considered as illegal activity. If you do so your SMS will be rejected by the provider end.
So we request you to please do not send the promotional sms content from the Transactional Route.
Note :- Rejected SMS are non refundable, so we are unable to re-credit those sms.
Start your free trial today. Create your account or contact our sales team. No setup cost involved !
To know more about Services visit our Website.