The Simple fact is – 'Your each customer is unique and so to convince them you need to follow different approaches and techniques.'
Then how you can identify the purchasing pattern, buying behavior of customers.
and More over how could it be possible for you to analyze each n every customer behavior as you have to make thousands of customers.
So for marketers here is the good news –
'DRIP SMS Campaign' is the perfect solution to all your problems.Then you must be thinking –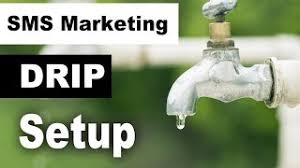 What is Drip SMS campaign?
Drip SMS campaign marketing is the concept-driven from 'DRIP irrigation'. Like Drip irrigation, Drip feed SMS campaign service works too. Automatically send a timed series of Bulk text SMS to a group of contacts via MsgClub Drip SMS campaign marketing.
Advantages of Text Drip SMS campaign –
Target your audience specifically via Drip Campaign –
Design the flow of your SMS marketing campaign, consider maximum possible ways to convert your prospects into customers. Select the status according to which, leads will be bifurcated on each step and thus your marketing campaign's next SMS will be sent automatically.This way you can capture prospects, potential buyers and nurture them over time.
Say for – You have sent the SMS to 10,000 contacts, out of 5000 opened the SMS they received. These 5000 contacts are going to get the next SMS of the campaign and rest those you didn't open the SMS you need to send SMS with different content. According to the status selected customers will be distinguished and added to the different groups. Thus drip campaign helps to send SMS as per customer's response.
Save time with text drip SMS –
Save valuable time and engage your customers by drip text SMS. Once design the flow of SMS and your whole campaign will work accordingly. Thus drip SMS marketing campaign saves your time. The automatic process requires less time and efforts ultimately leads to saving your time.
Timely send pre-written text SMS –
Design your campaign as per your convenience and schedule the drip SMS campaign. Thus you don't need to be there while you want to start your campaign, your campaign will be automatically sent on the scheduled date and time.
MsgClub Drip SMS campaign gives meaning to your campaign and fulfills its purpose. By creating multiple text message campaigns or design targeted text messages. Text SMS Drip campaign is perfect for lead capture and nurturing prospects over time. Design messages for your specific audience as per your convenient time and automated Msgclub drip SMS campaign will help you in doing so. 
To know more details visit our Website Msgclub.