Here are the top five benefits of having billing system in our Bulk SMS Software, which are going to benefit you a lot.
1. Accessibility through Single Panel→
You can Send SMS and make billing request through our Bulk SMS Panel. Now you need not to send any mail to sales person for adding balance in your account (route). All you have to add request for billing through 'Request wall' of your panel.
After that our accounts department will confirm your request and add balance in your account according to your requirement (request you had created). Use our billing system that is developed by us, for the Bulk SMS Software means now you can →
"Send Bulk SMS, make billing request and get billing details on single panel."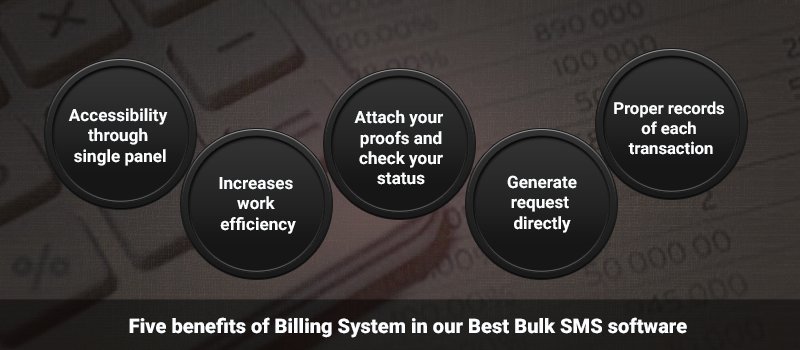 2. Increases work Efficiency →
This eliminates the tedious and lengthy process of sending details to get balance in your account. Once you request for balance through your panel, it transfers directly to accounts department through billing system on our Bulk SMS panel. No need to send mail or use any other interface, this saves your time and increase your work efficiency.
Previously, working was lengthy and tooks too much time. It involves client, account manager and accountant.
But now client and accountant can directly communicate with each other by our panel and all request, confirmation, bank details and add balance activities can be performed and seen on single panel. So that the task of adding balance become easy and quite simple. It saves time, money and efforts.which increases your efficiency.
3. Attach your proofs and check your status →
When you deposit money through any mode like cheque,NEFT, ATM, cash etc then you need to send attachments along with billing request, to get balance in your account. Through our billing system you can attach files, screenshots and pictures of the proof, that money deposited from your side.This all can be easily uploaded in JPEG format.
Client's can easily check the status of the request generated by him for adding balance in his account. It shows in three way → Requested, Processed, Cancelled.
4. Generate request for balance to Add, Move, Deduct, Recredit and Demo →
User can request for different routes to add balance in his account. And if any case user want to Move balance, deduct balance,recredit the balance or need demo then user can generate request.
The request is received by accountant through our software and accountant will permit and will perform action for that user.
5. No confusion any more / All set all clear →
Client request for balance from his panel, it is directly seen by accountant with the help our Bulk SMS admin panel software, accountant takes appropriate action on client's requirement and in this way client will get the balance in his account. No space for any misunderstanding and confusion all request and all actions are seen by client and accountant both on their respective panel's. All is set and all is clear.
These are the top five core benefits of using billing system of our Bulk SMS Software. Use it and get much more.
For More details Contact us here.