Using two-way, real-time communication through a business Bulk SMS service, your company is more accessible to customers than ever before, putting amazing experiences in their hands and building brand loyalty.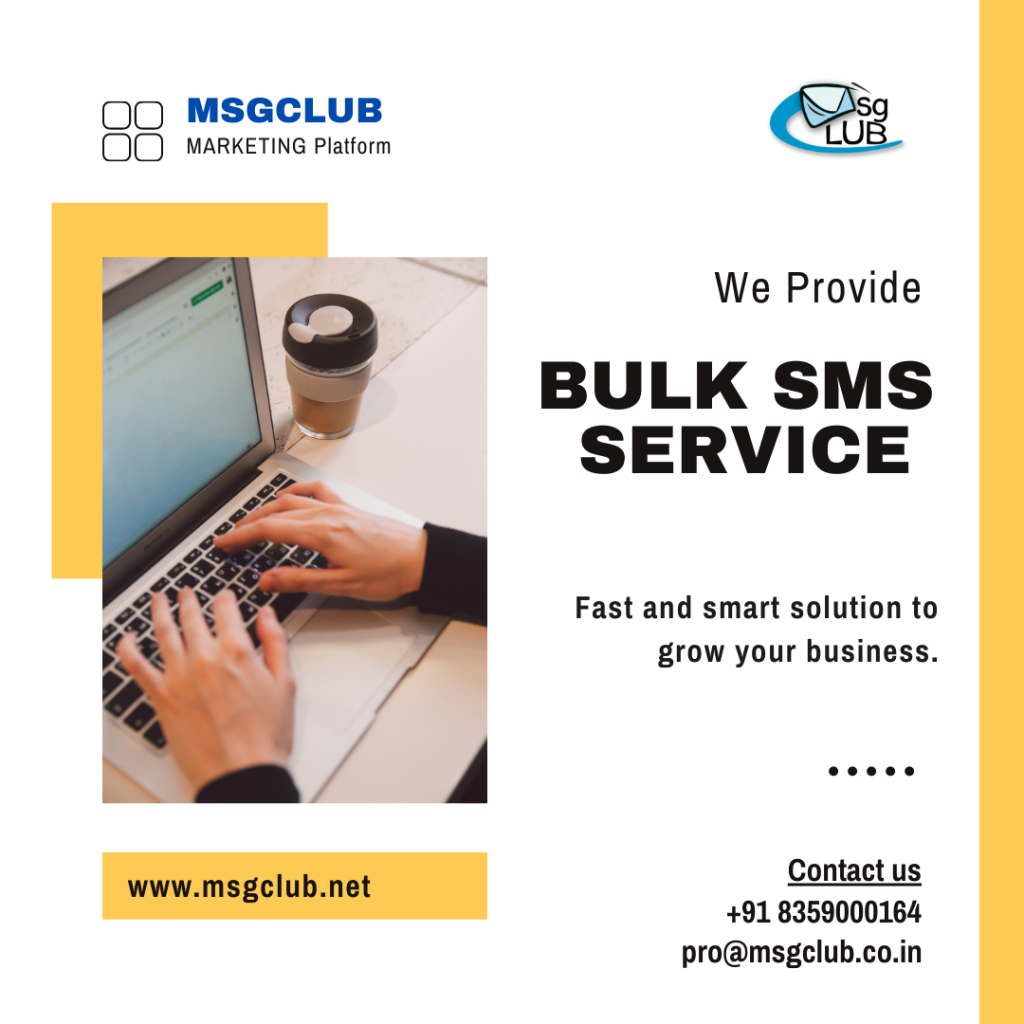 The use of business text texting is growing. Leaders in the healthcare, hotel, property management, and other sectors of the economy have realized they can engage with clients where they spend the majority of their time: on a mobile device.
A corporate Bulk SMS solution scales communication up with your company's growth. Personalization is at the heart of every message, making it simple for you to engage with both potential consumers and current ones.
Here's why you need to use a business Bulk SMS Service
1. Everyone Around the World Sends & Receives Text SMS
According to the Groupe Speciale Mobile Association (GSMA), 51% of people worldwide use mobile internet. Nowadays, owning a smartphone doesn't cost a lot of money in many parts of the world, which is why Bulk SMS is so common.
A business SMS message service will be increasingly necessary as this trend develops and more people communicate via mobile devices.
Take into consideration the fact that you, your clients, and everyone else in your life often send and receive text messages. You might only glance at your email inbox a few times a day, but you're always using a mobile messaging app to get in touch with friends, family, or coworkers.
And what's this? Customers actually favor this kind of open dialogue with your company. According to a study by SMS Comparison, 48% of consumers desire to communicate with brands by SMS.
You should use a company Bulk SMS service to attract customers. Customers are waiting for you to text them, and all it takes to start a discussion is one SMS or MMS.
2. Instantly Communicate with Your Customers
Although there are many ways to communicate nowadays, only a corporate Bulk SMS service allows your brand to remain in the present.
Emails rarely get read by your consumers and nobody really likes to talk on the phone unless it is really required. You shouldn't expect to receive a response to direct mail any time soon. What else is lacking from calls, emails, and direct mail? a one-on-one conversation's natural flow.
Since business bulk sms is immediate, there are no obstacles preventing your brand from chatting with its clients. You don't wait hours or days to send or receive anything you say to each other.
What role does this play? A business bulk SMS service makes sure you'll know if a customer has a problem so you can fix the service. Customers are never made to wait for a response or an efficient resolution for hours, days, or even weeks.
Businesses that use bulk sms to conduct business appear to care about their consumers since they respond with information within a few seconds or minutes while the customer is still paying attention. Service interactions are made simple and efficient through two-way, real-time communication.
3. Bulk SMS Actually Get Opened & Responded To
The open and response rates of business texts are unparalleled. According to SMS Comparison, 95% of text sms are read and replied to within three minutes of delivery.
The ineffectiveness of alternative methods of communication ought to be sufficient to make your choice obvious. Due to the overwhelming number of emails customers receive every day, it is likely that they will either choose to ignore or mistakenly miss one from your organization. If you call the customer on the phone, you're undoubtedly interfering with their work or personal life.
Business Bulk SMS service surely has the organic feel that communication with clients should have while also boosting the likelihood that texts will be opened and replied to.
4. Build Trust with a Conversational Tone
Brands without personality fall behind rapidly, and by failing to adapt in this age of digital revolution, businesses run the risk of seeming out of date. Bulk sms feels considerably more conversational and has fewer sales when compared to emails and phone conversations.
Bulk SMS has a friendly, conversational feel to them. Bulk SMS makes it simpler for customers to interact with a company, which ultimately fosters trust.
5. Automate Bulk SMS to Work Smarter, Not Harder
Have you made a choice? If not, you may be unsure whether two-way, real-time communication will increase the amount of work you and your staff must do. Rest assured that it absolutely does not.
Business Bulk SMS makes use of AI-powered automation to prevent a massive influx of text messages from slowing down your company during peak hours or busy seasons.
For instance, healthcare providers using a corporate bulk SMS service don't individually SMS each patient to remind them of an appointment. It would take far too long. They are, however, automating the procedure. To send out appointment reminders automatically, a business bulk sms provider pulls data from their databases.
Get Started with a Business Bulk SMS Service
Starting a business bulk SMS service can be a profitable venture that caters to businesses looking to send SMS messages in bulk for marketing, customer engagement, or communication purposes. Remember to comply with local laws and regulations related to SMS marketing and data privacy. It's essential to stay up-to-date with industry trends, technology advancements, and customer preferences to stay competitive in the bulk SMS service industry. Good luck with your business venture!
Start the service with MSGCLUB and get the best Platform to grow your business.
Signup Now !!