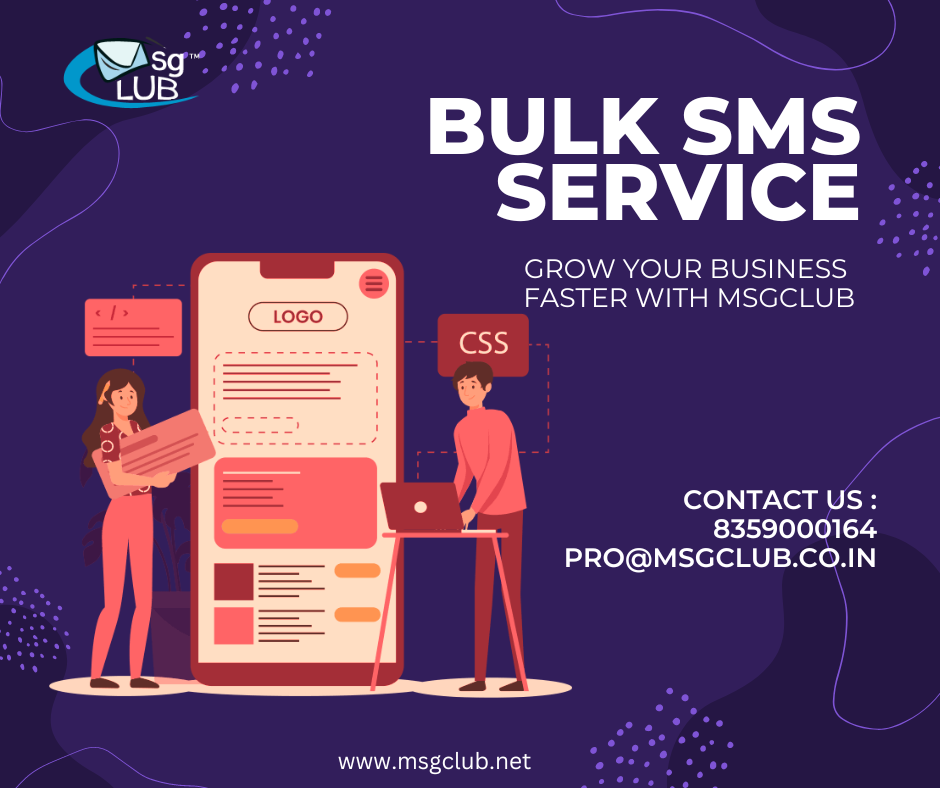 Nowadays, more than half of the worldwide web traffic originates from mobile devices, therefore it makes sense that customers prefer spoken communication to text messages when interacting with companies.
And if you're an entrepreneur or owner of a small firm, you could also prefer texting. With business texting, you can communicate with clients when it suits you, and they can reply when it suits them.
The good news is that you can easily entice clients to text you directly from their websites. Simply creating an SMS link is all that is required.
On your corporate website, establishing an SMS link is very similar to adding a standard hyperlink. This post will walk you through an SMS link, what it is, and how to add one to your website to improve client communication.
Contents

What is a Bulk SMS link?

How to add a Bulk SMS link to your website

Benefits of an SMS link

Send sms your customers with Msgclub
Customers on your website may reach you right away by clicking an SMS link. It launches the user's chat app using HTML code and pre-populates it with your company phone number.
An SMS link is very similar to a conventional link or a click-to-email button if you are familiar with HTML. Still, you'll add a "href" attribute. But you'll start a text message with "sms:" rather than pointing users to another website or starting an email with "mailto:".
How to add a Bulk SMS link to your website
Creating an SMS link for your website is as simple as adding any other kind of link. Follow these steps to add an SMS link to your website.
1. Write the link or button text
Write the content for your link first. Keep the text short and to the point; don't overthink it. Think of using a phrase like "text us now" or "click here to send a text message."
integrating a widget by Wix button for SMS texting into a website
There are several web page and landing page styles that a click-to-text button works well with, but that is not your only choice for an SMS link. Here are some further choices:
a picture
Your signature in emails
Your company's contact information
Navigation in your website's header or footer
Basically, you can embed an SMS link in any place where HTML is allowed.
2. Create the default message
You may include a default message in your visitors' text on various devices. This copy should be succinct and to the point, much like the link text. Don't forget to tie it in with the offer or landing page the client is reacting to.
To get you started, here are a few examples of default messages:
I'd like to know more about your offerings and pricing strategies.
I want to schedule a meeting with your office.
I'd like to schedule a free product demonstration.
I require technical support.
Remember that the autofill feature won't work on all platforms, especially some iOS versions. We'll give you some advice on how to handle this later on.
3. Choose the type of bulk SMS link
Select between creating a text link and a button link. This will rely on your landing page's design and your personal preferences. Regardless of the format you select, an SMS link will have the same advantages; however, button links may call for some CSS expertise.
4. Add the HTML code
Create the HTML link as you would any other button or hyperlink after compiling all the data for your SMS link.
Instead of inserting a link to another web page, you can just put "sms:[Name]" in several website builders.
Try adding custom HTML to your website if you don't have that ability. The basic HTML code setup is as follows:
A link that reads "sms:[Name]&body=[default message]"[Text link] />
It's possible that you'll need to use the HTML code as-is on WordPress sites. A different option is to set up an SMS plugin, such as Formidable Forms, to link your website to a commercial number.
5. Test your SMS link
Verify that your SMS link texts match the right contact with the appropriate message by quickly testing it. On your mobile device, go to your landing page, select the text option, and send the pre-written message.
Then, verify whether the text was delivered to the right number by checking your business text notifications. You can now begin receiving text messages from your SMS link if everything arrives as expected.
Check out our guide for examples of customer service text messages to help you respond to incoming messages more quickly.
Benefits of a Bulk SMS link
Not sure if a bulk SMS link is worthwhile? The following are some advantages of including an SMS link on your website for your company:
Give customers a quick and simple way to contact you
Manage all of your SMS texts from one place.
To answer quickly, use snippets and auto-replies.
Serve a consumer base that uses cell phones frequently.
Send sms your customers with Msgclub
You can stay in touch with your consumers by using the many business Bulk SMS service solutions that Msgclub has to offer. You may give users a seamless transition from browsing your website to texting about your goods and services by including an SMS link on your website.
You may even create a new phone number with Msgclub specifically for your SMS link messages. Send bulk sms messages in response.