MsgClub is one of the leading bulk SMS service providers, who always develop innovative solutions in the field of SMS. Recently, we have launched new add-on named, Bulk SMS Google Spreadsheet add-on to make the task of sending bulk SMS very easy for our all kinds of users. This add-on offers unmatched advantages by allowing businesses to send personal customized SMS, Schedule SMS, Text message to the recipients.
You need to just integrate bulk SMS Google sheet plugin online to send thousands of messages in a single go.
Here are some easy steps to integrate MsgClub's spreadsheet addon:
1. Open your spreadsheet database on your desktop and click on the ''Add-on'' on top of the window then Get-Add on to search MsgClub Bulk SMS Google Sheets Plugin
2. Once our add-on is added to your spreadsheet data, you need to fill generated auth key of your Msgclub's panel account to use its service.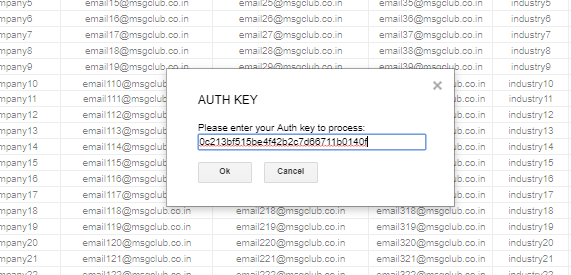 If you want to generate auth key read this blog to learn simple steps of auth key generation.
3. After the configuration key process is done, our robust system automatically allows you to send normal SMS, schedule SMS, personalize SMS, Add contacts to Phonebook and more under one window.

In this way, every business marketer can send SMS from his/her google spreadsheet data. However, if you're going to be busy for a meeting and wants to send SMS on that period you can use schedule SMS feature along with the real-time delivery reports on the panel itself.
Even, we do provide an option to add your spreadsheet customers data into MsgClub's Phone book in an easy way.
Feel free to contact us at http://www.msgclub.net/support.aspx if you have any query regarding the integration of Google Spreadsheet.
Contact us to get more innovative solutions of our company, MsgClub!