Verified WhatsApp in EdTech Sector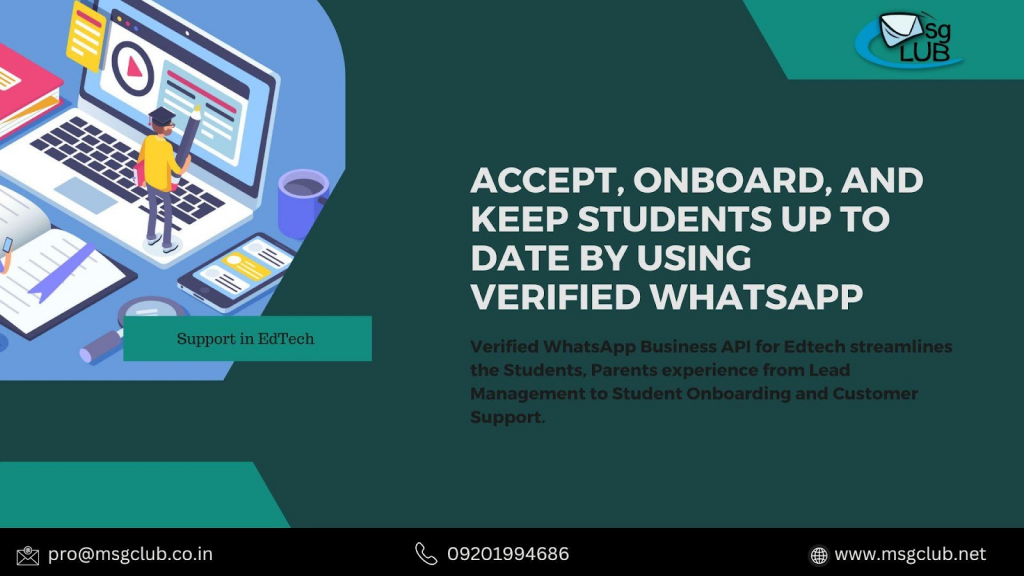 Education, like all other businesses, is affected by the communication revolution that is transforming our personal and professional life. Over the last decade, online contact between groups of students, instructors, and students, academic institutions and their personnel, organizations, and future students has grown in popularity.
Social media has surpassed traditional channels such as websites and emails. Social networking is now losing ground to a new competitor: messaging apps.
Smartphone technology is increasingly being used in administration and education in educational institutions worldwide. It expands students' opportunities and possibilities in the context of both online and off-campus training.
WhatsApp is the most frequent method of communication among today's students. WhatsApp Business API provides a rich media messaging open rate of more than 98% and the ability to broadcast messages to a large number of applicants at once.
WhatsApp Educational Marketing
Educational institutions were forced to innovate as a result of the ever-increasing competitiveness, which was exacerbated by the emergence of online education options. Individuals today have no problem perceiving and treating education as a market, demanding a user and customer experience worthy of their time, money, and attention. As a result, academic institutions and organizations, like any other business, must advertise their brand.
Students, parents, and teachers are all looking for information on the internet, analyzing anything from official sites to social networking sites and peer reviews. It's difficult to stand out when almost every academic organization has a good web presence. WhatsApp Business API provides academic institutions with a new communication channel that is a lot more personalized and far less congested than the existing one.
Use Cases of how to utilize Verified WhatsApp Api for educational marketing
Lead Generation and Qualification
Instead of using landing pages, internet marketing, and even leaflets to attract potential students to exchange their email addresses for electronic materials such as course descriptions and curriculums, why not recommend them to WhatsApp? As a result, rather than asking for their email address, the organization will get their direct mobile number and access to the candidates on a platform that they frequent many times each day, allowing them to not only produce but also retain the lead.
MsgClub's user-friendly platform aids your customer's journey from the start. If you're wondering how to utilize WhatsApp for student admissions, MsgClub can be coupled with a CRM to deliver personalized broadcast WhatsApp messages.
Customer Satisfaction and Relationship Building
WhatsApp assists an academic organization in managing student-institution relationships and enables an organization to provide customized services on a large scale. WhatsApp, for example, can be used to keep track of students on a daily basis, keeping them informed and interested in activities and occurring without requiring them to utilize a separate platform.
An organization's responsibilities does not end when its students successfully complete the course they purchased. Continuous interaction with students can help with student retention, offering support to current students, and improving teaching quality and the organization's profile.
MsgClub's chatbots are available 24 hours a day, seven days a week to answer questions from parents and students. You can also escalate to an agent for concerns that require immediate attention.
Throughout the admissions process, parents will always feel encouraged and directed by MsgClub. Create chatbots that can deliver information from the first to the last phase of student admission.
Assisting with Student Onboarding
Using WhatsApp, you can instantly submit information and fulfill the onboarding processes by offering a step-by-step instruction.
Use MsgClub's Verified WhatsApp for Education to send timely class reminders to students' registered phone numbers. To automate this process, sync the class schedules with MsgClub.
Using MsgClub, keep students, parents, and guardians up to date on exam results. Automate the system so that test reports are delivered to the registered WhatsApp numbers.
Verified WhatsApp for Education and Learning
Due to the ubiquitous usage of smart mobile phones, teachers have been experimenting with WhatsApp on a small scale for some time.
Mobile technology is being used in an increasing number of courses, both online and in the traditional classroom. Positive effects such as improved partnership and coordination, as well as a better social atmosphere, all contribute to the continuation of this trend.
The methods listed below can be used to boost knowledge acquisition during the learning process by utilizing WhatsApp Business API.
Transferring information, class management, keeping students up to date, and so on are some communication use cases that save time that would otherwise be lost attempting to communicate through slower-moving channels of communication. Organizational level of control can be achieved not only in individual classrooms but also in privately created groups, such as increasing efficiency, improving learning, and motivating students to be more engaged in their studies because they are more likely to be constantly updated and prepared for the individual courses.
One of the recurring concerns in education is unequal resource availability. Instructors and professors can use the WhatsApp API to use official course/class communications to increase access to learning resources. As a result, learning exercises increase naturally. WhatsApp makes it simple to communicate URLs, images, videos, and audio files in both the classroom and the institution.
WhatsApp's group conversation can be utilized to develop a spirit of cooperation and a sense of teamwork among pupils. When students engage in open discussion, they can better collaborate with one another and with the instructor.
Installing the WhatsApp Business API may also assist the organization in keeping their students engaged by offering a variety of quizzes or short daily activities – especially if running online courses. Using this strategy, an academic organization may ensure that students remain interested while also increasing their understanding and value of the course.