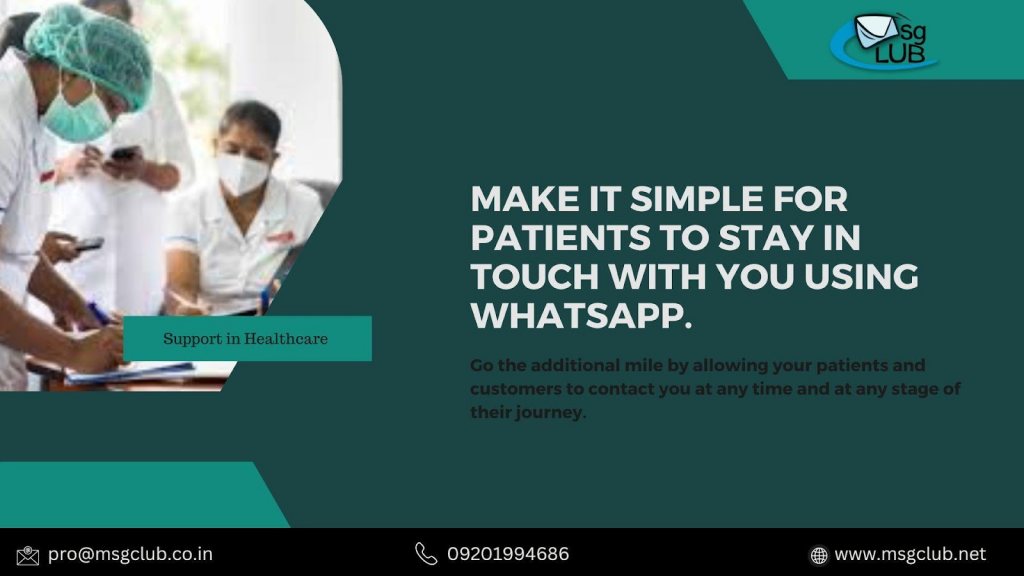 The healthcare industry is undergoing extraordinary expansion.Population expansion, expanding health-care needs, and the increasing penetration of cloud-based services in healthcare are all driving global market growth.
The evolution of digital communication plays an essential role in healthcare administration. Telehealth solutions are becoming increasingly important as the need for high-quality healthcare services grows. Today, the healthcare industry is concentrating on faster and more reliable communication platforms in order to deliver unified healthcare solutions while lowering overhead costs and providing patients with personal attention, especially during emergencies. Patients today are also more at ease using digital services for complex topics such as medicine and health care.
Telehealth services are increasingly being used to deliver modern healthcare remotely, which has various advantages for both doctors and patients: It is cost-effective, adds value to the management of long-term illnesses, and is quick and simple for patients to access.
WhatsApp Business API for the healthcare sector
The concept of using WhatsApp Business API for healthcare has only been around for a few months, as the healthcare industry has been sluggish to accept new technologies and integrate them into their daily operations. There is, however, no better approach to improve this industry and delight customers than to combine the advantages of healthcare services with the reach and power of the world's most powerful instant messaging app.
WhatsApp has over 2 billion active users worldwide, making it the undisputed global market leader in instant messaging. The healthcare industry may use WhatsApp's popularity to engage with its stakeholders organically.
Here are some ideas for how healthcare organizations might use WhatsApp Business API to improve their communication strategy.
Use Cases of Verified WhatsApp Api in Healthcare Sector
According to the Health Management Technology report, missed appointments cost healthcare systems over $150 billion per year. As a result, having a system that can automatically phone or message patients at predetermined intervals is crucial. Healthcare organizations can send automatic reminders with no effort using the WhatsApp Business API.
This simplifies appointment scheduling because patients can always check their WhatsApp messages for a reminder of their forthcoming appointment. Furthermore, this enables healthcare firms to efficiently create more leads while also assisting patients in booking appointments and scheduling visits.
Appointment Scheduling Software
Allow your patients to book appointments over WhatsApp. You may do this without any technical assistance by using MsgClub's chatbot builder. If a patient asks, "How Do I Make An Appointment With A Doctor On WhatsApp?" just automate the process by checking with them for available slots and guiding them through the steps.
Healthcare practitioners may respond quickly to each patient's questions, regardless of the time of day or the patient's geographical location. With WhatsApp, patients can receive medical advice and other critical health updates at any time.
These personalized, timely replies assist healthcare organizations in developing strong bonds with their clients, which can lead to higher levels of customer satisfaction and brand loyalty.
WhatsApp Business API is perfect for health organizations since it delivers total data and identity protection for all parties with end-to-end encryption and business verification.
Patient health records are easily accessible.
If healthcare specialists do not have access to a patient's medical records, they may be unable to accurately diagnose their ailment. WhatsApp Business gives doctors and carers access to all necessary patient information. Healthcare organizations can store patients' medical data by combining WhatsApp Business API with third-party technologies. This helps doctors to treat their patients with the appropriate care in a timely manner.
Notifications for Sample and Report Collection
Directly from an automated system, send reminders to patients to collect samples and reports from your clinic or hospital.
There will be occasions when health professionals from various organizations will need to investigate multiple similar cases in order to recognise a pattern or recommend an appropriate treatment to patients based on the available data. In such circumstances, forming a WhatsApp group can bring all healthcare specialists together on a single platform and allow them to discuss some experiments that can aid in recognising patterns and potential treatment processes.
Follow-up after the Consultation
MsgClub allows you to send post-consultation follow-ups to your patients to check in. Using WhatsApp for healthcare allows you to deliver a more personalized touch.
Patient Service Automation
Creating a WhatsApp chatbot as a healthcare firm helps you to support your patients at all hours, even if you don't have a real agent present.
Whatsapp Business's most recent advancements and how they can benefit the healthcare industry
WhatsApp keeps improving its platform by changing its policies, introducing new features, and expanding the breadth of services it provides to healthcare organizations.
The company recently revealed that it would allow pharmacies to deliver medical service updates via WhatsApp Business App to help people acquire crucial COVID-19 information.
All pharmacies that provide medical services will be able to send personalized updates regarding a person's eligibility to obtain the vaccine as well as plan appointments for testing and vaccine administration in the future. Pharmacies can also set up WhatsApp Chatbots to help them reply to frequently asked queries about vaccine information and appointment follow-ups.
However, due to increased legal limits on health data, medical care providers in the United States and France are unable to use WhatsApp services. 
By incorporating WhatsApp into their communication strategy, healthcare organizations can provide a one-of-a-kind experience for each consumer and increase customer engagement.
Last Thoughts
It takes more than just executing procedures and establishing diagnoses for health care organizations to ensure that patients receive good treatment. Communication is essential at all phases of the healthcare process. There is always a need for effective communication in the health sector, whether it is a health center sharing patient information with another hospital or a group of doctors and specialists at a hospital discussing the best treatment strategy for their patients.
Healthcare facilities with effective communication policies can improve patients' health, but those without proper policies can harm patients' well-being. WhatsApp Business API can assist healthcare organizations manage their communication processes and engage with stakeholders and potential clients at all hours of the day and night.