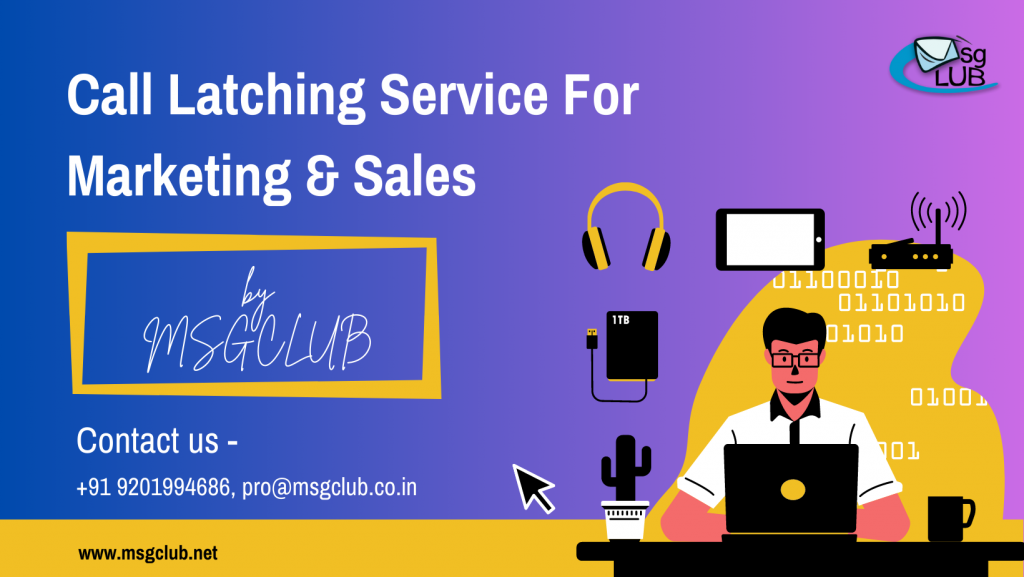 Effective communication is critical in today's fast-paced corporate scene for achieving sales and marketing success. Call Patching have evolved as a valuable tool for Businesses/ organizations looking to interact with customers, qualify leads, and complete agreements. 
This blog post explores the concept of call patching services and how they can affect sales and marketing operations considerably. Continue reading to learn about the advantages, best practices, and implementation techniques for using call patched to reach your business objectives.
Let's Know About Call Patching Services
A. Function and Definition:
Call Patching solution are innovative telephony solutions that allow organizations to connect and engage with clients or prospects via phone calls automatically.
These services "latch" on to prospective leads, providing immediate and personalized engagement in order to maximize conversion prospects.
B. Key features and capabilities:
This services have a number of crucial characteristics that are expressly intended to improve marketing and sales operations. The following are some essential characteristics of call patching in marketing and sales:
Automated Call Routing
Call Patching solution use automated call routing to guarantee that incoming calls are routed to the right sales or support representative. This function saves time and ensures customers are connected to the appropriate individual who can successfully solve their needs.
Personalized Caller ID
They enable organizations to display personalized caller ID information while making outbound calls. Customers benefit from this feature because they can see the caller's identity and recognise it as a familiar or trusted source.
Call Recording and Analytics
Call recording functionality is frequently included in call patching, allowing organizations to record and preserve conversations for quality assurance, training, and compliance needs. Furthermore, these systems offer analytics and reporting capabilities that provide insights into call parameters including call volume, call duration, and call outcomes. This information assists firms in making sound decisions, optimizing sales and marketing tactics, and identifying areas for improvement.
Integration with Customer Relationship Management (CRM) Systems
Many call patching services link smoothly with customer relationship management (CRM) systems. This connectivity enables the synchronization of call data with customer records in real time, offering a comprehensive view of customer interactions and allowing sales and marketing teams to access up-to-date client information during calls.
Call Whispering and Call Monitoring
Call Patching services provider frequently include capabilities such as call whispering, which allows a sales representative to get instructions or assistance from a management or supervisor during a live call without disturbing the customer. Managers and supervisors can listen in on calls for training purposes or to ensure quality standards are fulfilled by using call monitoring.
Real-Time Notifications
When critical calls or leads arrive, They can send real-time notifications to sales personnel or teams. These notifications can be sent by email, SMS, or dedicated applications, ensuring that no chances are missed and allowing for fast follow-up.
Benefits of Call Patching Services in Sales and Marketing
1. Increased Conversion Rates
Immediate Connection: By reducing the time between lead generation and communication, you increase the possibility of turning leads into customers.
Personalized Engagement: By collecting caller information and combining it with customer data, reps may create personalized experiences that foster trust and increase conversions.
2. Lead qualification has been improved:
Efficient Filtering: Call Patching services provide smart call routing based on established criteria, ensuring that quality leads are linked to the most appropriate sales professional.
Real-Time Data Capture: Integrated data gathering while on the phone gives significant insights for lead scoring and qualification, allowing sales teams to prioritize high-potential prospects.
3. Enhanced Customer Satisfaction:
Instant Support: They provide speedy and seamless resolution of client concerns or difficulties, resulting in greater customer satisfaction rates.
Improved Responsiveness: By shortening reaction times and giving personalized attention, businesses can build deeper relationships with customers, leading in long-term loyalty.
4. Increased Sales
A well-managed organization can generate sales leads, execute outbound sales calls, and convert prospects into buyers. Skilled sales professionals may interact with prospects over the phone, answering their questions and guiding them through the sales process, resulting in improved conversion rates.
5. Market Research and Feedback
Business representatives can gain useful information about market trends, client preferences, and feedback on products or services by conversing with customers. This data can be used for market research, product creation, and marketing strategy refinement.
6. Brand Building and Reputation Management
MsgClub's Call patching services allow for the creation of positive brand experiences. Well-trained employees can convey consistent messaging, support company values, and develop strong customer connections. Effective customer service and complaint handling can also help to retain a strong brand reputation.
7. Upselling and Cross-selling chances
While dealing with customers, Company operators can find upselling and cross-selling chances. Agents can offer related products or services to customers who understand their requirements and preferences, boosting the average order value and maximizing income potential.
Call services can be cost-effective in the long run, despite the upfront expenditure necessary. Automation, call routing, and optimized processes can help to streamline operations, eliminating the need for extra people and lowering operational expenses. Furthermore, centralized call services can efficiently handle a higher volume of calls, optimizing resource utilization.
Implementing Call Patching Services: Best Practises
Define Objectives: Outline your goals and objectives in order to link the installation of services with your overall sales and marketing strategy.
Integrate with Existing Systems: To facilitate data synchronization and streamline operations, provide seamless integration between call latching services and your customer relationship management (CRM) software.
Train Your Team: Provide thorough training to sales and support employees in order to maximize the success of their call latching services, with a focus on call handling, client interaction, and exploiting available analytics.
Continuously Optimize: Review call statistics, metrics, and customer feedback on a regular basis to find areas for improvement and to fine-tune your call routing tactics and customer interactions.
Use Cases of Call Patching Services in Marketing and Sales
Call Patching solution can handle incoming sales questions and provide potential customers with immediate support. Agents can answer product queries, manage customer issues, and walk customers through the purchasing process, boosting the likelihood of conversion.
Lead Generation and Qualification
Businesses/ Organizations can be used for lead generation campaigns in which agents make outbound calls to prospective customers. They can collect contact information, qualify leads based on predefined criteria, and identify prospects who are most likely to become customers.
Customer Retention and Loyalty Programs
Call Patching can be used to engage with existing clients, give personalized support, and promote loyalty programmes or special offers. Agents can contact clients to address any concerns, solicit comments, and ensure a great post-purchase experience.
Appointment scheduling chores can be handled by call patching services for organizations that rely on appointments or consultations. Agents may manage calendars, book appointments, issue reminders, and handle rescheduling and cancellations to ensure seamless operations and reduce no-shows.
Order Processing and Upselling
Organizations can perform order processing duties such as taking over-the-phone consumer orders, validating data, and processing payments. During the call, agents can also find upselling opportunities and propose extra items or services to boost the order value.
Customer Surveys and Market Research
Customer surveys and market research data can be collected through call latching. Agents can make outbound calls to obtain feedback, conduct satisfaction surveys, or gather information about client preferences, assisting firms in making educated decisions and refining their marketing strategy.
Customer Service and Problem Resolution
Organizations are critical for delivering customer service and resolving problems. Agents can handle inbound calls from customers who are having problems, help with troubleshooting, and assure quick resolution of issues, all of which contribute to customer satisfaction and retention.
Sales Campaign Follow-ups
Sales Promotion call Patching services can follow up with leads or prospects after running marketing campaigns to evaluate their interest, answer questions, and provide extra information. These follow-up calls can assist in nurturing leads, addressing problems, and directing prospects farther down the sales funnel.
Conclusion
The best Call Patching services have transformed sales and marketing by allowing companies to optimize their client engagement process, increase conversions, and improve customer satisfaction. By utilizing the advantages of instant connection, personalized engagement, and efficient lead qualification.