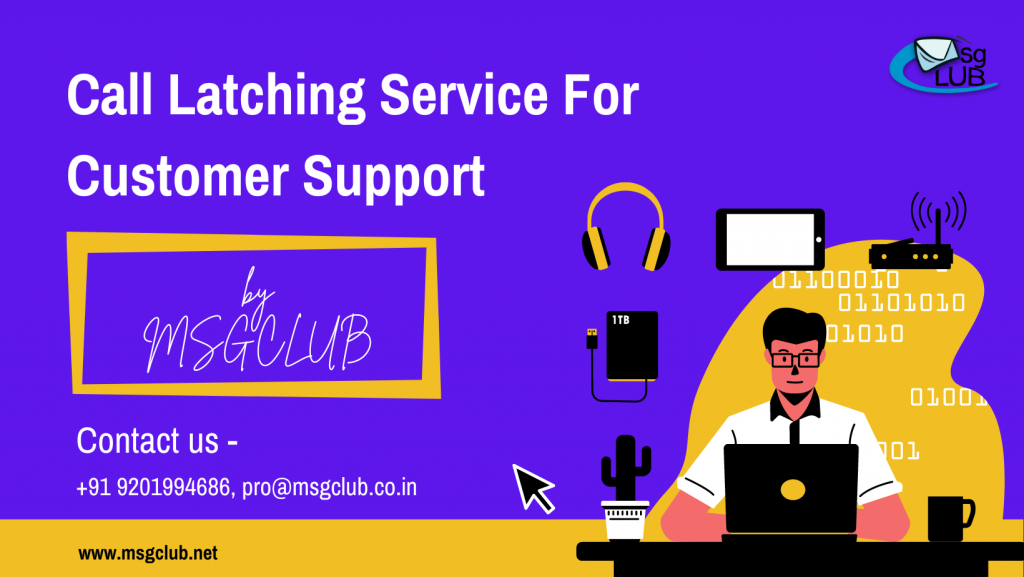 In today's highly competitive business atmosphere, delivering outstanding customer care is critical for developing strong customer relationships and guaranteeing long-term success. Using call-patching services is one effective technique to accomplish this. Businesses can improve their customer support capabilities and provide timely, personalized service to their valued clients by utilizing innovative business technology and professional agents. This Blog discusses the advantages and techniques for employing call-patching services for customer support.
Advantages of Call Patching Services in Customer Support
Support that is both immediate and personalized
MsgClub's Call Patching solution allow customers to connect with a live representative very immediately. This prompt reaction indicates a company's dedication to client satisfaction and helps in the resolution of concerns in real time. Businesses can provide personalized help suited to each customer's needs with skilled agents that have product expertise and empathy, leading in a great customer experience.
Integration with CRM
Modern business solutions integrate with organization's CRM. This integration enables organizations to deliver consistent service across their CRM, ensuring that customers may contact them through their preferred means. Agents have access to client data and interaction history, allowing them to provide consistent and unified support across all touchpoints.
Efficient Issue Resolution
MsgClub's Call Patching services streamline the issue resolution process. Agents can analyze customer concerns accurately, fix difficulties, and walk customers through step-by-step solutions. This efficiency decreases customer effort, shortens resolution times, and increases customer satisfaction. Agents can also document the specifics of each support encounter, creating a thorough record for future reference.
Proactive Support and Follow-ups
Businesses can use Call patching to reach out to customers about known issues or impending improvements. Customers can be informed of anticipated disruptions, product recalls, or service outages by agents, exhibiting a proactive approach to customer assistance. Furthermore, follow-up calls can be made to check that the customer's issue has been satisfactorily resolved, reinforcing a sense of care and dedication.
Call Analytics and Continuous Improvement
Call Patching services provide powerful analytics capabilities for tracking and analyzing call metrics. Businesses obtain significant insights into their customer support operations by tracking call volume, average handling time, client wait time, and first call resolution rate. These analytics help in identifying areas for improvement, providing agents with training opportunities, and executing initiatives to improve customer support performance.
Customer Feedback and Surveys
Organizations can be an excellent way to collect customer feedback and conduct surveys. Following the resolution of an issue, agents can collect feedback on the support experience, product satisfaction, or overall consumer mood. This feedback can be used to detect patterns, improve products or services, and make data-driven decisions.
Scalability and cost effectiveness
The services provide scalability, allowing firms to easily handle swings in customer assistance demand. Agents can be simply added at peak periods to meet the increased call demand. During quieter periods, on the other hand, resources can be modified accordingly, optimizing operational costs and ensuring cost efficiency.
Use Cases of Call Patching Service in Customer Support
Technical Support
MsgClub's Call Patching services provider can handle customer technical support concerns. Agents can help clients with troubleshooting, walk them through software or hardware configurations, and provide step-by-step guidance for resolving technical issues.
Product Information and Inquiries
Before making a purchase, customers frequently have inquiries regarding the items or services. Call Patching can manage pre-sales inquiries, give thorough product or service information, and address any customer issues or doubts.
Order Tracking and Updates
They can help customers in tracking their orders, offering shipment status updates, projected arrival dates, and managing any order fulfillment concerns. Concerns about delays, refunds, or order revisions can be addressed by agents.
Billing and Payment Support
Customers may need help with billing questions, payment difficulties, or subscription administration. They can address these inquiries, as well as assist clients in understanding billing information, processing payments, and providing account management advice.
Account Access and Password Resets
When clients are unable to access their accounts or require password resets, call patching solution can verify identities and help with account recovery processes. Customers can be guided through the processes required to restore access to their accounts by agents.
Product Returns and Exchanges
Customer requests for product returns, exchanges, or refunds can be handled by call patching. Agents can help customers with return authorisation, walk them through the return procedure, and resolve any questions or issues with returns or exchanges.
Escalation and Complaint Handling
If a customer is dissatisfied or has escalated a complaint, That services can offer specialized assistance. Agents can listen to client problems sympathetically, elevate the matter to the appropriate department or management, and ensure fast resolution and follow-up.
Service Outages and Disruptions
When there are service outages or disturbances, call patching solution can manage customer inquiries, provide status updates on the situation, and offer alternate solutions or workarounds. During service outages, agents can help manage customer expectations and ensure clear communication.
They can be used to collect feedback from customers and conduct satisfaction surveys. Following the resolution of a support encounter, agents might solicit feedback from customers regarding their experience, product satisfaction, or suggestions for improvement.
Assistance with Onboarding and Training
For new clients, call latching services can help with onboarding and training. Agents can walk customers through the initial setup process, explain product features, and help them get started.
Conclusion
In an era where customer support is critical to customer loyalty and brand reputation, The Best Call Patching services provide organizations with a valuable tool for providing outstanding support experiences. Businesses can increase their customer support skills by employing rapid and personalized assistance, multi-channel integration, fast issue resolution, proactive support, and ongoing development through analytics. Investing in call patching improves not only client happiness but also long-term success and growth.