SMS service is one of the best communication and Marketing tool. SMS Marketing is so powerful and receives high response as it is personal mode of communication. SMS Marketing campaigns have huge potential. As more brands look to target customers on the move, SMS is becoming an increasingly essential part of effective multi-channel Marketing.

We are a leading Bulk SMS service provider. We have made SMS Marketing very easy with our user friendly & powerful platform. We provide multiple SMS gateway which ensures the delivery of SMS from different operators.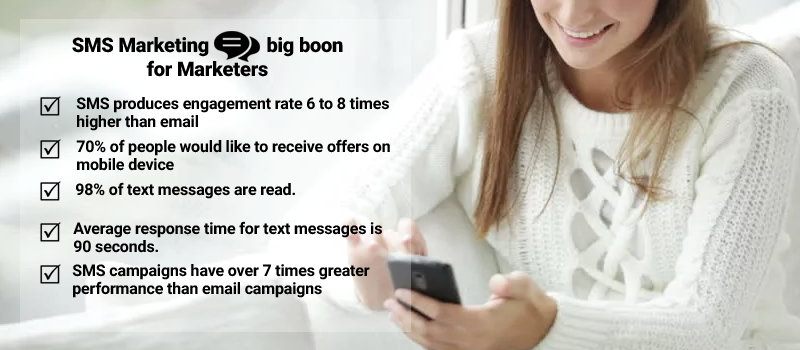 Yes, SMS Marketing with our Bulk SMS Software is boon for the marketers. SMS has its own importance because of the following reasons →
1. SMS produces engagement rate 6 to 8 times higher than email.
2. 70% of people would like to receive offers on mobile device.
3. 98% of text messages are read.
4. 50% of e-commerce website traffic comes through a mobile device.
5. Average response time for text messages is 90 seconds.
6. SMS coupons are 10x more likely to be redeemed & shared than mail and newspaper coupons.
7. 57% of consumers would be happy to sign up to an SMS loyalty programme.
8. SMS campaigns have over 7 times greater performance than email campaigns.
What is SMS Marketing?
SMS marketing, also known as text message marketing, is a type of digital marketing strategy that involves the use of short message service (SMS) to communicate with customers and prospects via their mobile phones.
It allows businesses to send promotional messages, offers, alerts, updates, and other types of information directly to customers' mobile devices. SMS marketing typically involves collecting customers' phone numbers and obtaining their consent to receive messages, and then send targeted messages that are relevant and timely.
SMS marketing is often used by businesses to promote their products or services, increase customer engagement and retention, and drive sales. It can be an effective way to reach customers who are on the go or who may not have access to email or other digital channels at all times. However, it's important to ensure that SMS marketing campaigns comply with regulations and that messages are sent only to customers who have opted-in to receive them.
Why to Start SMS Marketing?
1. SMS is considered as a direct medium for communication. SMS sends directly to inbox of all contacts.
2. Text messages are short and concise. Great way to get feedback and suggestions from customers.
3. Perfect way to increase your brand presence & reputation in the industry.
4. SMS service is very efficient to reach wide market. This generates more leads, convert these leads into potential customers.
5. SMS solution is very cost-effective Marketing method of communication in comparison to other traditional Marketing channels. It will improve your business ROI.
6. It is most flexible platform to send thousands of messages to a targeted group or your entire list.
7. SMS solutions offer you high conversion rate as compared to any other Marketing tools.
8. Bulk SMS service allows you to reach a large number of users at the same time.
9. It is an instant, reliable & effective Marketing tool to send messages to right audiences.
10. Learn more about your customers & subscribers, through SMS surveys.
11. SMS Marketing can increase & improve engagement or communication with your customers.
12. SMS solution is a great way to engage & build customers.It take few seconds to send & deliver messages.
Tips for a Successful SMS Marketing Campaign –
1. Segment customer's list based on their purchase history, interests, and demographics. It will improve SMS campaign.
2. Keep message short, concise, and clear. An SMS consists of 160 characters, It is more than sufficient to send a Marketing SMS.
3. Create a valuable offer, customers will appreciate it.
4. Create a sense of urgency in message. It will inspire customers to take an action.
5. Message should contain clear call to action (CTA).
6. Message should contain a simple opt-out option.
Use SMS for business promotion, advertising, Marketing, to build and maintain customer relationships and many more.
Hope now you get the idea about SMS Marketing, if you have any query feel free to Contact us.