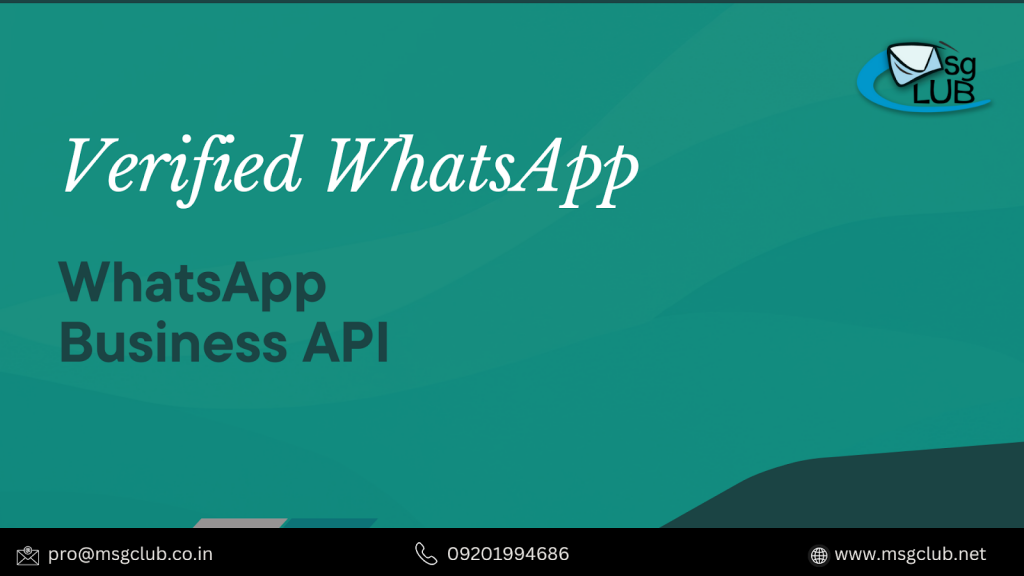 WhatsApp is a popular messaging program, with over 1.5 billion people using it on a daily basis. Using WhatsApp for corporate communications is thus a wise business option.
You've come to the right place if you want to know how Verified WhatsApp Business APIs function, how they differ from the WhatsApp Business app, and how they can help SMBs. We hope to provide you with a quick primer on everything you need to know before you begin.
You will have a thorough understanding of what Verified WhatsApp Business API is, how to set up a WhatsApp API account, WhatsApp broadcast, manage contacts, and recommended practices for delivering WhatsApp API messages.
Verified WhatsApp for business communication
Meta (formerly Facebook) announced Verified WhatsApp Business API or WhatsApp API in 2018 to help with the setup of business conversations on WhatsApp.
Table of Contents
What Exactly Is WhatsApp Business API?
WhatsApp Business App
WhatsApp Business App Features
What distinguishes WhatsApp API from WhatsApp Business App?
BSPs are WhatsApp Business API Solution Providers.
WhatsApp Business API Highlights
Is the WhatsApp Business API appropriate for you?
A WhatsApp Business Account's Components
WhatsApp API for Business: Business Profile
Phone Number in WhatsApp Business API
Getting Started With MsgClub
What Exactly Is WhatsApp Business API?
The WhatsApp API was created to assist medium to large businesses who wished to utilize WhatsApp to communicate with various clients on a large scale. Businesses can use the WhatsApp Business API to automate interactions through automated answers, WhatsApp chatbots, and interactive messages.
In a nutshell, WhatsApp Business API enables enterprises to establish a personalized communication flow that is tailored to their client's needs.
WhatsApp Business App.
WhatsApp Business App and its web version, WhatsApp Business Web, are free apps designed to assist small business owners. It enables small businesses to engage with clients, sell their products and services, and provide support along their journey. However, it has limited capabilities and is not designed for scale.
WhatsApp Business App Features
canned/quick responses
Dedicated WhatsApp Business Application
Labels for conversations
Set messages aside
Dedicated business hours/profile
There is no connectivity with other systems such as chatbots or CRM.
Use by a single person
What distinguishes WhatsApp API from WhatsApp Business App?
WhatsApp API is designed for businesses that wish to grow. Because the WhatsApp Business App is designed for small enterprises, it does not offer capabilities such as bulk messaging to customers/leads.
Messages are automatically triggered via integrations and APIs.
Multiple logins and a support dashboard are available.
WhatsApp API, on the other hand, includes a plethora of conversation automation tools. Unlike the WhatsApp Company App, WhatsApp API does not have an app or a front-end interface and must be linked directly to company software.
WhatsApp API is only accessible through WhatsApp Business Solution Providers, or BSPs.
BSPs are Verified WhatsApp Business API Solution Providers.
The WhatsApp Business API Platform is not yet available to all users. Facebook has selected 40-50 third-party solution providers for distributing the WhatsApp Business API
to other businesses.
Businesses can use BSPs to develop their solutions on top of WhatsApp APIs. These BSPs can assist you in communicating with your consumers via Verified WhatsApp APIs for permitted use cases such as customer assistance and time-sensitive, personalized notifications.
MsgClub, as a Verified WhatsApp Business API provider (BSP), on the other hand, offers a full WhatsApp CRM with a dedicated Team Inbox for managing conversations. Simply combine it with your WhatsApp Business API number, and you're ready to use all of Verified WhatsApp Business API's features straight through MsgClub.
WhatsApp Business API Key Features
Integrations with tools such as CRM, analytics, and third-party apps
Verified WhatsApp Business profile with a green tick
Text Messages Bulk notification through broadcast
There is no app or interface; instead, utilize BSPs or CRM.
WhatsApp Chatbot and interactive messages are supported.
Access to many agents for client support
Sounds exciting so far? You can get WhatsApp Business APIs by signing up with MsgClub.
Now, let's go into the many components of the WhatsApp Business API.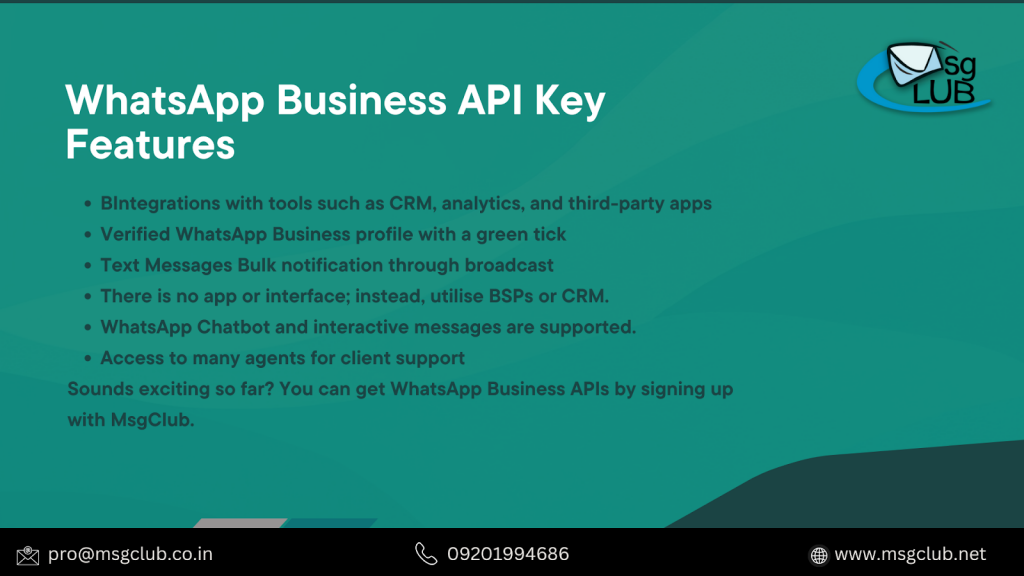 Is the WhatsApp Business API appropriate for you?
This is the most crucial question to answer before you begin!
The most obvious answer is that firms with 1-5 employees can usually manage using the free WhatsApp Business app. It is suggested that you migrate to the WhatsApp Business API as your company grows.
But making a decision appears to be significantly more difficult than that. Allow us to assist you in determining what is best for your company.
You should use the WhatsApp Business API if-
You own a huge company with active customers with whom you wish to communicate via WhatsApp.
You're looking for a way to use WhatsApp to send automatic notifications to your consumers (think status updates and buy notifications).
You want to use WhatsApp to recruit new consumers, improve customer service, or provide a personalized purchasing experience.
You will need more than two staff to manage the expected volume of talk.
The time spent by agents on each call and response times are crucial to your organization, and you require third-party automation technologies to boost overall team productivity.
You'll need a WhatsApp conversational commerce platform and an automation platform.
A WhatsApp Business Account's Components
WhatsApp Business API consists of two primary components:
1. WhatsApp Business Account
2. Telephone number
WhatsApp Business API: Business Profile
A WhatsApp Business Profile gives clients more information about your company. Businesses can improve their online visibility by upgrading their cover photo, description, address, email, and website.
The Business Profile of the WhatsApp Business platform is shown above. A WhatsApp API Business Profile contains information about your company.
Businesses may quickly optimize their business profiles by altering their cover photo, service description, business address, email, and website.
Phone Number in WhatsApp Business API
Your Verified WhatsApp Business API account should be linked to a phone number. The phone number associated with the WhatsApp Business API must be capable of receiving calls or SMS, as SMS is required for OTP verification.
MsgClub recommends choosing a phone number that is not already associated with another WhatsApp Messaging app or WhatsApp Business App account. The migration of phone numbers from the app to the API is conceivable, but the reverse is not permitted by WhatsApp.
Getting Started With MsgClub
WhatsApp Business API includes capabilities such as broadcast, multi-login, and chat automation, which are critical in corporate communication.
WhatsApp Chatbot & Chat Automation– Using MsgClub's No-Code intelligent chatbot builder, you may enable the WhatsApp API Chatbot on your WhatsApp Business number. You can use the WhatsApp chatbot to automate FAQs and general support questions regarding your products/services.
Support for Team Inboxes and Multi-Agent Logins– MsgClub's WhatsApp API features allow you to set up multi-login for a single WhatsApp number. You can add several agents to your support dashboard for communication and support without scanning QR codes.
WhatsApp Broadcasting and Customized Campaigns– While WhatsApp Business App broadcasts are limited to 256 recipients, WhatsApp API broadcasts can reach up to 100K recipients depending on your Tier.
You may send personalized campaigns from your CRM database.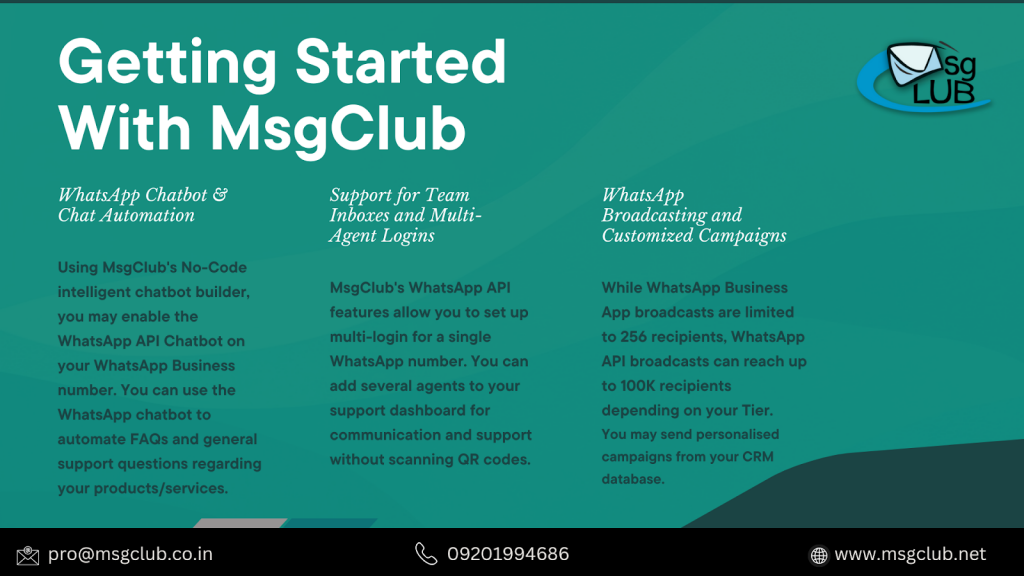 However, we urge that you only send WhatsApp messages to people who have signed in to receive WhatsApp messages from your company.
WhatsApp API Messaging– enables you to send many types of messages to your consumers.
A. WhatsApp Message Template: WhatsApp Message Templates for Business are message formats that businesses can use to send typical reusable messages. Quick replies can also be added to WhatsApp message templates.
Businesses can only send notifications to customers using Message Templates. Before being used, each message template must be approved by WhatsApp.
Quality Rating– The WhatsApp API Account quality rating displays the message quality received by your clients in the previous 24 hours. There are three levels of quality:
Green denotes high quality.
Yellow is of medium quality.
Red denotes poor quality.
If your quality falls below a certain threshold, your WhatsApp Business Account status will change to flagged or restricted.
B. WhatsApp Session Message: WhatsApp Session messages are any communications sent and received as a result of a user-initiated message to your application.
A messaging session begins when a user sends a message to your application and lasts for 24 hours from the most recently received message. You can either wait for users to message your app or send a Template Message inviting the user to respond.
C. WhatsApp Interactive Messages: Interactive messages allow your consumers and clients to respond or connect with your WhatsApp conversation more easily by using buttons.
They are commonly utilized in the creation of chatbots to provide users with a cleaner look and an easier manner to pick and respond in the discussion. Interactive messages, like conventional text messages, are text-based but have a greater response rate.
Reply Buttons– Reply Buttons are messages that have up to three buttons from which to pick. It's more like a question, with answers as options to choose from. It is comparable to the template message with quick replies in that it makes it easier and faster for the user to choose from.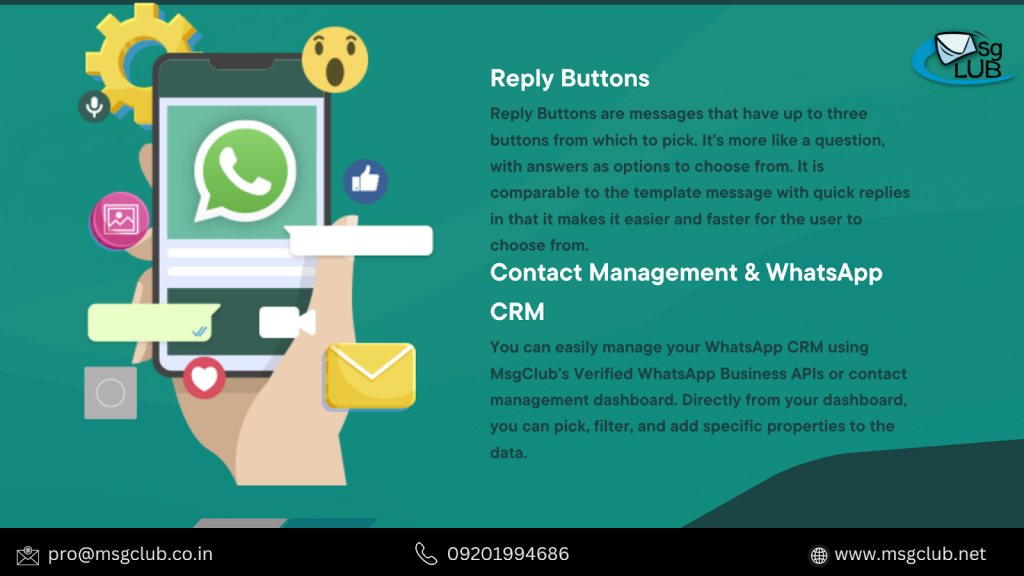 Contact Management & WhatsApp CRM- You can easily manage your WhatsApp CRM using MsgClub's Verified WhatsApp Business APIs or contact management dashboard. Directly from your dashboard, you can pick, filter, and add specific properties to the data.