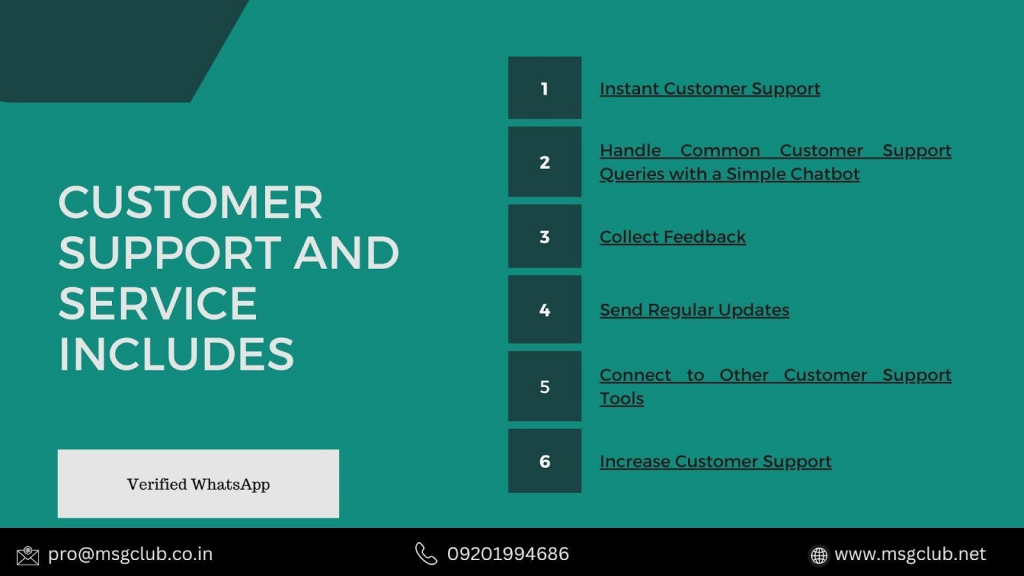 WhatsApp customer service is an essential part of any brand's social customer care strategy.
Businesses that use Verified WhatsApp for customer service can provide anything from simple order updates to personalized one-on-one shopping experiences. WhatsApp is an excellent medium for interacting with clients since it is a platform they are already familiar with, utilize, and trust.
Why should you utilize WhatsApp for customer service?
Behind Facebook and YouTube, WhatsApp is the world's third most popular social networking platform. It has more than double the user population of Facebook Messenger, with two billion users.
But, perhaps more importantly, people choose and trust WhatsApp over other popular messaging apps – it is the most popular social platform among Internet users aged 16 to 64.
Best way to use WhatsApp for customer service?
1. Finish your WhatsApp business profile.
A WhatsApp business profile contains information that allows clients to communicate with you both on and off WhatsApp. It lends credibility to your brand. It can also establish client expectations for how they will engage with you on the app.
Here's a glance at Levi's WhatsApp business profile. It informs clients that they can communicate with a virtual assistant via WhatsApp and provides business hours for human workers.
2. Inform customers that they may reach you via WhatsApp.
Offering WhatsApp customer support allows clients to contact you via a medium they are already familiar with. However, this only works if they know where to look for you.
Allow your consumers to easily find and contact you using WhatsApp. Try including a "click to chat" link anywhere you provide customer service contact information. You may also generate a QR code that links clients to your WhatsApp support team.
3. Establish response time expectations
During business hours, customers do not think. This is especially true if you cater to a global clientele. Autoresponders can assist you in establishing response time requirements. This is preferable to leaving your customers in the dark.
Even better, chatbots may assist customers with their most typical requests, such as order tracking. Artificial intelligence is used in more advanced chatbots. They can even assist with product suggestions and sales.
4. Connect WhatsApp to your CRM and other chat platforms.
Connect WhatsApp to your CRM as well as other communications and customer care channels. This allows you to fully comprehend who you're conversing with. You'll have a good idea of what they're going to desire and require from your customer service team.
A customer who contacts you over WhatsApp will be identifiable by name if they are in your CRM system. This implies you can respond in a more friendly manner. You can integrate WhatsApp into your ticket distribution capabilities by connecting it to your existing customer service contact center software.
5. Use chatbots to automate basic chores.
Simple, repetitive requests do not necessitate the use of a human skill set.
Tracking and order status questions, for example, are ideal activities for businesses utilizing WhatsApp for customer service to transfer to WhatsApp chatbots. Your customer service personnel can then devote more time to requests that require a human touch.
6. Send proactive messages that assist clients.
If clients sign up for service updates, you can send them messages offering assistance even before they contact you.
Possible instances include:
shipment updates
parcel tracking numbers
appointment reminders
flight status updates
Verified WhatsApp for Customer Service Includes: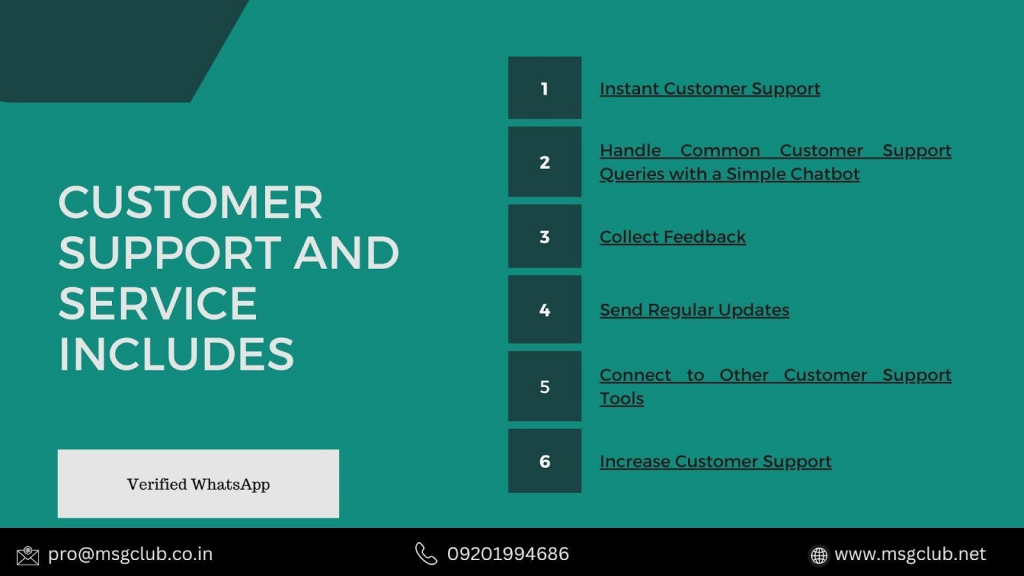 Verified WhatsApp is best suited to dealing with consumer inquiries that demand an immediate response. Ensure that you can collect all of the necessary information to answer your customers' problems and do it 24 hours a day, seven days a week.
Handle Common Customer Support Queries with a Simple Chatbot
Create basic processes that can handle typical requests with MsgClubs's no-code drag-and-drop chatbot builder. When necessary, your support team can step in to answer questions that require their assistance.
After each engagement, collect timely feedback from your consumers to maintain the level of service you deliver.
You can use WhatsApp to give timely notifications to your consumers about queries, appointments, order updates, and so on.
Connect to Other Customer Support Tools
To guarantee that you don't lose the context of the conversation, MsgClub can be integrated with technologies such as your CRM and any other tools you may use.
Increase Customer Support
With WhatsApp, you can increase customer support without having to hire more people and instead rely on automation.
How Does It Help You?
Modernize your commercial communication
Through the Verified Business WhatsApp API and BOT.