Using a toll-free phone number is a no-brainer if you want to keep your business number independent of any particular region and give callers a better experience. And now that almost everyone has access to contemporary technology and the internet, even small business owners can obtain their own toll-free number. Numerous web platforms offer access to 855, 866, 888, and other numbers, giving you all the resources you need to advance your business.
Of course, not every phone system has the capabilities to satisfy the demands of your company. You'll need to access a variety of tools and technology in addition to the toll-free number itself to assist you expedite your conversation. What platforms offer the best features and plans, and how do they compare to one another, you may be wondering?
Let's examine in detail 12 of the top toll-free number providers for 2022, including their costs, features, and restrictions. In order to assist you to choose the finest toll-free number service for you, we've also included some useful advice and frequently asked questions below.
Best toll-free number providers
A straightforward toll-free number can meet and beyond your business objectives whether you're a brand-new startup or an established company. The greatest business phone services with toll-free lines are listed below, starting with the very best.
1. Msgclub
Msgclub's Toll-free Number service is an efficient way to resolve customer issues. It's a deal of low investment with a surety of high returns. Our services are cost-effective, Stable & Provide ease in client communication. Msgclub's services are performing well with industries like Web development, banking, automotive, tours, event management, schools, airline, insurance, hotel & resorts, retail, media, healthcare, entertainment, and more. Msgclub is all set to provide the best services in the market. We will help you to build the image of your business as a professional. Our team will educate and assist you with everything related to this service. So choose Msgclub as we are emerging as the best toll-free number provider in India.
These services will help your business to grow its image among customers by not keeping them engaged and will provide stability to the customer service process. It will help you to resolve queries of multiple customers at a single time and can provide services to a large number in a single day. This service will assist customers' queries at zero cost to them. It is a good medium for client management.
Brand recall
Brand recalling is easy with these numbers as they are easy to remember. It helps in increasing brand recall value.
Capture New Markets
With the help of this service, you don't have to invest in on-site infrastructure as it ensures to expand the reach to international markets also.
Build Campaigns
Assigning multiple numbers for different markets will help your business to monitor individual performance. Conduct surveys, launch new products, and get customer feedback.
How to get a toll-free number for business with Msgclub
Ready to get started? You can get a toll-free phone number with Msgclub in less than 10 minutes by following these three simple steps to get started:
During the signup process, search by toll-free numbers to choose your number.
Download the desktop, iOS, or Android app to get started (you can also easily call and text from our web app.)
2. OpenPhone
At OpenPhone, we assist thousands of businesses in improving their global communication. We provide some of the most user-friendly toll-free number services available today as a result.
You never pay more for inbound calls on a toll-free number while using OpenPhone. Simply download the desktop or mobile apps to begin receiving calls and texts right away.
Overall, OpenPhone's toll-free service is a great option for businesses that want a dedicated phone number and an easy-to-use messaging platform. With features like text message forwarding, auto-reply, and integration with other tools, OpenPhone can help you stay organized and responsive to your customers' needs.
3. Grasshopper
Toll-free, local, and vanity numbers are available through legacy VoIP operator Grasshopper, which has been in business since 2003. The same features are offered by each of their plans: unlimited call minutes, rapid text responses, and call analytics and support. All of the accessible toll-free prefixes, including 833, 844, 855, 866, 877, 888, and 800, fall under this.
However, Grasshopper may not be your only option for toll-free number services. No call recordings are kept. (even as a paid add-on). A lack of automated call routing can also constrain expanding teams. Customers and teams cannot send multimedia because Grasshopper doesn't offer MMS for toll-free phones.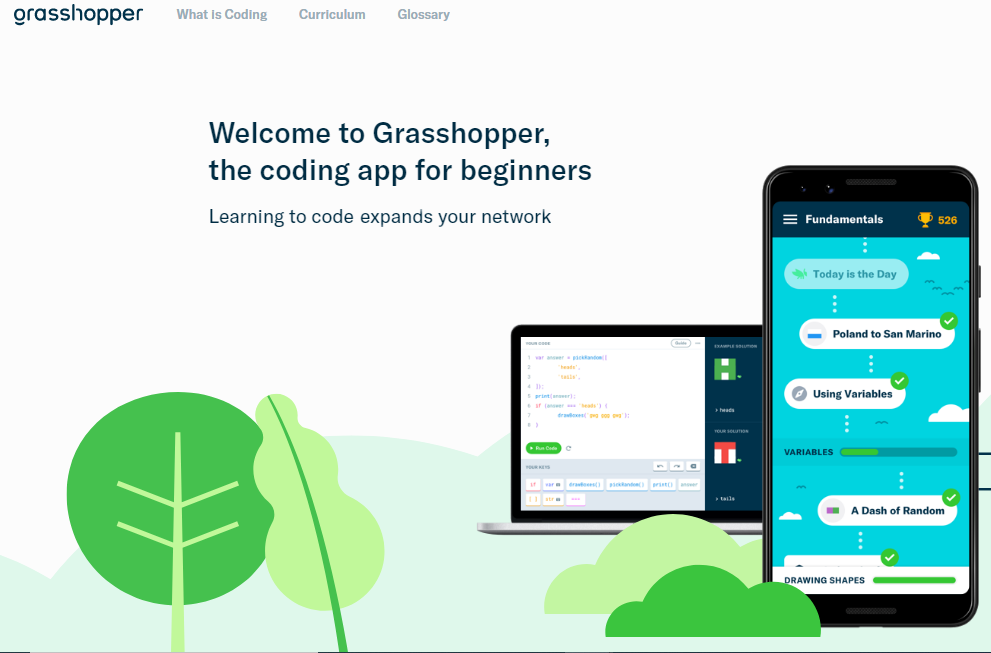 Grasshopper is best for small businesses not looking for many features. If you need more than just a toll-free phone number, this isn't the platform for you.
4. 800.com
800.com is a company that offers toll-free services to businesses in the United States. With their service, businesses can obtain an 800, 888, 877, or 866 toll-free number that can be used to receive calls from customers and clients across the country.
800.com offers a variety of features with its toll-free service, including call forwarding, voicemail, call recording, and more. They also provide detailed call analytics and reporting, which can help businesses track their call volume and identify areas for improvement in their customer service.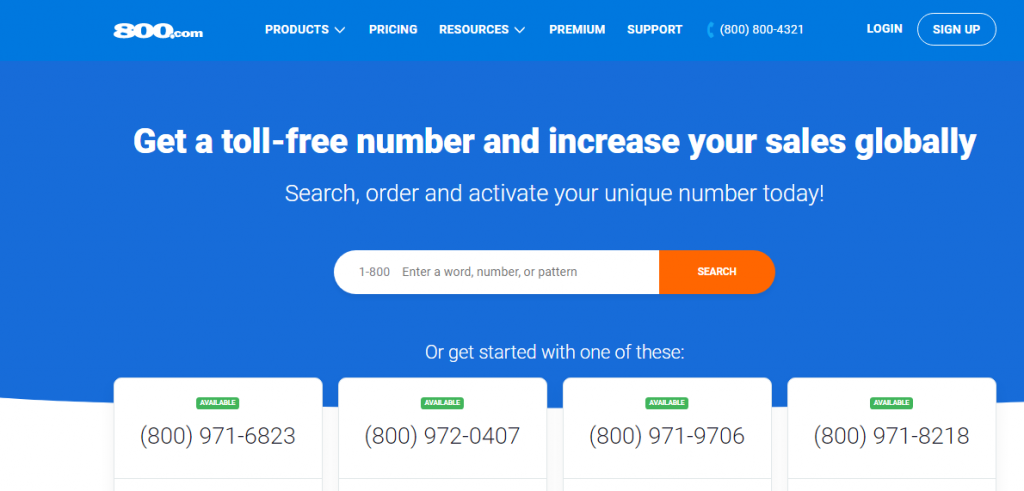 If you are interested in using 800. com's toll-free service for your business, you can visit their website to learn more and sign up for a plan that fits your needs.
5. Phone.com
Phone.com is a company that provides cloud-based communication services to businesses, including toll-free service. With Phone.com's toll-free service, businesses can obtain an 800, 888, 877, or 866 number to receive calls from customers and clients across the United States.
Phone.com offers a variety of features with their toll-free service, including call forwarding, voicemail, virtual receptionist, conference calling, and more. They also provide a mobile app and a web-based portal for managing your account and accessing your call data and analytics.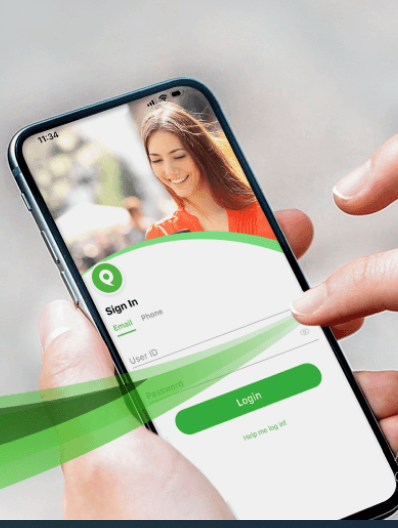 In addition to toll-free service, Phone.com offers a wide range of other communication services, such as local phone numbers, virtual fax, video conferencing, and text messaging. Their plans are flexible and scalable, making them suitable for businesses of all sizes and types.
If you are interested in using Phone.com's toll-free service or other communication services for your business, you can visit their website to learn more and sign up for a plan that meets your needs.
6. RingCentral
The VoIP plan from RingCentral, one of the most well-known providers on the market, includes vanity and toll-free numbers. Their prefixes at the moment are 888, 877, 866, 855, and 844. Additionally, real 800 vanity numbers are currently accessible. Users can purchase minute bundles with automated overage charging in increments of up to 100,000 per month.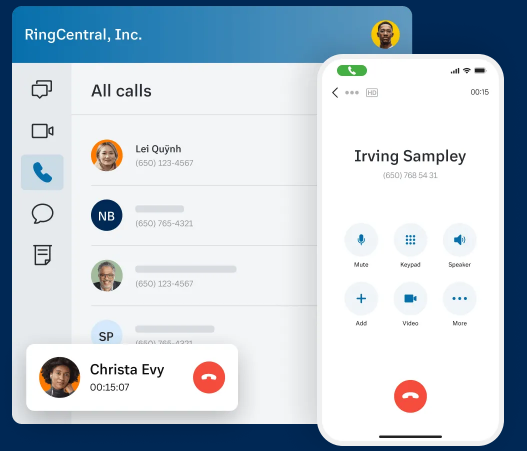 The RingCentral Essentials plan has a lot of restrictions, though. The features that companies require, such as call recording and integrations, are hidden behind more expensive tiers. Additionally, you will be charged an additional fee of up to $0.04 per minute if you exceed the bundled minute limit. (a serious budget buster).
7. Ooma
Toll-free numbers are a specialty of providers like Ooma for startups and small companies. Every account comes with a free toll-free number from this provider, which offers prefixes like 855, 844, 833, 877, 888, and 866.
However, Ooma's limitations pose serious challenges for owners of small businesses. Plans with unlimited calls or texts are not available. Additionally, you cannot use their desktop application without paying the second price tier.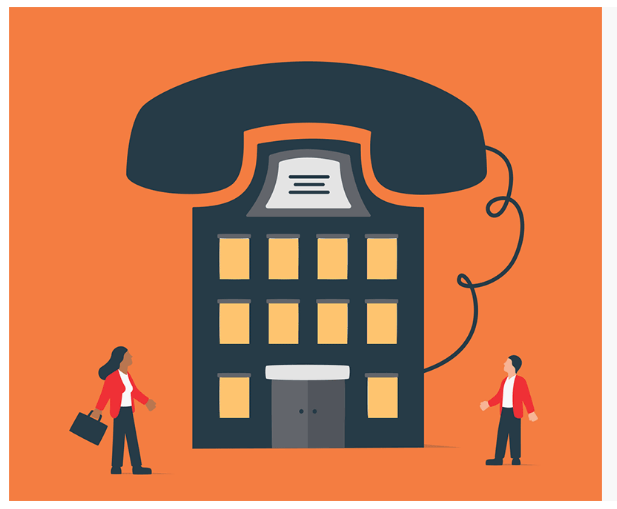 Even worse, there are just 500 inbound call minutes offered each month. For an additional 1,000 minutes per month, you must pay an additional $15, or for 2,500 minutes, you must pay an additional $30. If you use more than that, you will be charged an overage cost.
8. FreedomVoice
FreedomVoice, which bills itself as "the voice of small business," only provides startups around the nation with toll-free and local numbers. No contracts or additional costs are necessary to use one of their CloudNumbers, often known as toll-free numbers. The smartphone app is constantly accessible, as well as virtual faxing.
However, teams with more than four users cannot use FreedomVoice. (and it shows). The functions that are offered are extremely limited, and many of them come with additional fees that are not disclosed on the website. Many users claim the UI is outdated, difficult to use, and a legacy supplier since 1996, which is bad for companies wanting to expand.
9. eVoice
One of the first toll-free service providers on this list was eVoice, which was founded in 1999. Their prefixes provide a fair amount of variety, with choices like 800, 888, 877, 866, 855, and 844. 30 services are available to all lines, including phone forwarding, sequential ringing, and business texting.
On eVoice, vanity numbers are handled differently than toll-free numbers. To gain access to this premium function, you must upgrade and pay an extra monthly fee. With eVoice, many of the resources required for your company to succeed are hidden behind extra costs, like call recording.
No matter which plan you select, eVoice offers 30,000 monthly minutes. No calls or texts are offered indefinitely.
Remember that eVoice has very stringent usage limitations. You can only have a maximum of 11 users, even with the most premium plan. You might want to search elsewhere for a toll-free number provider if you have more members than this.
10. MightyCall
MightyCall's status as a provider of toll-free numbers comes from its assistance of small enterprises. Although MightyCall doesn't provide a full set of prefixes on their website, they do provide 855 numbers to a range of businesses.
However, MightyCall does not provide a lot of toll-free functions. You can only access personalized greetings, fundamental call routing, and call history, aside from basic features like call forwarding and analytics. When compared to other competitors, the pricing of this platform is difficult to explain, especially in light of the fact that it lacks integrations and advanced call routing.
Msgclub is the platform of choice for toll-free business numbers
Msgclub might be the greatest platform for you if you're searching for a toll-free number service that can grow with your company as your staff expands.
Custom greetings and call routing software that establishes expectations and directs callers where they need to go are just a couple of the many easily customizable options we provide to help you present a professional phone presence. Additionally, you can take advantage of free texting and unlimited calling so that your staff may use Msgclub wherever there is WiFi. Best of all, there are never any hidden costs or fees; our price points always scale with you.
Try out Msgclub today with a free one-week trial.