Don't you wish more people would text rather than call?
Many of your clients do as well. They can be at a meeting when you phone, or they might just not be in the mood to answer. communications are also becoming less popular; 55% of customers blatantly ignore marketing communications.
You should have an SMS app that can assist you to answer text messages fast and easily because your consumers want to text you.
We've analyzed eight of the top text messaging services for businesses below if you're ready to move beyond your phone's default SMS app.
The following eight best text messaging services can help you with your business:
OpenPhone
Msgclub
Google Voice
SimpleTexting
SlickText
TextMagic
EZ Texting
RingCentral
Textedly
There are several SMS providers on the market, which could make it difficult for you to decide which is appropriate for your company.
Here is a short list of the top Text SMS companies to assist you with that:
1. OpenPhone
OpenPhone is a virtual phone system that offers a text messaging service as part of its features. With OpenPhone, you can send and receive SMS messages using a dedicated business phone number. You can get a dedicated business phone number that you can use to send and receive SMS messages. This allows you to keep your personal and business communications separate. Text message forwarding you can forward incoming text messages to your email address or another phone number. This ensures that you never miss an important message. In group messaging you can send text messages to multiple people at once, making it easy to communicate with your team or customers.
Auto-reply you can set up an auto-reply message to let people know that you're unavailable or to provide them with more information. Templates You can save frequently used messages as templates, making it easier to respond to common questions or inquiries.OpenPhone can integrate with popular business tools, such as Slack, HubSpot, and Zapier, allowing you to streamline your communication workflows.
Overall, OpenPhone's text messaging service is a great option for businesses that want a dedicated phone number and an easy-to-use messaging platform. With features like text message forwarding, auto-reply, and integration with other tools, OpenPhone can help you stay organized and responsive to your customers' needs.
OpenPhone pricing
You can start using OpenPhone for as little as $13 per user per month. 
2. Msgclub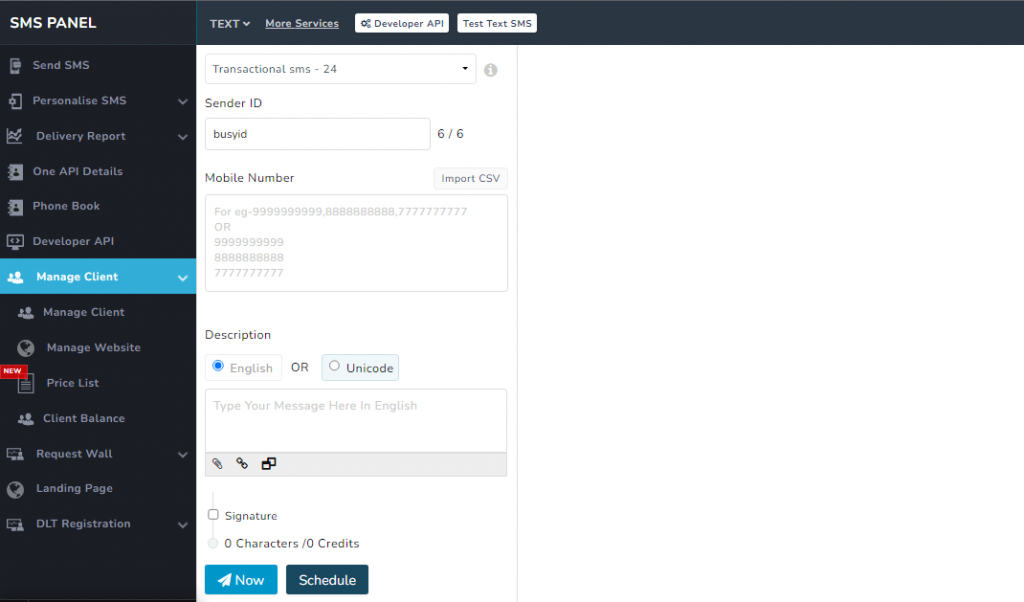 MsgClub is a leading provider of business communication solutions, offering a wide range of services including bulk SMS service, voice broadcasting, two-way messaging, and more. Their services are designed to help businesses reach their customers more effectively and efficiently, through a variety of channels.
With MsgClub, businesses can easily create and manage SMS campaigns, send personalized messages, and track their results in real time. Their platform is easy to use and can be accessed from anywhere, making it a great choice for businesses of all sizes.
In addition to its core messaging services, MsgClub also offers a range of additional features such as API integration, campaign scheduling, and advanced reporting and analytics. They are committed to providing their customers with the best possible service and offer 24/7 support to ensure that any issues are resolved quickly and efficiently.
Overall, MsgClub is a great choice for businesses looking to improve their communication and engage with their customers more effectively.
Msgclub pricing
You can start using Msgclub for as little as $15 per user per month.
3. Google Voice
Google Voice is a communication platform developed by Google that provides users with a phone number that can be used for voice calls, text messaging, and voicemail. With Google Voice, users can make and receive phone calls and text messages from their computer or mobile device, and can also use the service to manage their voicemail messages.
One of the key features of Google Voice is the ability to forward calls to multiple phone numbers. This means that you can have your Google Voice number ring your home phone, work phone, and mobile phone all at the same time, and you can answer the call from whichever phone is most convenient for you. This makes it easy to stay connected with your contacts, even if you're not always in the same place.
Google Voice also offers other features such as call screening, call recording, and call blocking. Additionally, the platform integrates with other Google services like Gmail and Google Calendar, making it easy to manage your communications from a single dashboard.
Google Voice is available to users in the United States and Canada and can be accessed through the Google Voice website or through the Google Voice app on iOS and Android devices.
Google Voice pricing
Google Voice company plans start at $10 per user per month. However, you'll also need to an active Google Workspace subscription (starting at $6 per month).
4. SimpleTexting
One of the top text messaging services for businesses, SlickText is a low-cost text message marketing service that comes with automation features, custom keywords, and an easy-to-use user interface.
You may add your contact list, start sending messages, and access analytics after setting up a keyword. With SlickText, you also receive a few extras like the ability to organize contests and produce materials like fliers, text-based surveys, and opt-in online forms.
It's a good service, however, the pricing isn't so amazing. There are nine of them, all with virtually the same features. In addition, prices in the US and Canada differ. SlickText might have limited the options as the only real differences between the plans are the volume of texts and price, not the benefits they offer.
Some customers claim that in order to buy more text credits when using a self-service business messaging software, an account representative must be contacted.
SimpleTexting pricing
SimpleTexting plans start at $29 per month.
5. SlickText
SlickText is the app on this list that is mostly geared toward marketing, and as a result, it almost didn't make the cut. Instead of having one-on-one conversations with your current clients, it is more suited for gathering phone numbers and sending bulk marketing messages.
With that stated, it's one of the better alternatives available if you're looking for an SMS app that makes it simple to collect phone numbers in a variety of different methods and to execute marketing campaigns by messaging them. A wizard walks you through setting up the service and sending your first SMS message throughout the brief but thorough onboarding process.
SlickText pricing
Starts at $29 per month (includes 500 texts per month).
6. TextMagic
An app for pay-per-text messaging is called TextMagic. It is most suitable for small firms or solopreneurs with fluctuating text messaging needs because there is no monthly plan to commit to.
The simplicity of the program doesn't come at the expense of more complex functionality. You can still build text marketing lists, use advanced reporting, and access the API to get responses to messages sent to your TextMagic number, for example.
As an alternative, you can text with your own phone number and get messages on your mobile device. Additionally, you may set up auto-replies to instantly reply to incoming messages or construct templates for text messages you want to send out repeatedly, such as confirmations of reservations or reminders of appointments.
TextMagic is available in over 200 countries and supports over 60 languages.
TextMagic Pricing
$0.04 per text, $4 per month for a virtual dedicated number
7. EZ Texting
SMS marketing is made simpler for non-techies using EZ Texting. EZ texting will direct you as you begin navigating the mobile app's user interface and send your first text message.
You can hold contests, distribute coupons, and run contests using the SMS marketing platform. When used together, these tools can enhance client engagement.
The SMS marketing service combines with your email marketing program in addition to SMS analytics, providing you with a more complete picture of the effectiveness of your marketing effort.
Although EZ Texting is a good service, high-growth businesses will likely fast outgrow their pricing tiers. You can use up to six free keywords to have incoming messages send you a text in response automatically. Only one phone number is included with each package. You will have to pay an undisclosed cost if you require more.
EZ Texting, you must spend a minimum of $3,000 per month for shortcodes.
8. RingCentral
RingCentral is a VoIP service, unlike the majority of the other choices on the list. It's a communication platform that enables teams to interact via phone, SMS, email, and more.
You may use RingCentral for general corporate communication since it is more than just a messaging app. Make limitless calls to the US and Canada, integrate it with your tech stack, and monitor the effectiveness of SMS marketing campaigns from the dashboard.
If you have a small staff or send a lot of texts, RingCentral is not a good choice. RingCentral's entry-level package entitles you to 25 text messages each month. You can upgrade your account or pay extra for anything above that.
Speaking of the ordinary plan, it is deficient in the majority of the capabilities that make RingCentral popular; therefore, you will have to pay more to gain the services your business requires. Otherwise, contact centers would benefit more from other tools that RingCentral provides like internet fax and call whisper.
Additionally, you ought to use a different service if you want to text from your computer. The only place to send SMS and MMS messages is through the RingCentral mobile app. Additionally, MMS is not currently supported by RingCentral for Canadian users.
Remember that RingCentral only saves the last 5,000 text messages sent by each user, so if you text a lot of clients, you won't have complete logs of all your interactions.
RingCentral pricing
Vary depending on your team's size. For teams of 20 users or less, RingCentral plans start at $19.99 per user per month.
9. Textedly
Although the UI of Textedly makes it seem simple, you may find capabilities like auto-replies, bulk SMS, and scheduled texts by digging deeper. Textedly offers all you could ask for in a robust messaging software and a little bit more.
The cost per text for all of this is the lowest of any service on the list. However, there is an additional one-time fee for drip marketing, text customization, and auto-replies. Additionally, Textedly isn't up about the cost of MMS.
If you want to use the advanced capabilities, there is a little learning curve, so you'll need an experienced SMS marketer on your team, which is probably not practical for startups or small businesses.
Textedly pricing
Starts at $24 per month for 1,200 messages per month.
Choose Msgclub for the best text messaging platform
Msgclub is a great option if you're looking for a product that will assist you in providing a trustworthy client experience and simplifying internal communications.
Bulk sms services to the India, US, and Canada are provided, along with a variety of other automation and communication tools, allowing you to concentrate all of your attention on clients rather than procedures.