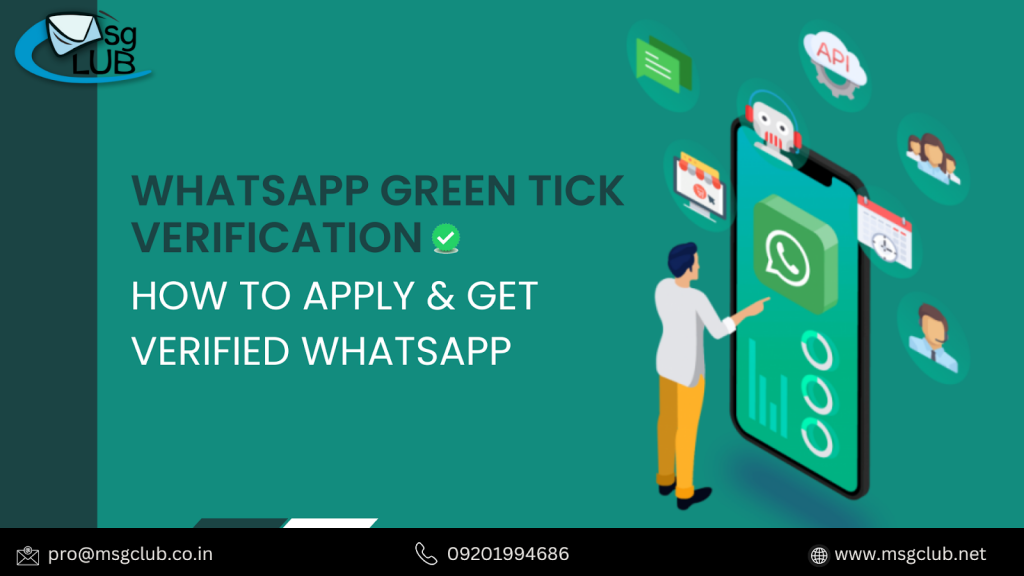 WhatsApp Green Tick is not the same as WhatsApp API Verification. In this video, we'll walk you through the Whatsapp company verification procedure and show you how to simply get verified on WhatsApp. A business, for example, may be approved to use WhatsApp APIs but not have a Green Tick.
What exactly is a WhatsApp green tick?
WhatsApp Green Tick is a badge that displays on the profile of your WhatsApp API number. You will receive it once WhatsApp has successfully confirmed your Business profile, demonstrating that you are an Official Business Account.
What are the advantages of a validated badge?
A green tick symbol signifies that your brand is real, unique, and trustworthy.
Obtaining the Green tick badge can assist you in reducing the number of times your consumers block you.
It may also boost message read rates, resulting in a higher ROI on messaging costs.
It may eventually be included in your entire branding.
Customers can see your brand even if they don't save your company's contact information. More trust!
What are the benefits and drawbacks of a certified WhatsApp verification badge?
Benefits
This demonstrates to users that the account is legitimate and safe to connect with, resulting in higher engagement and fewer negative reactions such as blocking the WhatsApp phone number.
Your brand name will appear instead of your phone number.
Drawbacks
You must have a WhatsApp API account to apply.
Obtaining a green tick verification badge is difficult.
You must first complete WhatsApp's authentication process in order to earn this badge. Here's how to receive WhatsApp Business Green Tick Verification.
WhatsApp is looking into new ways to engage with businesses that are important to their customers. The green tick emblem appears next to your profile picture once WhatsApp has verified that your phone number belongs to a business. The green tick icon indicates that WhatsApp has validated your phone number.
After being accepted for WhatsApp Business APIs, you can apply for Green Tick. Only a small number of firms match WhatsApp's official business account qualifications. WhatsApp usually grants Green Tick or an Official Business account to small and well-known enterprises.
Business Account Types
WhatsApp business accounts are classified into two types:
Official Business Account– WhatsApp has confirmed that this account is owned by a legitimate, well-known brand.
A green checkmark badge and conversation thread headers are displayed in the profile of an official business account. Even if the user hasn't added the business to their address book, the name is accessible.
There will be very few official business accounts.
Business Account- A business account is one that uses the WhatsApp Business API or the WhatsApp Business App.

For each account using the WhatsApp Business API, WhatsApp confirms the validity of a brand.
Official business account

If your WhatsApp account is an official business account, the display name will appear instead of the phone number in the chat list, chat screens, chat groups, and contacts view. In the contacts view, there will also be a green checkmark beside the displayed name.
Business Account (with API access but no Green Tick)
If your WhatsApp account is a business account, the display name will only be shown in the contacts view in the tiny text; all other views will show the phone number. Filling out your business information, such as your business website, address, and hours, might assist customers to learn more about your firm.
How to verify a WhatsApp business account?
The following are the methods to apply for a Green Tick on WhatsApp:
You must first apply for WhatsApp API access through a BSP such as MsgClub.
Once your WhatsApp Business API access has been approved, contact your BSP to request for Green Tick.
However, if your company is not well-known, your green tick application may be denied. WhatsApp retains the authority to approve your green tick, and the BSP has no say in the matter.
FAQs
What are the requirements for obtaining a green badge?
You must use a WhatsApp API Approved Business Account and
You must enable two-factor authentication.
Facebook Business Manager accounts must be verified by Facebook
must be for a business (individuals are not currently permitted).
It is recommended that you are in Tier 2 or higher messaging level.
You must be a well-known and reputable brand.
How long does it take to verify a green tick?
Green Tick application decisions are usually made within 1-2 working days. In some situations, it may take up to a week.
What should you do if your application for a green badge is denied?
The only difference is how your profile and contact details are displayed to customers. So, while the green badge gives it a more official appearance, everything else remains the same, and you can conduct ads and provide customer service just like any other business with the badge.
If you want, you can try again in 30 days.
What is the most important aspect of receiving green tick verification?
Having 3-5 public relations articles about your firm boosts the chances of your account receiving the green tick.
Which companies are ineligible for WhatsApp green tick verification?
WhatsApp prohibits certain business types from using the WhatsApp API, and hence from using WhatsApp Green Tick Verification. Businesses selling the following products/services are not eligible to use WhatsApp Business APIs:
Drugs
Tobacco Products
Gambling Enterprises
Brands of Alcohol
Businesses that manufacture weapons and ammunition
Animals that are alive
Adult Products and Services
Medical and Healthcare Supplies
Services for Dating
Cryptocurrencies
Please see WhatsApp's Commerce Policy for a complete list and up-to-date information on the forbidden categories of products and services.