WhatsApp Business, API for WhatsApp Business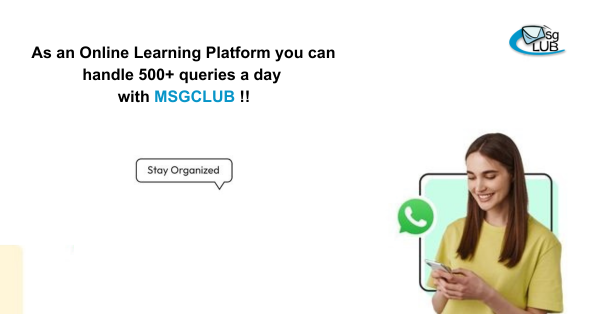 WhatsApp is increasingly being used as a marketing and consumer engagement channel by brands and businesses. As a result, they must send WhatsApp bulk messages to their customers.
Bulk WhatsApp message delivery to your target audience saves time and work. Furthermore, it allows you to successfully sell your products and services. Unfortunately, finding a trustworthy bulk WhatsApp message sender is tough because the majority of them are unofficial software.
Using unauthorized 'Bulk Message WhatsApp' tools may result in the permanent ban of your WhatsApp business number.
What exactly are bulk messages?
Bulk messages are marketing messages that are delivered to a large number of people (including potential clients) at the same time on WhatsApp.
Because you don't have to type down and send messages to each recipient, Bulk SMS/ messages on WhatsApp save you time and effort. These messages allow you to make the best use of your resources and are an excellent way to communicate information rapidly.
There is no limit to how many people can receive notifications. People who have not saved your WhatsApp number can receive messages from you if you use the WhatsApp API.
To make your messages more relevant, you can use photographs, videos, and as many characters as you want. Then, by including variables in your message template body, you can tailor WhatsApp bulk messages to reach out to clients on a large scale.
Customers will consider your brand as trustworthy and credible if you provide them customized messaging.
Use cases of WhatsApp bulk messages
Companies utilize WhatsApp's mass messaging not only for user engagement but also for a range of other applications, such as:
Making announcements about new products that have been launched
Sharing promotional offers and discounts
Keeping customers informed of future events
Reactivating inactive or dormant users
How can I send a large number of WhatsApp messages?
You have two options for sending bulk WhatsApp messages to your users:
Send WhatsApp Messages Using Unofficial Tools
To send messages, use WhatsApp's official APIs.
MsgClub is an example of an automated software meant to send WhatsApp messages in mass directly from a PC/Laptop. It is built on WhatsApp Business APIs.
The WhatsApp API allows you to send a WhatsApp bulk message to a much bigger audience than the 256 contacts allowed by WhatsApp. It also has advanced capabilities such as multi-user support and WhatsApp bulk message scheduling.
Both of the above WhatsApp mass messaging methods are distinct and have perks and cons.
Sending Bulk WhatsApp Messages Using Unofficial Tools –
Advantages
There is no need to obtain WhatsApp API authorization.
There is no need to approve message templates before sending.
It can be used for both professional and personal correspondence.
Simple to set up
Disadvantages
Because we are not linked with WhatsApp, your WhatsApp phone number may be prohibited.
As WhatsApp's platform evolves, many unauthorized solutions may cease to function.
There is no chance of getting Verification with a Green Tick.
Using Official APIs to Send Bulk WhatsApp Messages
Benefits –
There's no need to be concerned about WhatsApp blocking your phone number.
Reliable solution – automation is possible, and messages can be scheduled.
Create chatbots that respond automatically.
Several Agents can log in and respond to customers.
APIs can be linked to external systems in order to send transactional updates.
It is beneficial to obtain green tick verification, which validates your company's credibility.
It has the potential to be an excellent marketing tool for small enterprises.
Negative factors –
Approval of the Business API is required.
WhatsApp must pre-approve templates – Promotional messages are not permitted.
Personal use is not permitted.
To send a WhatsApp bulk message using WhatsApp API, you'll need two things: a WhatsApp API account and business messaging software like MsgClub.
You may also use WhatsApp APIs to enable a WhatsApp Chatbot on your business number, which will help you automate your sales and customer support.
How can I get the WhatsApp Official API?
To apply for WhatsApp Official APIs, you must have the following information:
WhatsApp Phone Number – This should be a number that does not have a WhatsApp account. This phone number cannot be transferred.
(Follow these procedures to remove the WhatsApp account associated with your phone number.)
Business Display Name – Should be clearly related to the business.
Facebook Business Manager ID must be verified by uploading business documentation.
Once you have this information, you must submit it to a WhatsApp Business Solution Provider (BSP) like MsgClub.
How can I send a large number of WhatsApp messages without being banned?
While it may appear to be enticing to broadcast a specific message to a large group of individuals at once, you must exercise caution to avoid spamming your consumers.
You risk having your account suspended or banned if you utilize WhatsApp's platform to market your items in volume, which is against their terms of service. WhatsApp has created strong restrictions to protect the interests of its users. As a result, they may ban any corporation that engages in bulk spamming promotions.
This isn't to indicate that mass mail isn't allowed. If you follow the regulations, you can enjoy the benefits of this feature without risk. However, if you don't do it correctly, WhatsApp may restrict your phone number, causing you to lose potential customers.
We've also discovered that ordinary WhatsApp Business app numbers are much easier to block. WhatsApp Business API numbers, on the other hand, are rarely, if ever, prohibited.
To circumvent this, WhatsApp Business API allows you to send bulk messages. Furthermore, the improved version of WhatsApp Business assists quickly growing firms in streamlining their communication.
Before Sending a Bulk WhatsApp Message, Here's What You Should Know
To protect its users from spam and promote high-quality bulk messages, WhatsApp introduced phone number levels, status, and quality ratings.
Tiers of Phone Numbers
The total number of recipients to whom you can send bulk messages via WhatsApp API is determined by the tier of your phone number. As a result, the higher your phone number tier, the more new contacts you communicate in a 24-hour period.
Status of Phone Numbers and Quality Rating
The status and quality rating of your phone number can impact your ability to send bulk SMS/messages on WhatsApp. The status of a phone number must be 'Connected' in order to send unlimited WhatsApp bulk messages.
Your phone number's rating drops if it is reported or blocked. As a result, it will be marked as Flagged. While your number is Flagged, you cannot improve its message tier. Assume the quality rating does not improve within seven days. The status will revert to Connected, albeit with a decreased messaging capacity.
If your number hits its messaging limit while having a low-quality rating, it will be granted the Restricted status. A Restricted WhatsApp phone number is only capable of answering incoming calls and sending WhatsApp bulk messages to new unique Contacts.
Send only high-quality WhatsApp bulk messages relevant to your Contacts to keep a high-quality rating.
What is the next step?
This post has taught you everything you need to know about sending bulk WhatsApp messages. Following that, join a group demo call with one of our specialists to get a full overview of MsgClub and to get started with WhatsApp bulk messaging.
You will also learn how to administer your WhatsApp Marketing, work seamlessly with a shared inbox, and send out timely engaging notifications like abandoned cart recovery, order confirmation, and delivery notifications during the demo call.