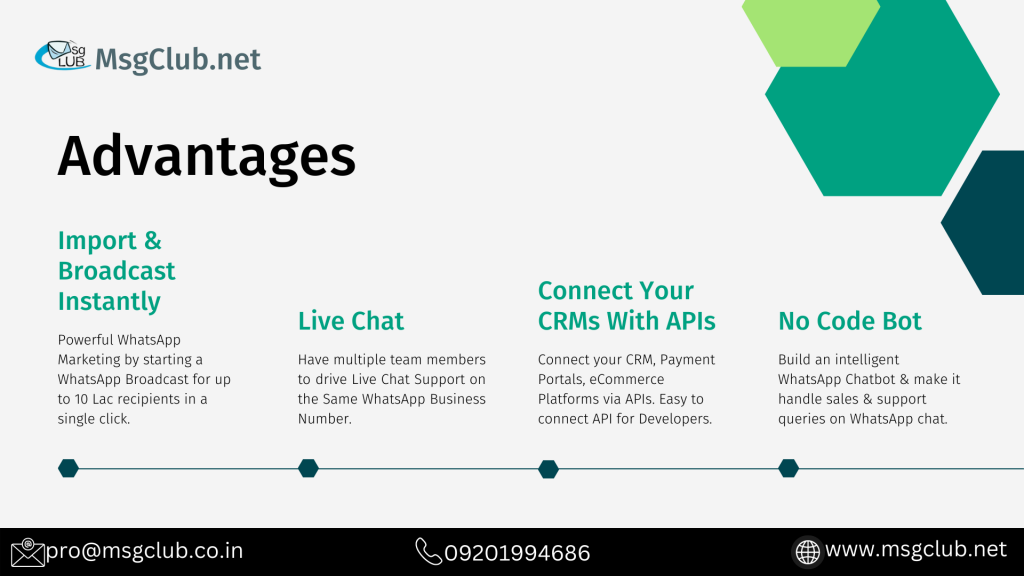 Are you prepared to improve your website? Use the WhatsApp Chat Button to transform your website into an interesting and customer-friendly destination.
We'll teach you how to easily integrate the WhatsApp Chat Button into your website, increasing user interaction and support like never before in this entertaining, educational, and interesting guide.
Why Should You Use the WhatsApp Chat Button in 2023?
WhatsApp remains a global phenomenon, with over 2.5 billion active users as of 2023. You may tap into this large audience and create instant, familiar contact channels for your visitors by adding a WhatsApp Chat Button to your website. This results in more customer happiness, more conversions, and a stronger brand reputation.
In today's digital world, businesses of all sizes must provide prompt and effective customer service. By including the WhatsApp Chat Button on your website, you can provide your visitors with a quick, familiar communication route, increasing user engagement and customer satisfaction.
We'll walk you through the process of installing a WhatsApp Chat Widget to your website in this step-by-step guide.
Boost Your Website: This Quick Guide Will Help You Add a WhatsApp Chat Button
Setup a WhatsApp Business Account
Setting up a WhatsApp Business Account is the first step in adding a WhatsApp Chat Button on your website. This account has a slew of features tailored to organizations, such as verified badges, speedy responses, and extensive analytics.
Select a WhatsApp Chat Button Integration Tool
MsgClub is one of several third-party applications that can let you add a WhatsApp Chat Button to your website. To select the greatest fit for your needs, compare their features, cost, and ease of use.
Change the Look of Your WhatsApp Chat Button
After you've decided on an integration option, it's time to personalize your WhatsApp Chat Button. This includes picking a design, a color palette, and composing the ideal greeting message to greet visitors when they click the button.
Insert a WhatsApp Chat Button on Your Website
Most integration tools give a simple code snippet that you can copy and paste into the HTML of your website. Simply follow their instructions, and presto! Your WhatsApp communication Button is now active on your website, inviting users to communicate with you.
Prepare Your Team
Train your employees on how to use the WhatsApp Chat Button efficiently to get the most out of it. Understanding how to use rapid replies, managing many conversations, and utilizing chat analytics to better customer service are all part of this.
Maintain and Improve Your WhatsApp Chat Button
Examine the functioning of your WhatsApp Chat Button on a regular basis to identify areas for improvement. This could include moving the button, changing your greeting message, or modifying your team's chat response techniques.
Enhance Engagement by Integrating WhatsApp Chat on Your Website
More and more business owners are seeing the benefits of connecting with clients on WhatsApp, the world's most popular messaging app.
Because WhatsApp is so easy to use, you can rapidly respond to your customers and help them throughout their relationship with your brand.
Integrating a WhatsApp chat widget on your website can provide numerous benefits to both your company and its customers:
Pros
Improved customer service: Integrating WhatsApp on your website enables for rapid and easy connection with customers, addressing their questions and problems in real-time.
Real-time communication: Because WhatsApp supports immediate messaging, businesses may deliver timely and efficient customer care.
Increased user engagement and retention: The simplicity and familiarity of WhatsApp can encourage consumers to stay on your website and communicate with your company, increasing engagement and retention rates.
Sales and marketing are simplified since WhatsApp can be used for marketing campaigns, promotions, and sales inquiries, making it a powerful tool for sales and marketing teams.
Access to a large user base: With over 2 billion active users, incorporating WhatsApp on your website gives you access to a huge audience.
Cons
Due to privacy concerns, some users may be hesitant to give their phone number or engage in WhatsApp conversations.
reliance on a third-party platform Using WhatsApp for client communication puts your company at the mercy of the platform and its policies, which can change at any time.
Limited customization options: WhatsApp's appearance and functionality cannot be easily tailored to match the design and branding of your website.
Potential for spam and security issues: Using WhatsApp for consumer communication may expose your company to spam and security risks.
Allocation and management of resources: Additional resources and employee training may be required to ensure that your team is appropriately equipped to manage WhatsApp communication.
How to Include a WhatsApp Chat Button on Your Website
Now that you're aware of the benefits and drawbacks, it's time to embark on the fun process of adding a WhatsApp chat button to your website.
The methods I'll show you will assist you in adding a button that prompts visitors to start a WhatsApp chat with your business.
Construct a WhatsApp API Link
Verified WhatsApp API links allow you to initiate a conversation with someone even if their phone number is not recorded in your phone's address book. You can use this function to establish a link that allows you to talk with anyone.
When they click the link, a chat with your company will open on both their phone and the WhatsApp web. After you've created the link, you may include it into your website as a button or a link.
Build a Button Using WhatsApp Widgets
This approach of adding a WhatsApp button to your website has numerous advantages and is simple to use. With MsgClub's live chat widget, you can create a button that matches the appearance and feel of your company.
Here's how to make use of the widget:
1. Go to the Create WhatsApp Chat Button page.
2️. Customize your button by including:
Color of the button (use your company's color)
Name of the button (ideally, a call to action such as "Message Us!")
Setting the shape and position
3️. Personalize your chat widget button by including:
Your company's name
A brand tagline
Your contact information
A greeting message
4. Finish configuring your chat widget:
Add a default message that users can send (which prompts them to ask a question about a specific page).
Copy your logo's URL and paste it into this section; if you don't have an image CDN, build one here).
Select a backdrop color and add CTA text.
5. After filling out the form with the necessary information, click "Generate Widget Code." A drop-down will appear with a code snippet, then click "copy to clipboard."
The last phase.
After you've copied the code snippet, paste it into the body tag of your website. If you are unfamiliar with coding, contact your web service provider for assistance with pasting the code.
If you're tech-savvy, go to your website's backend, find the index page, find the body tag, and paste the snippet immediately below the closing body tag. Save your changes, refresh the page, and you're done! Your WhatsApp conversation button is now operational.
Prepare to experience continuous conversations with your clients and watch your website engagement.
How to Manage Contacts with WhatsApp Business API: Improve Your Skills!
The WhatsApp Business app includes useful capabilities for small businesses to manage connections and services. It's ideal for expanding enterprises with a modest consumer base. But what happens when your company begins to grow?
As your customer base grows, consider upgrading to WhatsApp Business API, a more robust version with numerous advantages for growing organizations.
MsgClub is here to assist you in making the most of the wonderful capabilities of the WhatsApp Business API. MsgClub was created with business owners in mind and includes everything you need, such as shared inboxes, broadcast messages, contact segmentation, and abandoned cart reminders.