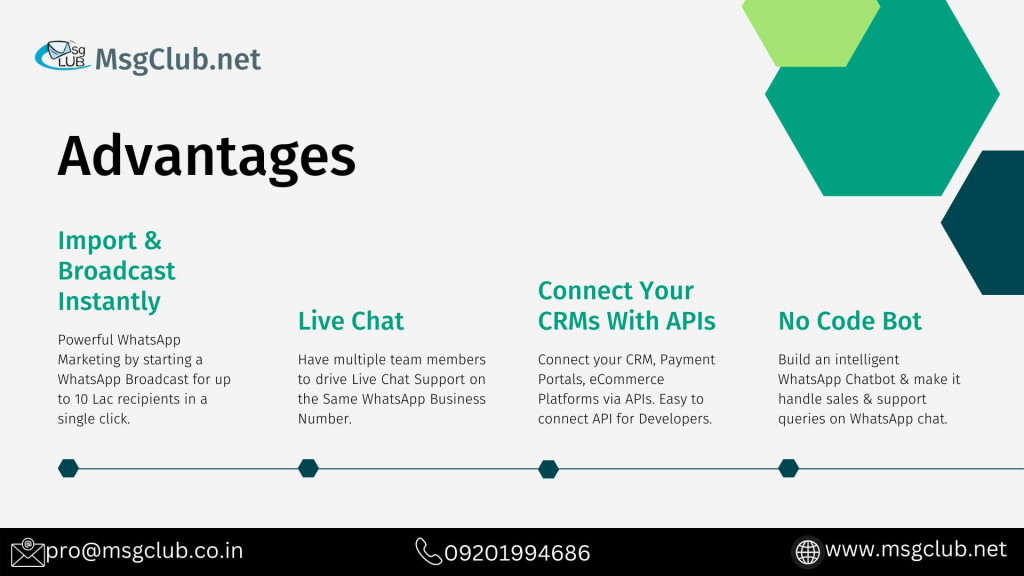 The main objective of Bulk SMS marketing is to deliver the correct message to the right audience at the right time.
There is no denying the effectiveness of text message marketing. But you have a lot of options (like Msgclub) when it comes to picking the best SMS marketing services.
So, before selecting a text marketing app or mass messaging software, I've created a list of 7 things to ask.
I've also included a list of the top 8 mass texting apps and services.
By the end, you ought to know exactly what to look for and which services will work best for your marketing requirements.
7 Questions to Ask Before Choosing a Bulk SMS Service or Mass Text App
Before you choose a business Bulk SMS Service ask yourself and answer the following questions:
What is Bulk SMS Service?
How many messages do you need to send?
What kind of number do you want to send and receive sms from?
How do you acquire and manage contacts and subscribers?
How much automation and integration do you need?
Do you need to track link clicks and see campaign analytics?
What is Bulk SMS Service?
Bulk SMS is sending an SMS/MMS message to multiple end-users simultaneously. Bulk SMS Service is typically a broadcast or one-to-many type of message and differs from a Group Message, which is considered many-to-many. Bulk SMS is a service that enables sending a large number of SMS messages to a broad audience – at once.
How many messages do you need to send?
You may already have your audience and a large number of contacts who you wish to SMS with promotions.
Knowing how many texts you must send is the first step in choosing the best SMS marketing platform. High-volume bulk sms is not supported by all bulk sms services.
Additionally, be aware that promotional SMS campaigns are subject to certain regulations and carrier limits before you begin sending bulk text messages.
You'll require a bulk SMS solution that provides the following in order to send out promotional sms in bulk:
Improved "throughput" (messages per second) support
High-volume, carrier-tested A2P text message campaigns
Standard texting services can transmit 1-3 texts per second to up to 25 contacts in terms of volume.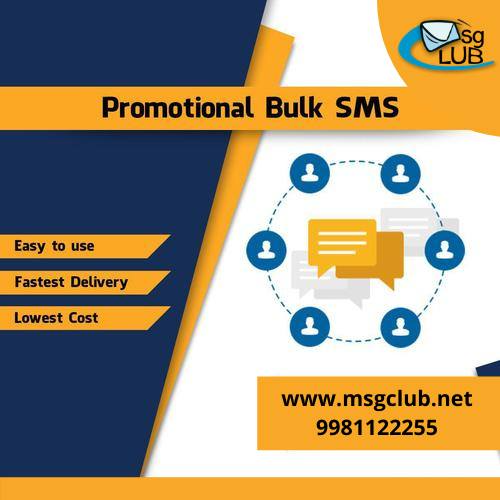 But you'll need a more complex platform if you want to send bulk text messages in bigger volumes for SMS marketing. one that helps high-volume, carrier-verified A2P text message campaigns.
You cannot send bulk SMS at scale without this unique classification, and your messages may not even be delivered.
Through platforms like Campaign Registration, the majority of mass text messaging services go through carrier verification and clearance. They can register campaigns and send mass texts for marketing purposes thanks to this.
With Msgclub, getting A2P approval for mass texting only requires submitting one form.
It should be noted that many corporate texting services do charge extra for A2P texting. To determine cost-effectiveness, you'll need to incorporate it into your pricing strategy and/or charge for each text message.
What kind of number do you want to send and receive texts from?
In the beginning, only five- or six-digit short code phone numbers could be used by companies and organizations to text. These were designated numbers for bulk sms.
Bulk SMS is still a wonderful use for shortcodes, which are still there. However, carriers are beginning to phase out shortcodes as mass texting changes.
The good news is that organizations and enterprises have several possibilities. Your existing 10-digit business landline can be made text-enabled. Or you can send a lot of texts by dialing a toll-free 800 number.
You may text from several phone numbers on the majority of text marketing services. Msgclub even supports mass texting from both 10-digit and toll-free 800 numbers.
I strongly advise against using group texts for promotional messages. This is for several kinds of reasons, including security and privacy.
How do you acquire and manage contacts and subscribers?
The key components of the bulk sms service include groups, lists, forms, and custom fields.
They are necessary for classifying contacts and customers into lists. Each enables you to create more precise communications for the appropriate audiences.
This is called segmentation in the marketing world.
You may divide messages into various lists and groups using the best mass texting software.
Like Msgclub, many Bulk SMS marketing solutions also provide custom fields. To further individualize your contact segments, you can add these to your contact segments.
But how can you increase the number of people who subscribe to your marketing communications when you begin segmenting?
In order to increase your website's subscriber base and lead generation, you should search for extra features like:
Click-to-text buttons from your website
Website contact forms that deliver texts automatically
Website chatbots that start discussions and gather contact information
Chatbots, contact forms, and click-to-text buttons are all excellent. They make it simple for contacts and clients to get in touch with you through your website. They are therefore excellent lead-generation tools.
A lot of the top mass texting applications, including Msgclub, provide these extra functions. Therefore, make careful to search for them when looking for solutions.
How much automation and integration do you need?
There are two main types of Bulk SMS automation.
Scheduling simple SMS messages (one-time, unique, non-recurring SMS messages)
Advanced text message automation (assembling a campaign's worth of repeating, scheduled texts and autoresponders)
The majority of bulk SMS systems provide simple text message scheduling. This refers to setting up one text message, sent at one time, to one person.
Integrations can also speed up, scale, and automate your messaging for you and your team.
Integrations with CRMs and other marketing systems, including Zipper and ConstantContact, may be useful for marketing.
However, your requirements will vary based on your message requirements and procedures.
Do you need to track link clicks and see campaign analytics?
You need to assess the effectiveness of your Bulk SMS campaign after sending it to your target audience.
Platform-specific analytics features differ, however almost all include some form of analytics tracking functionality.
Platforms for Bulk SMS Services that are more advanced will display metrics like:
Successful delivery rate
Failed message delivery rate
Non-mobile phone number recipients
Number of contacts opted-in/out of messaging
Number of contacts unsubscribed
Bulk SMS link clicks
Tracking link clicks is especially helpful. You can measure open rates, response rates, and the success of your message thanks to it.
The best part is that they make it simple to figure out your ROI and money per paragraph.
Ready to create a Bulk SMS Service campaign?
Ready to start sms? Msgclub is here to help you start more meaningful customer conversations.