WhatsApp Banking Business, Verified WhatsApp Business API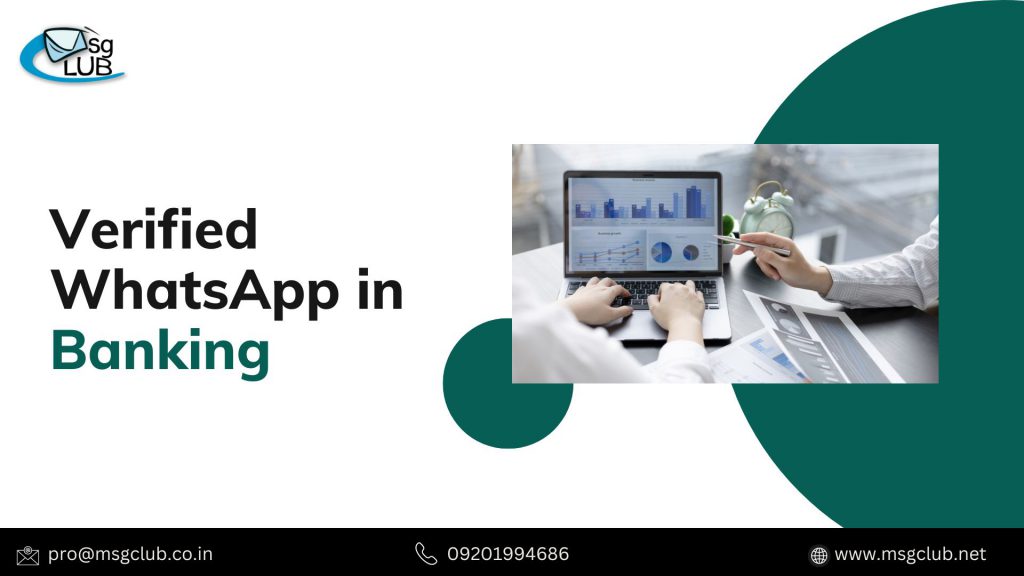 The WhatsApp Business API is an essential tool for Banks & financial institutions. They can use it to scale client communication on WhatsApp and offer new products and services.
We'll go over all, you need to know about WhatsApp banking in this article. Learn how to use the API, why it's important now, and how prominent banks are using WhatsApp.
What exactly is WhatsApp Business API?
Banking software is linked to WhatsApp's services through the WhatsApp Business API. Essentially, it serves as a bridge between a bank's internal systems and their WhatsApp clients.
The Verified WhatsApp Business API provides banks with the freedom they require to use WhatsApp on a large scale. It links customers, vendors, and processes, making dialogues more contextual and meaningful.
Customer care teams can use the WhatsApp Business API to work from a shared inbox, automate frequently asked queries, and exploit customer information. As a result, banks are able to achieve more with one to one interactions.
How does the WhatsApp Business API function in the banking industry?
The WhatsApp Business API is an interface for programming languages. Banks can use the API to connect thousands of agents and bots to communicate with customers both programmatically and manually.
To gain access to the WhatsApp Business API, banks typically collaborate through WhatsApp's third party business solution providers (BSPs). These third party providers host a set of WhatsApp tools and protocols on their servers, eliminating the need for banks to do so.
Using an authorized third party solution provider allows you to avoid operational issues and speed up the development process. Furthermore, these solution providers have the experience that banks require in order to use WhatsApp securely and successfully.
MsgClub is an authorized provider of WhatsApp Business Solutions. WhatsApp believes in us to assist banks in creating seamless client experiences on its platform.
Advantages of WhatsApp Banking
1. Security
End-to-end encryption is used to safeguard all WhatsApp messages and calls. Only the bank and the customer have access to read messages or listen to phone calls. Nobody, not even WhatsApp, can read business communication in the middle.
Furthermore, banks may integrate security protocols directly into conversations. Customers may be required to authenticate themselves before making payments, transfers, or performing other operations.
Authentication can be accomplished by the use of a password, a phone token, a biometric password, or a combination of all three. This is especially crucial as legal standards such as Strong Customer Authentication (SCA) become more prevalent around the world.
2. Customer Service
The retail banking experience is becoming more important to customers. People expect banks to provide the same seamless, convenient service that they receive from tech businesses such as Amazon, Netflix, and Uber.
As a result, customer experience is becoming a critical driver of growth. Retail banks that frequently practice customer experience optimization outperform their competitors by more than three times.
Verified WhatsApp has been shown to assist banks in meeting these rising demands. Banks can provide the immediate, personalized service that customers want by leveraging automation, improved data, and integrations.
3. Efficiency
WhatsApp banking improves the efficiency of customer care staff. They can automate frequently asked inquiries and answer requests more quickly than traditional routes.
Most questions may be answered in less than two minutes with conversational banking. It also reduces calls to call centers by 50%, freeing up human resources.
4. Faster Innovation
The WhatsApp Business API enables financial institutions to innovate more easily. Instead of developing new products and services from the ground up, businesses might collaborate with a network of third-party providers.
This means that instead of competing with fintech companies, banks can collaborate with them to provide new digital solutions.
5. Increased Revenue
According to Accenture, conversational banking can increase revenue by 25% while decreasing costs by up to 30%. In an era of intense competition, that's a significant advantage for banks.
Why WhatsApp Banking matters now
New regulations boost the industry's competitiveness.
Regulations such as Open Banking and the Payment Services Directive (PSD2) increase competition in the banking business. These rules make it easier to use open APIs (such as the WhatsApp Business API).
As a result, the industry is undergoing digital transformation, and new market participants are entering the market. While these restrictions will benefit institutions willing to accept the change, they will be detrimental to incumbents that resist.
WhatsApp is the most popular conversational banking platform.
WhatsApp is a perfect platform for conversational banking. With over 2 billion monthly average users, it is the most popular messaging app in the world.
WhatsApp is also a top platform for creating rich media experiences. The ability to use buttons, quick replies, product carousels, voice memos, images, maps, and other sorts of rich information is a significant advantage of utilizing WhatsApp.
Using this rich content makes conversations. It reduces the need for clients to type everything out, lowering the time it takes to resolve issues.
Case Studies for WhatsApp Banking
Customers must be onboarded.
Onboarding commercial banking clients can be a time consuming and costly procedure. According to Deloitte, the procedure might take up to 16 weeks to complete, which typically negatively impacts the customer experience. According to the same article, banks may end up investing $20,000-$30,000 to onboard a new client.
According to Deloitte, automating the onboarding process can save banks hundreds of millions of dollars. This is an excellent use case for WhatsApp that banks should investigate.
Automate FAQs
Assist customers in checking bank balances, finding nearby ATMs, researching interest rates and credit restrictions, and more.
Accountancy services
Automate queries concerning bonus points, recurring payments, and transfer limits. Assist customers in securely updating account details and easily resetting passwords.
Send out reminders
Remind customers when their automatic payments are due or when their invoices are due.
Quick responses should be automated
If a customer's credit card is lost or stolen, automatically assist them in placing the card on hold or canceling it.
How to Begin with WhatsApp Banking
Request access to the WhatsApp Business API to get started with WhatsApp Banking. You can get access by contacting any authorized WhatsApp Business Solution Provider (BSP), such as us.
MsgClub has helped some of the leading banks define their conversational banking strategies. We understand the banking industry's specific difficulties and prospects.
Request a demo or find out more about our Verified WhatsApp banking solutions.