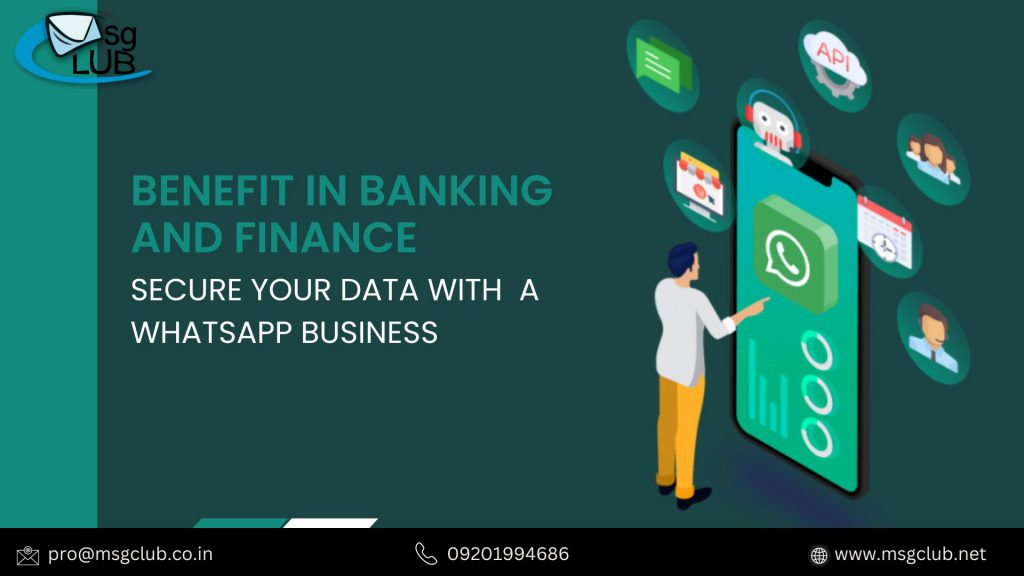 WhatsApp is the world's most popular communication platform, with over 2 billion users! As a result, the banking and finance industries can benefit from its broad accessibility, extensive network, and end-to-end encryption.
Finance and banking are experiencing digital change. According to the Deloitte 2019 Banking Industry Outlook, as fintech continues to grow, PSD2 in Europe has become a reality, and retail banking is quickly embracing mobile-centric customer experiences, digital has become a fundamental strategy for the sector. Banks have boosted their investments in mobile technologies significantly, with a focus on improving every channel, particularly digital banking. JPMorgan Chase, for example, has embraced the slogan "mobile first, digital everything."
Existing processes of Automating is not enough. According to Retail Banking Trends 2019, one of the top three initiatives for the year is to streamline the customer process. Clients want bespoke, value-added, real-time services, self-service, and personalized engagement. Allowing clients to handle their financial lives without difficulty is now a true difference.
In this context, WhatsApp Business emerges as one of the most desired channels for banks and financial organizations. The financial sector may enable customer service with real time account balances, mini statement reports, current transaction data, real time warnings, and even payment transfers (typically to existing contacts) via the WhatsApp Business API. Using chat apps to facilitate financial transactions for clients makes perfect sense as online engagement becomes more conversational. This is undoubtedly how banks can streamline customer experiences, particularly for younger generations.
However, like with most communication platforms there is always the issue of user security, privacy, and GDPR compliance. Does the utilization of the WhatsApp Business solution truly meet these severe requirements? Also, what function does MsgClub's role in enabling security, GDPR-compliant access to the WhatsApp Business API? Let's find out.
GDPR Compliance
GDPR (General Data Protection Regulation) manages the use and storage of EU citizens' personal data, regardless of where it was obtained. The method of data collection – text message, web form, or onscreen prompt — must indicate how the data will be utilized. Furthermore, businesses must provide a method for users to opt out of communications and execute these requests immediately.
WhatsApp Business has been designed with the privacy and security capabilities that businesses require. As a result, the WhatsApp Business API does not permit access to the user's address book. Furthermore, media and messages are only saved for delivery and removed after 7-30 days.
Banks and finance businesses may be confident that GDPR compliance is maintained when they connect to MsgClub. We use encryption and pseudonymization whenever possible, do not store messages, and provide a safe data processing framework.
Encryption
WhatsApp Business solution conversations are encrypted from MsgClub to the device and encrypted from your application to MsgClub. This means that businesses can send and receive sensitive information such as payment requests, addresses, and so on in business to business interactions.
Official Business Accounts
To use the WhatsApp Business API for client interactions, you must first create a WhatsApp Business Account. Banks and financial organizations must aim for a verified WhatApp Business Account, which means that WhatsApp has confirmed that an official company owns this account. Although it is not required, this verified profile is perfect for the banking industry because customer communications are typically sensitive.
An official business account contains the elements required to build trust with users: the green badge indicates that this is the official business account – where customers can ask any inquiry they want. It includes further contact information such as your company's hotline, website, phone number, and other facts. Customers can trust this channel and communicate freely with the organization if it has a verified profile.
Opt-In and Opt-Out by the User
Opting-in is critical in the setup of your service. This is because businesses can only contact WhatsApp users if they actively opt in. An end user must first agree to receive messages via the WhatsApp Business solution by opting in through a third party channel. This can be any channel via which your company communicates with clients, such as your website, app, email, SMS, or retail presence.
The user can easily opt out at any time, and blocking and reporting mechanisms are available immediately on the company profile.
MsgClub prioritizes IT security
Customer data security is no longer just a good business practice; it is required. To assure security, MsgClub provides multiple secure transmission options, performs frequent penetration testing and automated vulnerability assessments, and more. Every day, we work to improve our security controls and standards, enabling secure communications for your Verified WhatsApp Business solution and beyond.