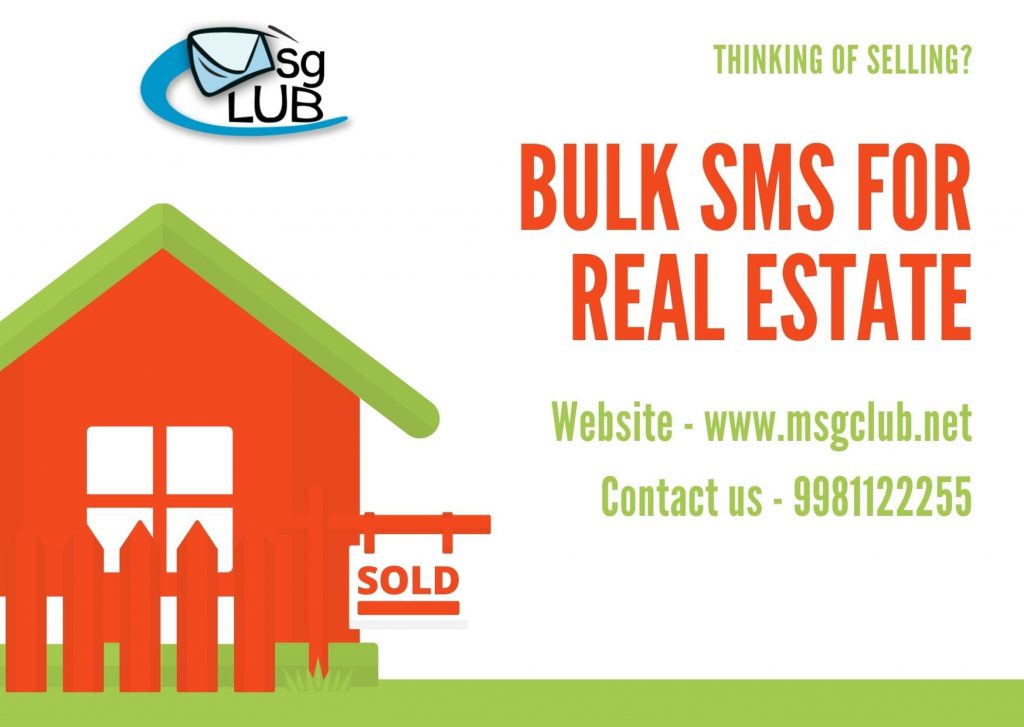 There are a number of great ways to market your real estate brand and attract new clients, including SEO, social media, paid advertisements, and email marketing. So how do you decide which marketing channels will be the most successful and help you achieve your goals?
The numbers are all that matter. These figures are remarkable for bulk SMS marketing. Since almost 98% of texts are opened, SMS real estate marketing is a fantastic tool for raising awareness. And while 61% of marketers still don't take advantage of SMS messaging, 64% of customers believe that companies should SMS them more frequently.
SMS real estate marketing has been found to be a highly effective strategy to generate more leads, increase brand recognition, and increasing sales.
We'll explain how and why you should be incorporating this effective marketing channel and give you the lowdown on some of the best bulk SMS service providers for developing a successful bulk SMS for real estate marketing program, whether you're looking to start an SMS real estate marketing program from beginning to end or improve your existing strategy.
Content
Benefits of Bulk SMS for real estate marketing
Getting started with Bulk SMS for real estate marketing
Creating effective Bulk SMS messages
Build your brand and uplevel your real estate marketing with Bulk SMS Service
Benefits of Bulk SMS for real estate marketing
Bulk SMS marketing offers a wealth of advantages and can be a truly wise addition to your marketing strategy. These are a few of the main reasons why real estate firms should think about sending BUlk SMS about real estate.
SMS real estate marketing is highly affordable
Bulk SMS Service is incredibly affordable when compared to other kinds of advertising, frequently only costing small amounts per sms or a small fixed price. It can significantly lower your cost of purchase and increase your ROI and requires little risk or capital outlay.
SMS real estate marketing is personal
Since the majority of texts people receive are from people they know in real life, receiving an SMS naturally feels more personal. This is especially true if you thoughtfully and specifically write your real estate text sms (more on that later).
SMS marketing gets faster responses
A real estate deal can succeed or fail based on quick replies. And when time is of the basic terms, SMS is the perfect marketing channel: 90% of bulk sms are read within three minutes of receipt, and SMS has a response rate of 45% compared to email marketing's 10%.
Getting started with Bulk SMS for Real Estate Marketing
Okay, so you've defined that using bulk SMS service for real estate marketing is a wise choice for your company. Here are some pointers to get your SMS marketing campaign off to a good start.
Research and identify your target audience
Knowing your target audience is essential when using any marketing method.
Start by focusing on the PFDD framework (pains, fears, dreams, and desires) of your target market. It's important to be clear about who you're speaking to in order to create the ideal real estate SMS messages that will connect to them. Consider specifics like their location, age, occupation, earnings, gender, and other important demographic data.
Create a database with phone numbers
In real estate, Your database is one of the most valuable investments. Additionally, you need to use it to create marketing campaigns, such as bulk SMS in real estate messaging. Make sure you gather the phone numbers of customers and potential customers whenever you run paid media campaigns to draw new leads or engage in any form of networking so you can subsequently use them in your SMS marketing efforts.
Get permission to send SMS real estate text messages
In terms of both legal compliance and business expertise, you should only send real estate SMS messages to individuals who have authorized receiving them. Include a place for new buyers and sellers to opt-in to receive these messages when collecting phone numbers. Simply asking them to mark a box on a piece of paper or digitally can be used to collect this information.
If someone asks you not to text them, you have to respect their request and take them off the list.
Choose the right Bulk SMS Service provider
There are many unique SMS platforms available. Which to use is a personal choice that may be influenced by your spending limit, the features you require, and your level of technological sophistication. These are some of the most well-liked and rated choices.
MsgClub is providing quality business bulk SMS services to maintain our top position in the SMS industry as a premium and top-class bulk SMS gateway provider in India. Some of the well-known services like BULK SMS, International SMS, Voice SMS, Long Code, Missed Call, DND filter and much more can be used through a simple gateway. We always believe in offering unparalleled service and customer support to more than thousands of companies established across the country. Moreover, our company is highly popular for the reason we provide Priority bulk SMS gateways and routes for immediate delivery in India. Our services of bulk messaging can be used for marketing, promotion, and group SMS anywhere in India. Here you can get a simple way to send single, personalized, and bulk SMS to your customers, employees, students, and stockholders.
Well, with the emergence of mobile marketing clients are more focused on product promotion to generate revenue from customers. So, we provide an opportunity to use our mobile marketing services that are readily accessible to deploy into your system.
Text Magic
With a 99.95% uptime guarantee, Text Magic is a simple-to-use, dependable solution. It has features like two-way messaging, autoresponders, pre-scheduled real estate SMS, personalized messages, and more, and it interacts with well-known CRM and marketing systems.
Creating effective Bulk SMS messages
It's time to start developing your messages once you've compiled a list of opted-in customers and prospects and selected a bulk SMS provider. Here are some guidelines for crafting effective SMS messages that generate responses.
Keep them concise
You know how people can respond to lengthy SMS texts if you've ever received a political text message. It's ideal to keep real estate texts brief, precise, and direct. Your messages should still have individuality, though. Every communication you send out should, in fact, embody your brand voice and target your ideal client.
Share compelling information
Consider the viewpoint of the receivers of your messages. Send them communications they want to receive rather than simply the ones you want to receive. The kinds of real estate SMS templates you could make are shown in the following examples:
Information on upcoming open houses
Greetings for the anniversary of a property closing
A survey that invites responses about regional issues
Appointment reminders and confirmations with all the relevant details
Information on a property that is about to be listed for sale
Property details for a listing whose asking price have been dropped
Replies to queries a prospective buyer asked in follow-up messages
Create a sense of urgency
A sense of urgency can increase responses and impact outcomes, but it's essential that this urgency is grounded in reality in order to avoid sounding slick or dishonest.
This strategy works particularly well when communicating about open houses and classifieds. For instance, you might notify people by SMS that an open house is only open to a certain number of people or that the deadline for submitting offers on a particular property is quickly approaching.
Build your brand and uplevel your real estate marketing with Msgclub
Adding SMS real estate SMS to your overall marketing strategy, which should also include strategies for establishing your brand and online presence and drawing in new clients, will greatly increase its effectiveness.
At Msgclub, we provide an extensive range of goods, services, and solutions to assist you in achieving your goals. To find out more about our award-winning real estate website designs and knowledgeable marketing solutions, Signup now for free SMS.