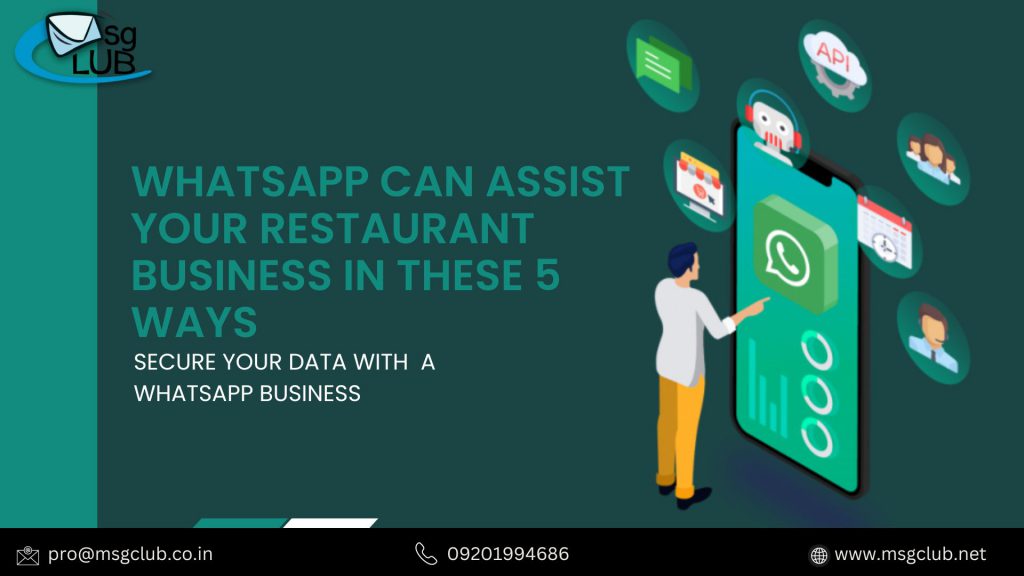 WhatsApp Business, WhatsApp Business API, Verified WhatsApp
In 2021, if you own a restaurant, you're presumably selling on a platform for food delivery. It's likely that they initially drew you in with a commission rate that was quite low but gradually climbed over time.
You also start to realize that you have no idea who your ultimate clients are. You prepare orders for which you almost certainly won't make enough money, and you ship out order numbers for which you don't know who the final recipients are.
A meal ordering bot for WhatsApp and/or Messenger can be useful. In order to get ready for the new normal as we approach 2021, we examine 5 reasons why your company has to adopt WhatsApp. However, let's take a quick look at how a WhatsApp ordering bot would actually work first.
A WABA, or official WhatsApp For Business API, is the first step. The same technology that enables larger firms to receive a green badge next to their name so their customers know you're the real deal is used in this process, which is free to apply for. 
After that, we create a bot and train it on your complete menu. This is a component of our unique technology.
A customer can then just message in with their order after this is completed. This is something our bot is aware of, and it makes an order accordingly. In terms of delivery location, you can capture the user location using WhatsApp's location feature, which improves the user experience. Conversational experience and conversational commerce do have significant advantages over traditional e-commerce.
Finally, the bot integrates with CRM and another payment gateway to process payments. Despite the lack of an API, WhatsApp now offers a local payment option in Brazil and India. The worth of your bots will then increase tenfold as a result. 
The 5 Ways WhatsApp Can Boost Your Restaurant Business are listed below.
You put a lot of effort into creating delicious meals, only for a delivery aggregator to pocket a handsome commission of between 10% and 35%.
You can start selling directly to customers by cutting out the intermediary and providing your own ordering platform (all on a chat platform that they enjoy and feel comfortable using).
You can integrate with a variety of hyperlocal delivery fleet businesses that handle the actual delivery.
It's crucial to keep in mind that we provide a fixed platform cost rather than a per-order fee, ensuring that you always know how much you will pay.
2. Acquiring new clients
Delivery aggregators and platforms do have the benefit of bringing you new clients who haven't picked which restaurant to order from yet. In terms of a peer-to-peer recommendation strategy, I'm more likely to ask a friend on WhatsApp or Messenger, "Hey, what's the best Thai restaurant?" Once he or she responds, I'll look up that restaurant on Google, but what if they could just send me a WhatsApp bot number directly, preventing me from ever even leaving the app and lowering the drop-off rate?
In essence, you can own this market by being on the platform where the referrals themselves take place because a lot of discovery comes through recommendations.
3. Brand Loyalty
You may encourage customers to stick with your brand by providing some amount of discounts and cashback. Most notably, the Starbucks loyalty program increased sales by $2.65 billion. By linking customers to your environment, you may directly encourage client loyalty. 
Otherwise, customers will be loyal to the app but not to your company.
4. Customer Information
Having direct client data is something that greatly benefits your company. Customers can message you directly on WhatsApp, and as soon as they do, you have their names and phone numbers. Furthermore, since you are messaging them from WhatsApp, these are actual phone numbers. A phone number cannot be faked, and they have been "pre-vetted" in some way.
5. No-Contact Dining
The importance of contactless in-store dining will increase. You can provide customers who enter your store a QR code to scan on their phones to launch WhatsApp.
You can share a menu on WhatsApp and then start accepting orders. What's intriguing about this is that, in contrast to a website that does the same function, you also obtain targetable client information each time a menu is opened.
Here, you may experience a bot firsthand by testing it out. You may now create your Food Delivery bot by signing up directly on MsgClub We'd adore assisting!