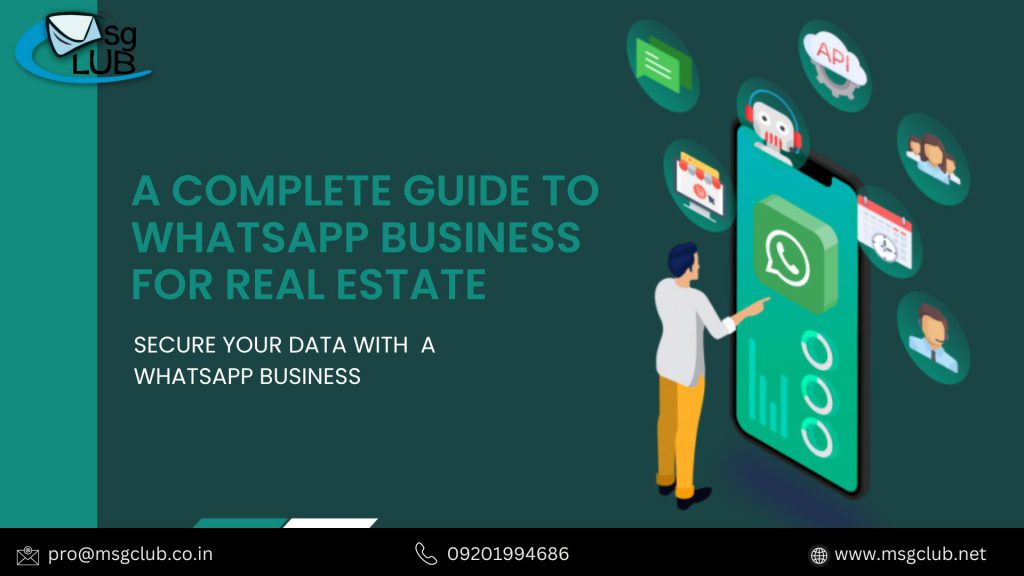 WhatsApp Business, WhatsApp Business API, Verified WhatsApp.
As with any business, it's crucial to establish trusting relationships with your clients.
It comes as no surprise that even real estate brokers should transition to chat marketing as individuals feel more comfortable communicating through messaging platforms.
While sending messages to clients is a great way for busy realtors to communicate with their clients, sending each message one at a time can take a lot of time.
For this reason, message templates are necessary to speed up the procedure and reduce manual labor. Additionally, you don't need to create the wheel from scratch for each and every conversation with a customer!
To send more messages in less time, let's look at the top real estate message templates.👇
Top message templates for real estate
Templates for greetings messages
In such a competitive space, your ability to make a favorable first impression on a potential client can have a significant impact on their decision to hire you as their realtor. First impressions are, after all, permanent.
You can use these examples as templates:
Hi Akash, Thanks for Subscribing to ABC Company's WhatsApp Communication List.
Reply <UNSUB> anytime to unsubscribe to this service.
XYZ Agency, This is Notification that you have opted into our commercial list via WhatsApp message.
Please reply to <UNSUB> to unsubscribe if you subscribed by mistake.
Using messages is a terrific approach to let your customer know whenever a new viewing occurs on their property. Compared to sending them an email, there is a far larger probability that they won't miss it with an open rate of 82%.
You can use these examples as templates:
Hi Prashant, a viewing has been scheduled at your property listing on 31/03/2023, At 10:30 AM.
Hi Ambar, I'll have your home valuation reddy in a few Days time. How would you like to receive it?
Templates for buying alerts messages
Send notifications to clients who submit bids or buy properties to inform them when their offer has been accepted. They are kept updated on the progress of their purchase thanks to this.
A sample you can use is this:
Great News Sushant, Your offer on Indore has been accepted, are you free for a call today.
Templates for Promotional Messages
Your clients will probably want to be notified of new viewings and listings that meet their criteria when buying a home. Keep them informed at every stage of the process through chat messaging.
You can use these examples as templates:
Did you enjoy viewing Bandra Click on to check out similar homes over at www.xyz.com. 
Hey Satish, we think that there are a few new similar listings to Lonavala which you might like. Would you like me to send them over to you?
12, 14, Houses around Ujjain are open for viewing this weekend. View them on www.xyz.com, and scheduled on appointment today.
Avinash, there's a new listing up at Delhi that fits your search for a 3 bedroom apartment, shall we arrange for a viewing soon.
Hey Ravi, The Listing at Ajmer has just dropped from 13,50,000 to 12,00,000. Would you like to find out more?
Reminder message templates
No-shows are unavoidable but can be prevented. Reduce no-shows by reminding your clients through text message before a property viewing.
You can use these examples as templates:
Hi Narendra, don't forget about your house showing at Bandra on 05/05/2023 at 12 PM, Text R to Reschedule.
Hi Avantika, your viewing appointment of Palasiya at 02/05/2023, 11:30 AM,
Has been confirmed, see you then.
Do you still have questions about WhatsApp Business despite your interest? Then we'd be pleased to assist you in setting it up! Email us at pro@msgclub.co.in to get in touch. Of course, you might also phone. We can be reached at +91 9201994686. Let's examine how Msgclub WhatsApp Business can benefit your restaurant as a group.