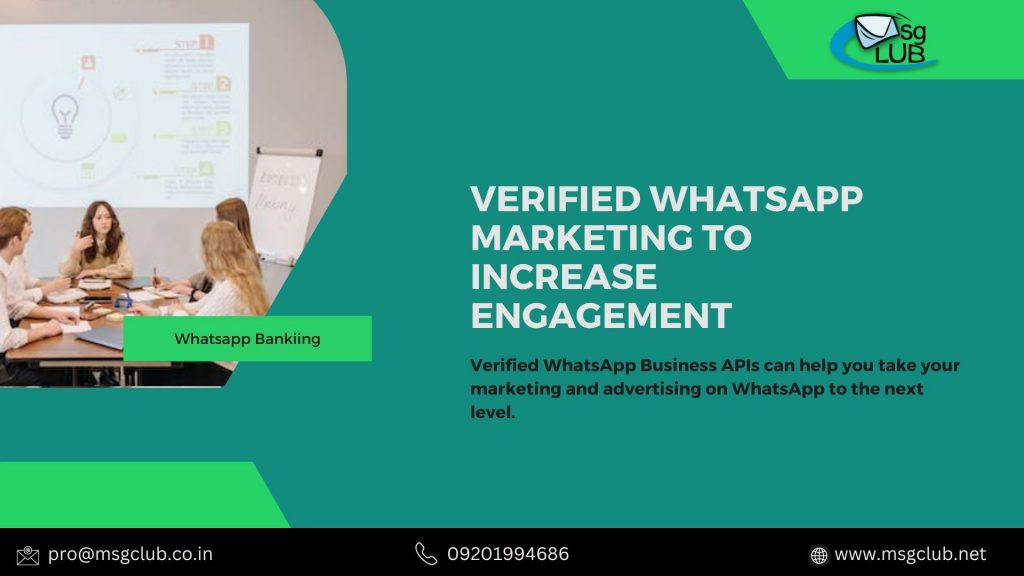 Verified WhatsApp, WhatsApp Business API, WhatsApp Banking
In most industries, chatbots and conversational marketing kicked off as nothing more than hype. Regardless of banking and finance, the trend now ranks among the top most effective business growth tactics.
While automated chats are at the core of this approach, messaging apps like WhatsApp are the unstoppable force driving its widespread adoption. More and more multinational banks, as well as local financial institutions, are leveraging WhatsApp to attract customers but also to improve the whole customer experience.
Given the growing importance of automated discussions in this industry, this article looks deeper into WhatsApp banking, including the "whys" and "hows," benefits, and the most successful ways to use WhatsApp in finance.
What exactly is WhatsApp Banking?
WhatsApp banking allows banks and financial institutions to serve and communicate with their customers using the WhatsApp messaging app, either through live conversation or through automated service in the form of a WhatsApp bot, in a comfortable and familiar setting.
The chatbot can use artificial intelligence (NLP) or a rule based communication structure. It's intended to provide support or services through chat and can be used for anything from lead generation to feedback collection.
Why is WhatsApp Banking more important now than ever?
Banking and FinTech are two of the most competitive businesses, with customers regularly complaining about a lack of accessibility, good customer service, speed, and resources.
WhatsApp banking addresses the major issues confronting banks and financial institutions:
Customer retention
The rising expense of customer acquisition
The expanding culture of quick pleasure and 24-hour availability
A growing number of competitors, including new FinTechs and digital banks
In this regard, WhatsApp automation is a true game changer since it allows for rapid and easy connection with your prospective and existing customers on an app that is already part of their daily routine, all without the expensive strain of developing bespoke platforms.
Banking used to be separate from the rest of the industry, cozy in its own bubble. However, it is now subject to the same scrutiny that shoppers apply to any other eCommerce or brand on the market. Amazon has raised the bar for customer care and contact, and no industry is safe to the rising bar.
Every business, large or small, is under the same demand to provide speed, convenience, and personalization at all times.
What is WhatsApp Banking?
WhatsApp banking is enabled through the WhatsApp Business API, which allows businesses to integrate their systems and services with the messaging platform.
Banks and financial institutions can use the API to create their own automated system from scratch, employ a no code WhatsApp API solution to expedite the process or hire a third party to build the solution for them.
The Advantages of WhatsApp Banking Services
Simply said, leveraging WhatsApp in banking helps institutions to provide an exceptional customer experience at scale. It allows you to keep things straightforward, timely, personalized, and consistent. But that's only the top of the iceberg.
Scalability & Reach
Bringing communication and services to WhatsApp allows businesses to fully leverage the messaging app's vast reach. It enables smooth growth as your business and messaging requirements expand.
Security
Finances are a sensitive subject that necessitates extreme caution. End to end encryption is already included in WhatsApp conversations. What is shared can only be viewed and accessed by the financial institution and the customer in question. Nobody, not even WhatsApp, can read the business correspondence in the middle. Furthermore, additional security mechanisms, such as payment and transaction protection, can be readily added to the automated script if necessary. 
Efficiency
Verified WhatsApp banking enables you to boost productivity by automating mundane actions and queries, freeing up your human agents' time and energy for issues and jobs that require human intervention.
Lower Customer Acquisition Costs
The advantages of WhatsApp banking extend beyond post purchase assistance. In reality, one of the most important and productive use cases WhatsApp provides is in the sales stage.
Improved Customer Service
Customers' expectations are rising year after year, as they demand the same level of service from all firms, whether they are interacting with their favorite retail brand or a bank. In fact, it's so important that banks that spend in improving customer experience expand 3.2x faster than their competitors.
WhatsApp business automation can assist you in accomplishing this!
Increased Customer Loyalty and Lower Churn
In this day and age, retaining customers is less expensive than acquiring new ones. According to the Harvard Business Review, boosting client retention rates by 5% improves profitability by 25% to 95%.
Because of the channel's continuity, WhatsApp automation has a high potential to reduce time to resolution.
Innovation Has Been Simplified
The usage of WhatsApp banking via the WhatsApp Business API facilitates and expands access to innovation. Instead of investing significant time and resources in developing new products from the ground up, financial institutions can expedite the process by partnering with third party no code suppliers.
Revenue Growth
Conversational banking, in general, has the potential to increase revenue growth by 25% while cutting costs by up to 30%, according to Accenture's Conversational Banking research.
Top WhatsApp Banking Applications
Without a doubt, WhatsApp can be a useful complement to your service. This section will go through all of the different ways you can use this solution throughout the customer journey and life cycle.
1. The Process of Generating Leads
WhatsApp is a simple tool for generating high quality leads. You can acquire client data by including a simple click to WhatsApp function in your ads or offering an opt in on your website.
When a lead opts in to learn more about your business, you obtain their name, phone number, and access to a contact channel that customers do not find difficult or irritating. Familiarity with WhatsApp helps in the development of trust.
2. Follow-up and Qualification of the Lead
After gathering contact information, you can proceed to the qualification or persuasion stage with ease. A simple message and a brief interaction with a WhatsApp bot can significantly increase your conversion rates. For example, our sales team employed WhatsApp automation for their outreach effort, which resulted in a 90% open rate, 25% engagement, and a response time of less than 4 hours, as opposed to email results, which hovered around 25% open rate, 5% engagement, and a response time of more than 24 hours.
3. Customer Onboarding
New clients frequently require time and guidance to understand and fully utilize services. A banking WhatsApp assistant can initiate a discussion with new customers and lead them through the onboarding process at their own pace.
4. Uploading Documents
Document upload and validation are essential components of finance onboarding. Customers frequently leave at this point because the procedure is either too slow and cumbersome or they are interrupted. WhatsApp may provide customers with familiarity as well as continuity.
5. Account Management & Services
With a few clicks, WhatsApp chatbots for banking and finance may assist your clients manage their accounts and facilitate requests such as account balance checks, credit card status, due payments, or transaction history.
This bot can be used as a stand alone feature or as part of a more comprehensive banking assistant.
6. Transfers and payments
Because cash is becoming increasingly scarce in daily transactions, most people require a rapid means to send and receive funds while on the go. The WhatsApp banking chatbot makes it simple to transfer money between peers or between people and organizations. Paying bills and giving transaction confirmations is more convenient, faster, and easier to remember now that their account is available via WhatsApp.
7. Personalized Financial Advice
WhatsApp assistant is also an excellent approach to provide customers with brief and personalized financial advice at any time and from any location.
Personal information such as transaction history can be used by institutions to analyze spending behavior and provide customized saving insights and computations, boosting clients' financial management abilities on the go.
8. Responding to Frequently Asked Questions
Most banks and financial organizations provide a variety of products and services, ranging from checking accounts to savings accounts to loans and discounts. Such information overload is frequently difficult to comprehend. A WhatsApp bot can assist customers in receiving answers to frequently asked questions and enquiries regarding interest rates, loan opportunities, credit limits, special offers, eligibility, branch or ATM locations, and other topics.
9. Send Out Updates and Reminders
Because the majority of users check WhatsApp on a daily basis, spending over half an hour interacting with the app every day, it's a fantastic channel for sending important notifications.
You can use WhatsApp banking to communicate information about new services and possibilities, as well as to send reminders about automatic payments or overdue invoices.
10. Customer Feedback
Feedback is the holy grail of any business that aspires to develop and succeed. However, gaining it is no easy task. Most customers disregard one once they have obtained what they require. WhatsApp comes to the rescue yet again.
The fact that WhatsApp users use it frequently and that replying to any message takes only a few seconds boosts the likelihood of customers responding to your feedback requests or surveys. This, in turn, provides you with information for improving your services.
To conclude everything up
WhatsApp is quickly becoming one of the most popular business communication platforms across all industries. Banking and financial services are not exempted.
The solution's ease of use and low cost enables financial institutions of all sizes to modernize their communications and meet the growing demands of modern customers. 
Case studies reveal that the success of WhatsApp conversational solutions is a recurring and repeatable occurrence that can be critical to corporate growth.
Do you want to know more? Check out MsgClub's Verified WhatsApp solution to see what it can achieve for you!