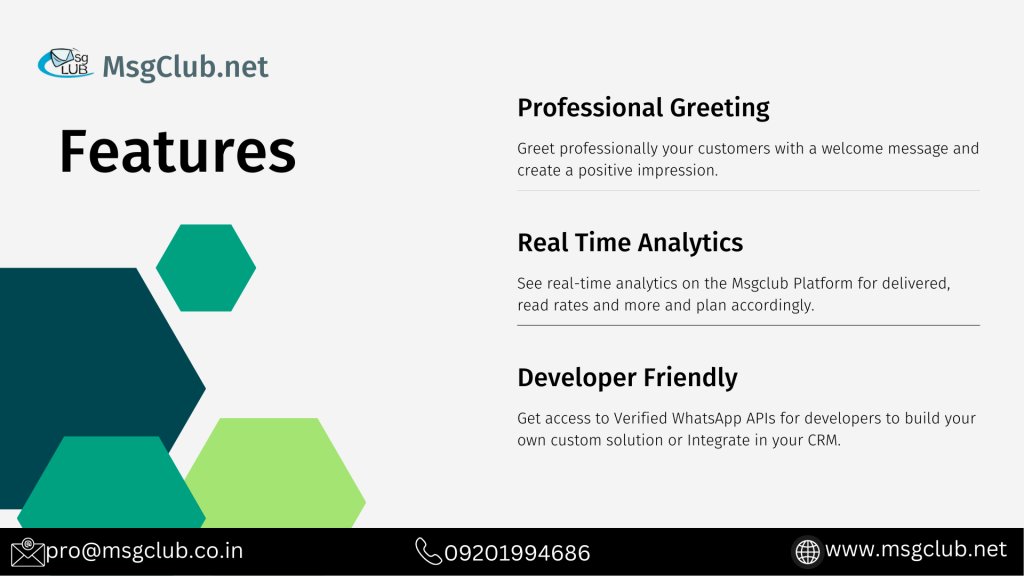 Guides, WhatsApp Business, Verified WhatsApp
How can you use WhatsApp Business to boost your marketing efforts?
What kinds of advertising and promotional messages may you send on WhatsApp, and what should you write?
Here are the top WhatsApp advertising messages and templates your company should be using.
WhatsApp business marketing/advertising is no exception to this rule.
With advanced text marketing tools that can help boost sales, the popular business chat app has the potential to be the driving force behind an organization's relentless growth.
One method is to use creatively written WhatsApp promotional messages or Whatsapp advertising messages. Indeed, they're so effective that, as you may have guessed, this isn't our first post about WhatsApp templates.
WhatsApp Templates: Business Automated Messages
E-commerce's Most Valuable WhatsApp Message Templates
However, in the next section, we'll focus solely on WhatsApp advertising and promotion messages.
Let's go right into what these are, how and when you can use them, and some WhatsApp templates you can customize for your business.
Important: According to the WhatsApp Business Policy, sending WhatsApp marketing messages to your clients requires prior consent from them. We'll presume you've already done so from now on.
Here are some examples of WhatsApp advertising messages:
WhatsApp Promotional Message: Back-in-Stock Alert
The first WhatsApp marketing message template we have for you is intended to be a follow-up rather than an initial approach.
These are delivered to people who previously contacted you about a certain item – usually your best-selling product – that was out of stock.
You will have obtained their contact information in some way, whether it was through texting your business on WhatsApp or filling out a form and granting approval for you to send them WhatsApp marketing messages.
It would be a shame not to capitalize on the user's expressed desire to stimulate a sale once the item is back in stock.
This is where you would contact them in order to send them a back-in-stock notification.
WhatsApp template:
BY POPULAR DEMAND… OUR [ITEM NAME] HAS RETURNED! THE FIRST 10 PURCHASERS WILL RECEIVE [INSERT DISCOUNT VALUE] FOR FREE!
Hello [user name], we're [brand name] and we have some exciting news for you!
Remember our [item name] that you looked at/enquired about a while ago but was unfortunately sold out? We're pleased to inform you that it is now back in stock and available in [number] different colors!
Not only that but as a token of our appreciation, we're giving the first ten buyers a 5% discount.
🔗 What exactly are you waiting for? Now available on our website: [link]
Alternatively, you can visit any of our retail locations to literally get your hands on them! We can be found at:
[a list of retail locations]
WhatsApp marketing tip: Include a graphic with your message! Because you get all the information you need in one glance, content on images is better absorbed and recalled. Furthermore, it facilitates sharing!
WhatsApp Promotional Message: Launch of New Product
You've advertised it, publicized it, and now it's here.
New product launches are another excellent incentive to send WhatsApp marketing messages.
Consider this: if a user has previously purchased from your business, he/she is already familiar with your store and is very likely to be interested in anything else you may have to offer.
WhatsApp template:
[Insert a catchy, attention-grabbing sentence about your new product, preferably with a pun.]
Introducing… our brand new [item name]!
You bought, you commented, and we listened.
We know how popular our [other goods] have been with you, so we've combined the best qualities of all of our products to create the all-new [item name]!
It's:
[List of value propositions for products]
Are you as excited as we are about this launch? Visit our website to learn more about them [link]
If you have any questions, please contact us!
WhatsApp marketing tip: Use incentives to create a sense of urgency. These can be bundles such as "buy three for the price of two" or refer-a-friend discounts, both of which are excellent word-of-mouth marketing strategies!
WhatsApp Promotional Message: Announcement of Collaboration
Aside from product launches, firms may utilize WhatsApp Business to deliver marketing messages connected to collaborations.
Whether it's a joint product giveaway with another company, a partnership with a well-known designer, or a commitment to a social cause, you'll want to keep your customers up to date.
This is especially true for the latter, as corporate social responsibility grows in importance. According to recent data, approximately 80% of consumers are more inclined to buy from firms that are dedicated to making the world a better place.
Though there are many various types of collaboration options, we'll focus on social responsibility collaborations in this WhatsApp template.
WhatsApp Template:
[Insert startling data demonstrating the social element of your brand's commitment to change.]
We believe in doing our part to change that/want to be a part of this change at [brand name].
That is why we have teamed up with [name of the organization and what it does]. Every purchase from our [collection name] from now on will go towards assisting [cause]. We will donate 10% of our profits to [name of organization].
We hope you will join us on this adventure and help [organization name] and their cause.
Visit our [collection name] at [link].
WhatsApp marketing tip: To get additional eyes on this, speak with the organization with which you're partnering to see if they can publicize the collaboration as well. Remember to schedule your marketing messages to go out at the same time.
Rebranding WhatsApp Promotional Message
Every brand requires a facelift now and then. If not to keep things fresh, it can help to get the firm back on track if it has veered off course.
The world's most recognizable brands have been renamed. As you may know, Facebook recently announced that as part of its rebranding, it will change its corporate name to Meta.
If you're contemplating a rebranding for your company, you should notify your customers.
Whether it's a corporate rename, a new store look, an anniversary, or anything else, keeping your buyers informed keeps them up to date on what's going on with your business. This way, customers won't be taken off guard the next time they visit your store.
Having said that, the nicest part about a rebrand is that it's the ideal time to launch a campaign, which builds touchpoints with your customers when you send out WhatsApp promotional messages.
Here's a sample message for a new store design that you can use and modify.
WhatsApp template:
WE'RE EVOLVING…
Out with the old, and hello to the new! We're thrilled to announce that our [brand name] online store now has a fresh new look!
Our products are still available in the "shop" section [link].
However, certain items have been rearranged and altered.
[Insert a list of major changes here]
We've done this to introduce a more natural method to navigate our store, and we hope it makes your buying experience with us more enjoyable!
What are your thoughts on our new look? Please let us know via WhatsApp – we'd love to hear from you!
the [brand name] group
WhatsApp marketing tip: Consider having a short promotion to give away product samples as part of the rebranding. This increases buyer interest and can also help you get rid of any old goods you may have laying around!
Conclusion
Using the Verified WhatsApp API, you may market your services in a variety of ways. However, it is your responsibility to prioritize a positive customer experience.
Businesses that strive for customer-friendly communication benefit the most from it.
If you have any questions about WhatsApp API Automation or WhatsApp Promotional Messages, please contact us at pro@msgclub.co.in.
Or are you looking to expand your business? then visit our site www.msgclub.net