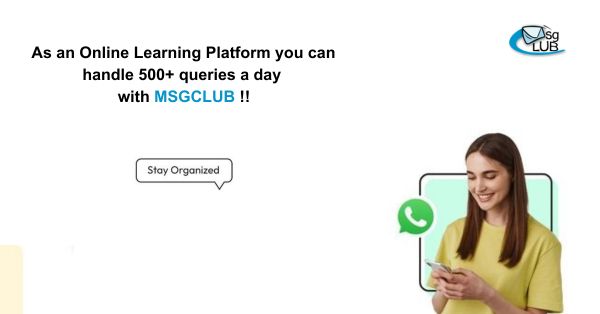 WhatsApp Business, Marketing, Verified WhatsApp
WhatsApp has the strongest reach in billion. There's no denying that WhatsApp marketing has enormous power. If you're wondering, "What kinds of WhatsApp campaigns can a business run?" Here are some successful examples to get you started.
There are many ways for a business to boost brand awareness, get new customers, and grow, ranging from email marketing and paid commercials to more traditional television ads.
The issue is in reaching out to them in new, creative, and inventive ways.
Look at WhatsApp marketing.
It has successfully leveraged its reach and potential.
If you're a business looking to exploit the messaging service but are running out of WhatsApp marketing ideas, keep reading.
In this piece, we'll look at four of the best WhatsApp advertisements to get you inspired. These have been recognised as some of the most effective WhatsApp campaigns ever deployed, so there's a lot to learn from them.
Check out some of the most creative WhatsApp Promotion Messages-
#1 Jonas WhatsApp Campaign No. 1: WhatsCook
Unless you're a culinary chef who can make a four course meal out of a can of tuna, a couple of eggs, and leftovers from the night before, this is one WhatsApp campaign you'll surely be able to relate to.
Hellman's mayonnaise brand used WhatsApp's messaging capability (and reach) to engage customers in an engaging experience.
Jonas' campaign, WhatsCook, was launched in Indonesia and consisted of offering users cooking assistance.
Users had to first sign up for WhatsCook on their website by inputting their WhatsApp numbers.
They then received a message from a real chef requesting them to send photos of the ingredients in their refrigerator. These cooks then submitted forward potential recipes.
That isn't everything. Jonas went above and beyond by utilizing WhatsApp's marketing tools, sending images and videos of each step of the recipe for users to watch and follow.
The end result? Success in spades.
More than 99.5% of those who connected with this WhatsApp marketing campaign were pleased. The average user also spent up to 60 minutes with the brand.
Indeed, the campaign was so effective that Jonas expanded its reach into neighboring nations such as Argentina, Chile, Uruguay, and Paraguay.
The WhatsApp campaign reached over five million individuals in total, and the website user sign-up rate for their service was a staggering 50%!
#2 Mari's WhatsApp Campaign: Hello, Santa.
The end of year Christmas season is the busiest time for the retail industry. While this implies that firms have a lot of sales opportunities, it also means that competition is strong.
To capture the attention of clients, some inventive thinking is required.
Mari, a South African department store, did exactly that.
Taking advantage of the hordes of shoppers, they started a WhatsApp campaign for a giveaway that needed customers to send a message to Santa (since, obviously, Santa is on WhatsApp as well).
As part of the WhatsApp campaign, users were invited to send a message to Santa first. Mari then emailed them a Christmas toy gift guide and asked them to choose a favorite toy from the list.
When they were chosen, they had to send another WhatsApp message informing Mari (or Santa) of their decision. By doing so, they were entered into a raffle to win various presents and prizes.
It's a basic WhatsApp campaign that can be simply programmed using WhatsApp bots, and the rewards are limitless.
Mari obtained a whole new list of customer connections, which they were able to utilize to sell some of their other services.
As an added bonus, it reminded customers of their availability on WhatsApp, which could be handy for any future customer care needs.
#3 Sofia's WhatsApp Campaign: Beat the Crave
You know how diets go: they usually start tomorrow.
Sofia, an Indian health card company, used WhatsApp to encourage healthier eating habits by discouraging participants in their WhatsApp marketing campaign from reaching for a snack.
It was part of a bigger promotion for the debut of a new active slimming product.
Users signed up for "Beat the Crave" by providing their WhatsApp number on their website. This provided customers with access to what the brand refers to as a "digital audio buddy." This buddy, like a good friend, kept users away from harmful foods.
Users could text their buddy whenever they felt a craving coming on, and the buddy would respond with a motivational text or an audio message to help them "beat the crave."
Rap music lyrics and nutritional tips are among the audio messages. Here are a some of the audio messages that people have received:
Take a step back and realize that it is only temporary.
My mouth was always full with food.
Brush your teeth if you have a night time food appetite. For a brief period of time, this causes an innate aversion to consuming anything.
You've got this!
The Sofia WhatsApp campaign was a huge success.
The brand assisted in satisfying nearly a million cravings, gained over 8,000 WhatsApp followers, and, most crucially, experienced a 394% boost in sales. They also provided people with alternate healthy recipes on their websites.
#4 Unique's WhatsApp Campaign: Comfort
Last but not least, consider how worldwide consumer goods company Unilever used WhatsApp marketing to advertise their new range of washing powder and liquid.
They began their WhatsApp Business campaign in Australia by putting up hundreds of posters throughout the city of Brisbane , asking users to contact a WhatsApp number that was listed.
People who sent a message were connected to a WhatsApp chat bot dubbed Bot.
She'd give visitors advice on how to care for their garments and leaped at the chance to promote unique's new products.
At the end of the interaction, Customers that connected with bot earned a 40% discount on the new products as well as free shipping.
unique had intended for the WhatsApp campaign to last three days. However, it was so popular that they decided to prolong it for another week.
Over 8,000 users interacted with Bot in the first 12 hours, exchanging 210,000 messages. By the end of the prolonged campaign, 380,000 messages had been delivered and received, and the company's revenues increased 16-fold over this time period.
Marketing on WhatsApp Using the Business API
As seen by these successful WhatsApp ads, the benefits of conversational marketing on WhatsApp are multiple.
Although WhatsApp campaigns can be launched on the free WhatsApp Business app, it is more difficult due to the limited functionality it provides.
The WhatsApp Business API, on the other hand, provides far more complex capabilities and opportunities. It also provides a slew of other Business level tools to help you improve your WhatsApp marketing approach.
If you want to understand more about the API and how it may help your brand, contact MsgClub, one of the top WhatsApp Marketing tools. We are an authorized WhatsApp Business Service Provider and would be delighted to assist you.