MsgClub's Smart Verified WhatsApp Business API allows you to register your company.
Make Verified WhatsApp your sales team's superpower.
Create long-lasting client relationships with MsgClub, which is the Smartest Verified WhatsApp Business API.
Lead Generation from Qualified Sources
Add a WhatsApp chat button to your website and Facebook/Instagram ads to receive inquiries from highly qualified leads.
Direct Lead Engagement
Begin communicating with your leads as soon as they sign up. Conversations with customers in real-time avoid lead leakage. MsgClub's chatbots are simple to create with a drag-and-drop interface.
Preventing Lead Leakage
Emails and phone calls receive very few responses. Within the first three minutes, more than 90% of WhatsApp messages are opened. WhatsApp is the most convenient way to keep in touch with your leads.
Qualification and Routing of Leads
Ensure that your leads are routed to the appropriate teams following qualification to ensure that they are speaking with the appropriate agents for optimum impact.
Personalized Promotions
Send personalized WhatsApp campaigns in bulk! Make certain that your customers make the most of your deals.
Integrations, both native and custom
Integrate your CRM, Helpdesk, and any other tools you use with WhatsApp to get the most out of the platform.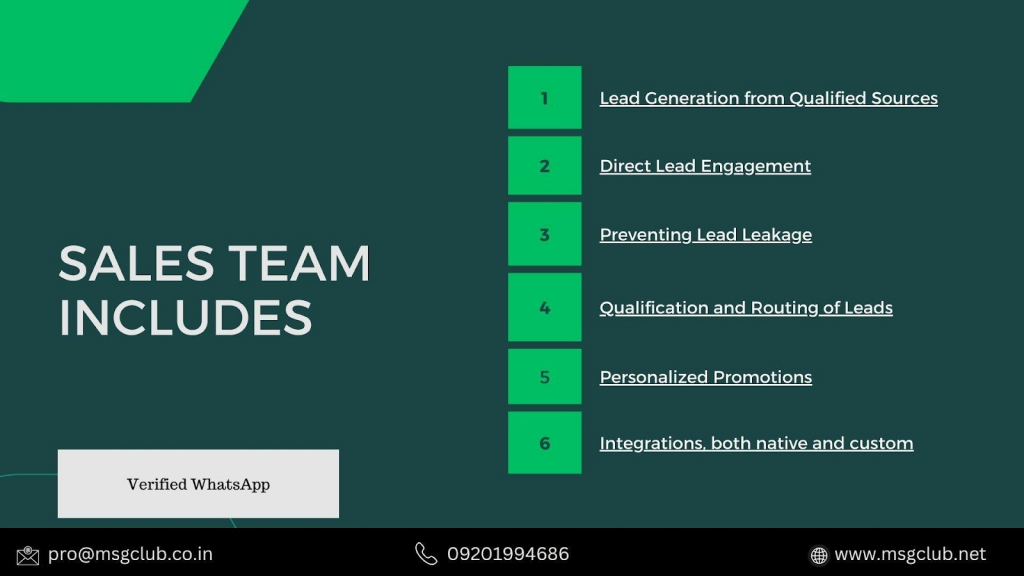 With MsgClub, you can accomplish more with less.
Improve Customer Engagement
On the MsgClub Verified WhatsApp engagement platform, bring together all of your customer-facing teams – Sales, Marketing, and Customer Success/Support.
Contextual Communication
Bring in an agent when needed without compromising the topic of the dialogue.
Native Integration
Integrate WhatsApp with your CRM, Marg, Ezee, and other systems to give your customers a more complete experience.
Improve Customer Satisfaction
Improve your CSAT scores by assisting your customers' favorite app.
And there will be no implementation of code.
MsgClub is intended to assist growing businesses. All it takes is a quick and easy drag-and-drop procedure.
Personalise Marketing
Personalize your offers and communications with your clients to build a stronger relationships and encourage repeat business.
Be present where your customers are.
MsgClub is the all-in-one consumer communication platform for Verified WhatsApp. MsgClub provides access to a single platform from which sales, customer care, and marketing teams may send broadcasts, template messages, and bulk SMS, as well as construct chatbots without writing any code and handling customer inquiries through a single team inbox.