WhatsApp Business, WhatsApp Business Api, Verified WhatsApp
The current pandemic crisis has affected – and continues to hit – several sectors hard, including real estate, which has forecast an 18% turnover reduction in 2020.
In this context, the real estate industry recognizes the need to reinvent itself and find alternative ways to digitize and engage with its target audience.
In this aspect, instant messaging apps like WhatsApp (particularly its Business version, which is developed expressly for businesses) enable you to communicate directly with customers at any time and from any location.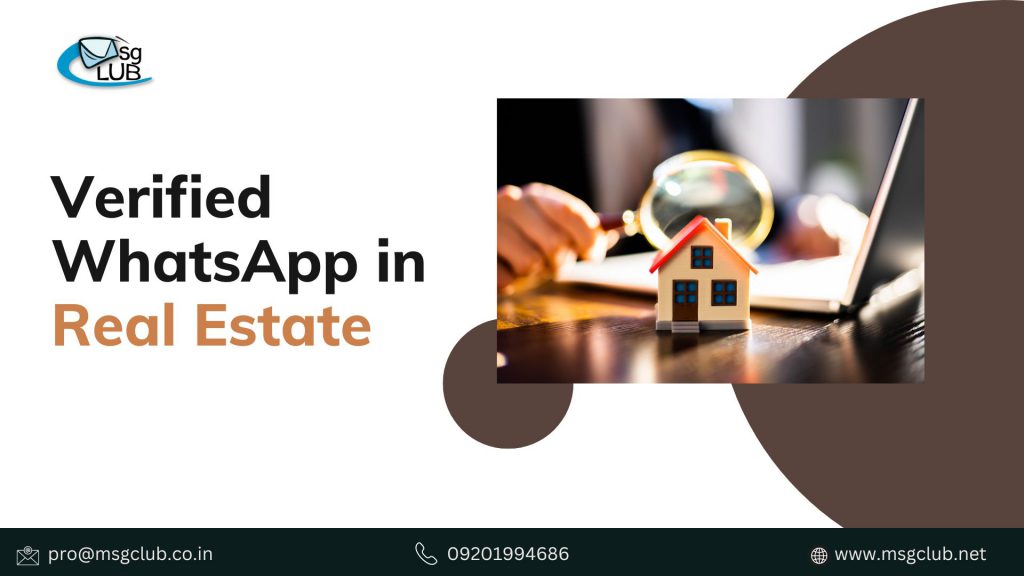 WhatsApp Business is the "corporate" version of the WhatsApp messaging service, designed for small and medium-sized business owners. A small business manager may easily connect with their clients using the app, in the same manner, they would interact with a friend through the standard version of WhatsApp, but with a few added features that allow automation, organizing, and quick message response.
Here's an outline of what WhatsApp Business enables you to do:
1) Create a company profile by providing users with all information about the business, such as contact information, opening hours, and location, similar to how Facebook pages work, you may create a more direct and informal interaction.
2) Display business analytics due to the analytics tool, you can easily access statistics about the contacts with whom the firm has connected, such as the number of messages sent, delivered, and read.
3) Bot configuration an artificial intelligence that is trained to reply to customer requests in an automated manner, saving time and resources spent on managing interactions.
4) Send catalogs and other documents with the option of using multimedia assets such as images, videos, voice messages, or links to product pages to make the communication more informative;
5) Display the company's distinguishing features With logos and slogans that make the brand easily recognizable by users.
WhatsApp has evolved significantly over the years, from a simple messaging app for individuals to a platform designed for businesses that allow you to make calls, video calls, send images, videos, and documents to customers for free and instantly.
Why use WhatsApp to market real estate?
The real estate industry is evolving, owing mostly to the introduction of new modes of communication, and it is adjusting to the use of these new technologies, such as WhatsApp, to sell residences.
In short, here are the following reasons why you should utilize the famous messaging software in its Business version:
1) Create broadcast lists:
Once you've connected with the new contact, you'll be able to add him/her to a broadcast list or send periodic messages to all of your subscribers with a single click.
2) High message open rate:
A large number of WhatsApp users read the messages they receive in a relatively short period of time, making communication far more effective and faster than emails.
3) Label all your contacts in the address book:
it is an effective tool for segmenting customers, such as differentiating a customer looking for a house from one looking to sell it, or labeling them based on the budget they have available, or the geographical area they are most interested in;
4) Use chat histories:
If you manage a large number of contacts or if a contact returns after several months, you may review all the ideas, comments, and objections or resume the negotiation from where it was left off due to the chats.
5) Communicate without time or space constraints:
WhatsApp removes these barriers as well as character limits and allows you to send photographs, audio, videos, and links related to the property for sale.
Real estate businesses can enhance customer loyalty by allowing them to contact the agency at any time, allowing you to build a trusting relationship over time.
Nowadays, managing real estate agencies after sales service through WhatsApp is a popular option among industry players: companies can send personal documents, such as IDs and notarial deeds of property purchase, in complete safety because each message is protected by end-to-end encryption.
You can share contact information for renovation professionals or offer assistance with utility contracts (electricity, gas, telephone, etc.). Furthermore, WhatsApp can be used to handle the post deed service.
The concept of using WhatsApp is very popular and widespread, but it is obviously built on a relationship that is not without dangers for both the agency and the client; it demands time, attention, and a trust and transparency relationship.
How MsgClub may help your real estate agency engage with clients
If your real estate agency wanted to build a trusting connection and communicate using WhatsApp, it would have to overcome the limitations of the regular WhatsApp programme.
One of WhatsApp's drawbacks is that it cannot be used by many devices simultaneously. This can be a major issue for any business that has a specialized sales or service team.
In this regard, Msgclub is the solution that fulfills the needs of any size real estate agency and allows you to manage a team of many agents. Simply invite your sales or support team to participate on the platform, and the chats will be automatically disseminated.
In addition to WhatsApp, you can combine all of the most popular instant messaging apps, allowing you to manage them all from a single, organized platform. Furthermore, you can use reply templates, tags, and a variety of other features designed to improve the collaboration of a sales or support team.
The platform also has a mobile version that your team can use to manage discussions directly from any smartphone, no matter where the team members are.