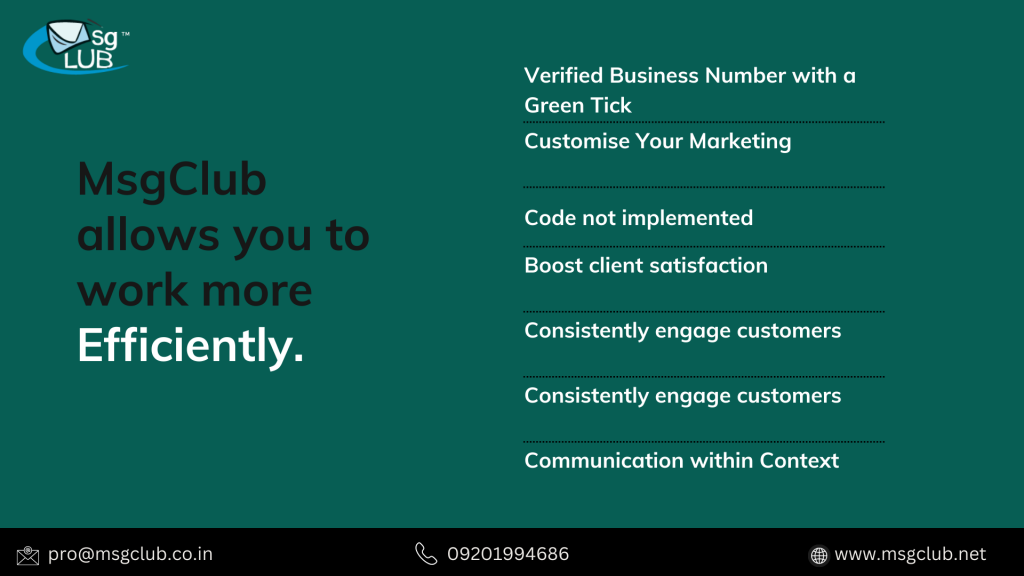 WhatsApp Business Guides, Verified WhatsApp
We've all heard the expression "first impressions are everything." This is especially true in the digital World of WhatsApp. When using WhatsApp for business, your business description will serve as your "first impression." As a result, it is critical to develop a decent description that not only attracts your customer's eye but also nudges them to contact you.
Because WhatsApp is the new go-to platform for client relationships, a decent WhatsApp business description can make or ruin your company. However, writing a good business description can be a difficult undertaking. So we thought we could assist. To help you get started, we've compiled a list of the "top 5" WhatsApp business description best practices with samples.
What is the definition of a WhatsApp Business description?
A company profile on WhatsApp contains a few key elements that your consumer will notice as soon as they open your contact. This includes your address, email address, website, business hours, and a description of your company. The remaining titles are self- explanatory, but what is a business description?
A WhatsApp business description is essentially an overview of your firm, including vital information about your organization and brand. It allows clients to discover more about your company and motivates them to act. A business description is the first impression you will make on your customers, thus it is critical that you get it correctly.
Best practises for WhatsApp business descriptions
How can you get the correct WhatsApp business description now that you know what it is? This stage is quite straightforward. You must follow the two rules outlined below while writing a business description.
Let's get to the point.
Customers who contact you over WhatsApp are most usually looking for content that is simple to read and understand. They don't want to open your business contact and be bombarded with endless paragraphs and jargon. As a result, keep your description brief, concise, and to the point.
Incorporate a "call to action"
If a consumer is already on your company WhatsApp contact list, you know they're interested. At this point, the correct push could be what pushes that buyer over the edge. And the greatest method to do that is through your company description. After a brief introduction, invite the customer to engage with/contact you.
You may also use a few auto-generated text templates to reinforce the call to action and inspire your clients to take the initial step.
Examples of WhatsApp Business Descriptions
So far, we've learned what a WhatsApp business description is and how to write one that's effective. Because a business description has the twin aim of exposing your brand and encouraging customers to take action, writing a decent one can be difficult. Let's have a look at the "top 5" business description kinds and examples provided below.
1. Strengthen the sales pitch
When your customer looks at your WhatsApp contact, the first thing they will notice is the business description. So why not include a superb sales pitch that quickly draws them in? Customers can be rather hesitant to make the initial step, and in such cases, a decent sales pitch can do wonders to help them reach out to you right away. Even better is a sales pitch followed by a call to action!
Example: "From our farms to your kitchen counters, we deliver the highest quality fruits and vegetables." Reusable packaging for fresh and organic produce! Please contact us for additional information about our products, prices, and packaging."
2. Think business casual
When using WhatsApp for professional communication, keep in mind that most interactions on the platform are in casual language. This indicates that your business description should be friendly in nature. Consider business casual. This can be accomplished by eliminating jargon. Use basic terms that are easy to understand and will help you come across as a friendly business.
Example: "We are your one stop shop for all things unisex." Our stores are open daily from 10 a.m. to 9 p.m. Get your best outfit on!"
3. Special occasions call for creativity.
Special events and festivals, on the other hand, call for some pizzazz. This means that whether your company provides food, gifts, or other services at festivals and other special events, you should be creative with your business description. Experiment with creative ways to express your brand's ethos that go beyond a basic statement. This will help you stand out from the crowd and capture the attention of your customers.
Example: "Express your love this Valentine's Day with our collection of handcrafted gifts." We are quite busy this time of year, so please allow us 48 hours to respond. "Happy Valentine's Day, sweethearts!"
4. Be customer- obsessed
When a customer decides to buy from a brand, one of the things they seek for is a positive customer experience. You must demonstrate to your clients that your brand prioritizes providing exceptional customer service in addition to doing business. This not only encourages customers to choose your brand, but it also ensures that they will return for more.
Example: "We provide high-quality luxury wear in all sizes, from head to toe." Can't decide on a color or a style? Visit our local location to be fitted for the perfect outfit. Please contact me to schedule an appointment!"
5. Allow your brand to shine through on a continuous basis.
A business description will be the identity that will function as the familiar face that users will see every time they open your contact. This familiarity will boost your customers' trust and loyalty to your company.
But how can they accomplish this if your brand changes slightly or totally every time they come across it? This is why you must ensure that you continually incorporate your brand identity throughout your description. Create a recognisable profile in which your brand is the focus.
Example: "From jewelry to ceramics, we ship handcrafted gifts all over the world." Each product is unique and quirky, and it is handcrafted with love and labor. Order today to ensure that your gifts arrive on time!"
Finishing up
Your WhatsApp business description is arguably the simplest technique to capture the attention of your customers. It must be carefully created with knowledge, curiosity, and sufficient stimulation for customers to contact you.
In this article, we explored business description best practices with examples to serve as a guide(MsgClub) to assist you start writing outstanding business descriptions.