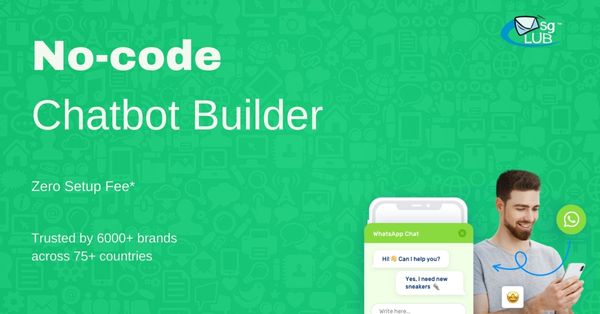 WhatsApp Business, WhatsApp Business API, Verified WhatsApp
The Verified WhatsApp chatbot for real estate is made to provide customers with a smooth experience by quickly replying to their inquiries while also saving resources for your company.
MsgClub's real estate WhatsApp chatbot is basically a computer program created and intended exclusively to help real estate buyers and sellers with their inquiries about availability, location, and costs. 
Real estate companies get a lot of inquiries because they handle a lot of property units. Such questions can not only be promptly answered by a real estate WhatsApp chatbot, but a support agent can also smoothly step in to answer more complicated ones. This enhances both the general response time and the level of customer care offered.
Other important goals attained by WhatsApp chatbots include:
24/7 customer service
Interactive real estate property marketing
automatic lead generating
Qualifying leads round the clock
Support in multiple languages Help with making the buying, selling, and renting of homes easier
greater efficiency
Real Estate Use Cases For WhatsApp Chatbot
WhatsApp is the most widely used messaging programme in the world, with 2 billion monthly users. It comes as no surprise that it has evolved into a vital tool for companies offering outstanding customer service and increasing lead conversion. Here are some of the most crucial use cases for real estate WhatsApp chatbot you need to be aware of if you work in the real estate industry and are curious about how chatbot technology can help you generate more business.
1. Lead Generation
Generating quality leads for a real estate business can be quite exhaustive considering the cutthroat competition. Additionally, losing a potential lead because of poor communication results in the loss of a business opportunity. The WhatsApp chatbot for real estate handles everything, from welcoming visitors to providing information on several property listings based on price, location, and amenities to responding to consumers' questions.
An excellent method to interact with customers on a platform they are already familiar with is by using a WhatsApp Chatbot. It enables real estate brokers and businesses to gather lead information including name, contact information (phone and email), budget, number of rooms, and location.
2. Lead Qualification
The next stage after lead creation is lead qualifying. Chatbots for WhatsApp can help ask specific questions that make it simple for the business to divide the customer base. Additionally, lead qualification enables them to locate high-value clients for selective servicing.
Multiple customers can be served at once by a conversational WhatsApp chatbot without having to wait for a live agent to respond to their requests. Instantaneous reaction and this level of automation enable real estate companies to save operating expenses while boosting client satisfaction.
3. Site Inspection and Verification
Clients may quickly book a site visit using the chatbot once the real estate chatbot qualifies the lead as a potential buyer for the property. In addition, chatbots can assist you in scheduling meetings with potential customers. To accomplish this, they can ask the visitors for a convenient time to book the appointment after first giving them important details about the agent or company connected to the property they are interested in viewing.
Additionally, the bot can record the time and date and, if necessary, direct the user to a real estate agent for more in-depth communication. Additionally, businesses and representatives can program the chatbot to automatically send follow-up emails to every potential client via their preferred channel, like SMS or email.
4. Automated Scheduling
After generating and qualifying a lead, arranging a site visit is a crucial next step. With a WhatsApp chatbot for real estate, you can avoid the headache of endless email chains and back-and-forth calls with customers. Companies can give them reminders on or near the day of the visit in addition to scheduling visits on WhatsApp.
5. Tours of virtual properties
To give potential leads a virtual tour of the property, real estate agents can use WhatsApp chatbots. This is especially useful for allowing international customers or long-distance leads to view the properties from any location in the world. Additionally, WhatsApp bots help real estate agencies save time by promoting unfinished properties to encourage pre-booking of properties that are still under construction. Customers can quickly request information based on city, zip code, or neighborhood.
6. Document Delivery
The process of submitting documents is incredibly time-consuming and difficult in real estate property transactions. It is incredibly easy to submit a whole set of documents using a WhatsApp chatbot without the customer having to go through the trouble of standing in queue or chasing after the estate agents to have them submitted and approved.
7. Establish Long-Term Customer Relationships
Providing excellent customer service and fostering strong customer connections are vital parts of the real estate company. Companies and agents can engage with their clients in the language of their choice with the help of a real estate WhatsApp chatbot. It enables businesses to establish far more cordial, informed, and attentive contact with clients right away and assist them in locating the property in the location they're looking for.
8. Track Conversations
Compared to standard phone and email interactions, this is a significant benefit of WhatsApp chatbots. They keep a record of every exchange that takes place between the user and the chatbot. When a real person takes over the lead to clinch the sale, this offers the business a priceless edge. It enables them to read the entire log, comprehend the entire conversation, and provide better customer service.
9. Property Submission
The benefit of a WhatsApp real estate chatbot is that it enhances both the buyer and seller experiences. Real estate agencies can utilize chatbots to enable sellers to provide all the necessary details and materials for customers to advertise and sell their homes, in addition to answering some of the most fundamental queries. This enables real estate organizations to drastically cut down on the amount of time spent manually compiling all the necessary data, enhancing their ROI through cost savings.
10. Reminder for Payment
Sending payment reminders via a WhatsApp chatbot is another application for real estate. For multiple property-related tasks, including pending payments, EMIs, and upkeep, customers can receive simple reminders. The company's existing financial system can be simply integrated with the API using real estate chatbot templates for WhatsApp, and if any of the dues haven't been paid on time, automatic reminders may be sent. It is an efficient technique to make sure you don't have to manually chase customers who have unpaid balances. 
11. Reliable Post-Sale Assistance
A WhatsApp chatbot for real estate is a powerful tool for providing first-rate post-sale support at a low cost. Even after the transaction is finalized, the new owners or tenants could have a number of questions and concerns, ranging from assistance in locating nearby amenities to recommendations for a plumbing provider. Such problems and inquiries can be readily addressed by a real estate WhatsApp chatbot in a cordial way. Either completely automate the procedure, or let the bot transfer more difficult inquiries to be handled by people. The WhatsApp chatbot for real estate unquestionably raises customer pleasure.
Simply Put
Customers need individualized and practical customer service from the firms they deal with in today's technologically advanced world. The employment of a WhatsApp chatbot for real estate can be utilized to actively assist customers by responding to their questions, generating qualified leads, and scheduling appointments with agents for property visits and associated inquiries. Companies and agents who wish to lower customer support costs, produce more qualified leads, and boost the overall ROI of the business may find it useful.
The complexity and option selection of the WhatsApp chatbot template for real estate should be heavily influenced by the specific business requirements of the organization. For instance, creating a scripted bot is best for a company that needs a chatbot to be available 24/7 to respond to simple customer requests. As opposed to this, a firm that wants its chatbot to carry out more complicated duties, including following up on leads, validating leads, and making tailored recommendations to clients, would benefit from having custom AI or a platform-based chatbot.