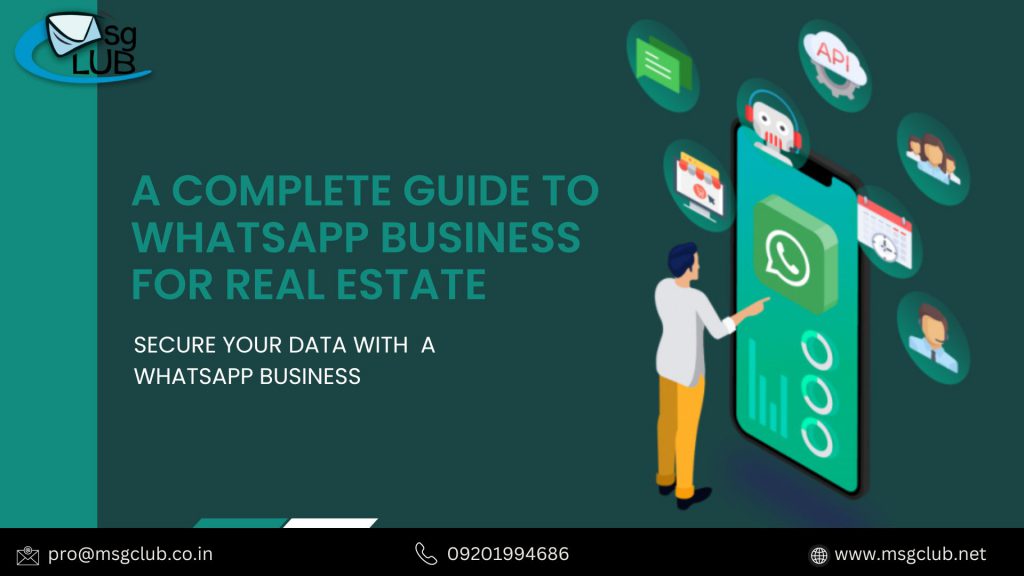 Whatsapp Business, WhatsApp Business Api, Verified WhatsApp
With over 2 billion active users, WhatsApp has become one of the world's most popular communication applications. It is a straightforward and easy-to-use tool for instant messaging, audio and video conversations, and file sharing. Because of the app's adaptability, it has proven to be an excellent tool for organizations, particularly those in the real estate market. This essay will go through the advantages of using WhatsApp for real estate and why you should link it to the MsgClub Platform. Finally, we'll go through some best practices for using WhatsApp for real estate.
What is the purpose of WhatsApp in real estate?
WhatsApp for real estate is the use of WhatsApp as a medium to enhance communication and collaboration among real estate brokers, buyers, sellers, and other real estate stakeholders.
Real estate brokers can use WhatsApp to reply to client enquiries quickly and deliver personalized service, resulting in better customer satisfaction and sales performance.
WhatsApp for Real Estate Offers Advantages Over Traditional Channels
WhatsApp's enormous popularity is one of the primary reasons why it is a popular choice for real estate brokers. WhatsApp is the most popular messaging app in the world, with over 2 billion active users globally.
This implies that real estate brokers may communicate with clients and prospects through a channel that they are already familiar with, which can assist to develop trust and facilitating communication.
Overall, WhatsApp is a versatile and useful tool for real estate professionals, with various advantages over traditional communication methods such as SMS or email.
To begin, consider its instant messaging features. Real estate brokers can use WhatsApp to reply to client inquiries and offer timely property updates, which is especially vital in the fast-paced business of real estate.
It enables them to communicate with clients and prospects in real time, which might help to accelerate the sales process.
WhatsApp now supports multimedia messaging, allowing real estate professionals to send clients and prospects photographs and videos of homes. This is an effective technique to promote properties and provide clients a greater feel of what they're looking at in order to enhance interest and, eventually, sales.
At last, using WhatsApp can assist real estate agents in developing a better rapport with potential clients, which can lead to higher levels of customer satisfaction.
To handle communications at scale, real estate companies should employ a WhatsApp solution for multiple users. In general, they should create a WhatsApp API account and connect it to a platform like MsgClub.
Best Practises for Using WhatsApp in Real Estate
Because the WhatsApp API lacks an interface, it must be linked to a messaging inbox or software to send and receive messages. MsgClub's platform is customer conversation management software that enables businesses to manage all of their messaging channels in a single location.
But that isn't all. In this part, we'll go through some of the best practices for using MsgClub's WhatsApp Business API in the real estate business.
With MsgClub's WhatsApp Inbox, you may send messages across any channel.
Customers frequently contact real estate agencies through many messaging channels, thus an omnichannel inbox is more handy than a WhatsApp inbox.
The MsgClub's WhatsApp inbox allows businesses to manage all client queries from messaging platforms such as WhatsApp, Facebook Messenger, Google Business Messages, and others in one place.
This centralization can assist agents in responding to enquiries more efficiently and lessen the likelihood of any requests being missed.
Realtors may boost customer satisfaction and loyalty by providing a seamless and uniform customer experience across all messaging channels. Occasionally, Contact messages the company through multiple channels, resulting in duplicate profiles. Let's look at how to simply resolve this problem.
Identify Contacts Correctly on Any Channel
Merging Contacts enables businesses to detect and combine duplicate client profiles, as well as consolidate all of a customer's information into one location. This allows agents to access all essential information about a client, such as past inquiries, preferences, and history, resulting in improved customer service.
Real estate agents can use this tool to remove duplicate customer profiles and ensure that all client data is accurate and up to date, allowing real estate organizations to avoid communication errors and enhance overall customer data quality.
Merging contacts also helps agents streamline customer communication because they just need to handle one customer profile rather than several profiles. This can result in more efficient communication and fewer missed communications.
Automate Common Real Estate Processes with WhatsApp
When you connect WhatsApp API to MsgClub's Verified WhatsApp, you may streamline many of the regular activities conducted by real estate organizations. Here are a couple of such instances.
Lead Collection on WhatsApp Business for Real Estate
For customer chats, WhatsApp has a few chat access points. A real estate company, for example, can develop a WhatsApp link and put it on its website to collect leads. Businesses, on the other hand, can use a WhatsApp QR code to collect leads from their actual location.
Another efficient technique to convert website visitors into WhatsApp leads is to use a WhatsApp widget. Real estate businesses can add other popular messaging channels to give customers more options.
You can also use WhatsApp click-to-chat advertisements to get leads from Facebook and Instagram. Offer a free consultation or property evaluation to everyone who approaches you via WhatsApp, for example.
WhatsApp Business for Real Estate: Answer Frequently Asked Questions with a WhatsApp Menu
To begin answering frequently asked questions (FAQs) about real estate using a WhatsApp menu, determine the most commonly asked questions by consumers, such as inquiries about financing possibilities, types of homes available, and the purchase process.
Then, using Workflows, MsgClub's Bot automation builder, create the FAQ menu. Customers can interact with the menu once it is set up by picking the question they wish to learn more about. Then, they should immediately receive the relevant information or be directed to an agent who can answer their question in greater detail.
Automate House Viewing Appointments with WhatsApp Business for Real Estate
Create an interactive Workflow to guide leads through the process of scheduling a house viewing appointment. The Workflow could ask a number of questions to acquire information about their preferences before recommending available dates and times for watching.
Integrate a virtual tour of the house into the WhatsApp Workflow so leads can view it before scheduling an in person appointment. This could save agents time and reduce the number of unwanted appointments.
Send Follow-up Notifications via WhatsApp for Real Estate
Create a Workflow to deliver a message to customers following a house viewing appointment. To collect qualitative data, you may, for example, use the Rating Step and an open ended question to solicit input.
Finally, after selling the residence, you can send a congratulations message to the customer. A personalized statement thanking them for their business and wishing them well in their new house can be included.
Real estate agents want to have control over when follow up notifications are sent. In such circumstances, it's best to create a Workflow with Contact Tag Updated, Contact Field Updated, or Shortcut as a Workflow Trigger.
Integrate your CRMs with WhatsApp Business for Real Estate.
CRMs are used by some real estate firms to maintain customer information, manage sales processes, and for other purposes. Instead of juggling between MsgClub's platform and your preferred CRM when speaking with customers, integrate them to allow your agents to work more efficiently.
You will then be able to sync customer information across both platforms. This has several advantages, the most important of which is the ability to retrieve data from your CRM to augment MsgClub's platform Contact Fields.
Here's another example: When a prospect expresses interest in a property listing on your company's website, your CRM can identify it. Then, it can notify your sales team on MsgClub's platform so that they can follow up as soon as possible.
Send Promotional Messages with WhatsApp Business for Real Estate
In WhatsApp, real estate agents can create a broadcast list to send messages to multiple clients at once. Clients who have expressed an interest in a specific area or property type, or who have already dealt with the agent, may be included on this list.
When a new property becomes available, real estate agents can send an email to their broadcast list informing clients of the new listing. Details such as the property's attributes, location, and price, as well as any relevant images or videos, can be included.