The pandemic of COVID-19 has had a huge impact on the E-commerce industry. Many physical establishments have been forced to close or reduce in-person shopping due to regulations and safety measures. As a result, internet buying has increased, as has the desire for online shopping possibilities. It has also hastened the adoption of innovative technologies such as contactless payments and customer service chatbots and virtual assistants. Many firms have also had to alter their operations to match the needs of an increasingly online consumer base, such as adding or upgrading home delivery options and offering virtual consultations or shopping experiences.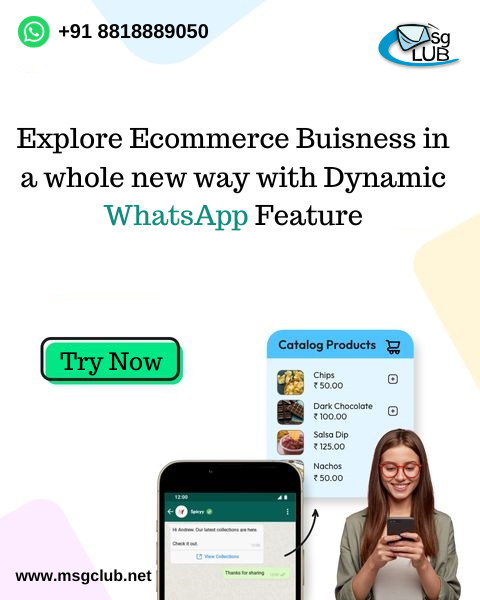 When shopping in physical stores, customers used to enjoy engaging with store employees. Online stores, on the other hand, are often impersonal. Brands can compensate by using conversational commerce, which allows for more personalized connection with customers through message or chat functions. This can help to provide a more personalized buying experience, similar to prior in-person contacts.
One of the most significant benefits of conversational commerce is that it enables businesses to interact with their customers more directly and effectively. Customers can send a message and receive a response from a business in real-time rather than perusing a website or an app to discover what they need. This is especially useful for answering inquiries or giving support because it allows firms to swiftly and efficiently handle consumer problems and requests.
What is the significance of WhatsApp marketing for businesses?
WhatsApp messages have a 98% open rate and a 45-60% click-through rate, which is 5 times higher than emails and SMS. It comes as no surprise that an increasing number of firms are prioritizing WhatsApp as a marketing medium.
WhatsApp statistics you should be aware of:
WhatsApp is one of the most popular messaging apps, and you most likely have it installed on your phone, but how well do you know it? We'll now show you some WhatsApp statistics that you may not be aware of.
In an Instagram post, Zuckerberg revealed that WhatsApp reached a record 25 million messages per second during the FIFA World Cup 2022.
WhatsApp has the most active users of any messaging service.
WhatsApp users spend an average of 18.6 hours each month on the service.
WhatsApp is especially popular in Latin America and India, where it is used by more than 75% of smartphone users in both regions.
In just one year since its inception, WhatsApp Business has attracted over 5 million business accounts from the Google App Store alone.
WhatsApp is being considered by businesses since it is a popular messaging platform with a vast user base. Furthermore, WhatsApp includes a plethora of features that make it ideal for corporate communication, such as the ability to form group chats, share files, and make voice and video calls. Businesses may save time and costs by using WhatsApp to connect with clients and consumers in real time and more efficiently.
What exactly is WhatsApp API? How should it be used?
WhatsApp API is a programming interface that connects organizations' systems to WhatsApp to send and receive messages. The WhatsApp API can be used for a variety of purposes, including
Sending customer notifications
Providing customer service
Client communication is being automated.
Businesses must first apply for access to the WhatsApp API and receive approval from WhatsApp. They can use the API to transmit messages through their systems and servers once they have been accepted. MsgClub can assist your company in simplifying this procedure.
Businesses may use WhatsApp to engage with consumers, automate messaging and customer care, and integrate WhatsApp into their workflow and systems thanks to MsgClub. MsgClub's capabilities include the ability to send and receive messages, establish and manage contact lists, track message delivery, and monitor API usage.
The following are the advantages of WhatsApp marketing for Ecommerce businesses:
Wide reach:
With over 2 billion monthly active users, WhatsApp is a strong tool for addressing a huge audience.
Personalization:
Businesses may send personalized messages to clients through WhatsApp, which can help develop trust and enhance customer engagement.
Simple communication:
WhatsApp allows businesses to speak with clients in real time, which can be beneficial for answering inquiries, giving customer service, and informing them about new items and promotions.
Cost-effectiveness:
Because it does not require any additional advertising expenditure, WhatsApp marketing is often more cost-effective than other forms of marketing.
Increased conversions:
By engaging clients on WhatsApp, businesses can enhance the possibility of conversions and generate purchases.
Increase brand awareness:
WhatsApp enables businesses to develop and distribute content with their target audience, which can aid in brand awareness.
Increase customer loyalty:
By communicating directly with customers via WhatsApp, businesses may strengthen their relationships and increase customer loyalty.
Create leads:
WhatsApp can be used to collect leads and client information, which you can then utilize to better target marketing efforts.
Improve customer service:
Businesses can utilize WhatsApp as a customer service tool, allowing them to reply to client enquiries and address issues promptly.
Improve brand reputation:
Businesses can improve their reputation and create trust by communicating with customers in a clear and open manner using WhatsApp.
Overall, WhatsApp marketing is a successful and cost-effective strategy for Ecommerce businesses trying to reach and engage with customers.
How WhatsApp API can help Ecommerce companies:
Customer service:
You may utilize the WhatsApp API to provide customer service via the messaging platform. This can help to shorten response times and boost customer satisfaction.
Order updates:
Businesses can send order updates to clients via WhatsApp API, such as order confirmation, shipment updates, and delivery confirmation.
Abandoned cart reminders:
WhatsApp API can be used to send abandoned cart reminders to clients who have left products in their online shopping cart but have not finished the purchase. This can help to boost conversions and sales.
Promotions and discounts:
You may utilize the WhatsApp API to send promotions and discounts to clients in order to entice them to buy.
Product recommendations:
The WhatsApp API can be used to offer clients personalized product recommendations based on previous purchases and browsing behavior.
Back-in-stock alert:
Using the WhatsApp API, buyers may be notified when their favorite items are back in stock by sending them reminders.
Overall, the WhatsApp API may assist eCommerce organizations in improving customer communication, increasing conversions, and driving revenue.
How to Begin Using WhatsApp Business API for Ecommerce:
Follow these steps to get started with the WhatsApp Business API for Ecommerce:
To begin, you must create a WhatsApp Business account. You will need a business phone number and a confirmed Facebook Business Manager account to do this.
The next step is to create your WhatsApp Business API account. To do so, go to the WhatsApp Business API page and click the "Get Started" option.
After you've created your WhatsApp Business API account, you'll need to get your hands on a WhatsApp Business API client. There are various companies that provide these services, and you can pick one that best suits your demands and budget.
You must incorporate a WhatsApp Business API client into your Ecommerce platform once you have secured one. You will now be able to send and receive messages over the WhatsApp Business API.
Finally, you must set up your messaging templates and modify your settings so that you can send messages to your clients in accordance with WhatsApp's regulations.
Following these steps will allow you to get started with WhatsApp Business API for your Ecommerce business and begin utilizing it to boost customer communication and generate sales. If these procedures are too difficult for you, why not let MsgClub help you by joining up for our free trial?
Best practices to follow while utilizing the WhatsApp API for Ecommerce:
Secure needed consent:
Before sending messages over WhatsApp, make sure to secure particular consent from customers. This involves obtaining their consent to receive messages and clearly stating how you intend to utilize their data.
Personalize your messages:
Make your messages to clients feel cherished and trustworthy by personalizing them. You can achieve this by addressing them by name, mentioning previous purchases, or personalizing messages to their specific interests.
Be on time:
To provide good customer service and keep consumers interested, respond to customer enquiries and messages as soon as possible.
Use automation carefully:
Automation can be great for speeding customer interactions, but it must be used wisely and in a way that does not appear impersonal. Use automatic communications sparingly, and add personalized greetings as well.
Monitor and analyze your performance:
Track the success of your WhatsApp marketing activities and identify areas for improvement using tools and statistics. This can aid in the optimisation of your plan and the improvement of your results.
Protect customer data:
Take precautions to safeguard client data and guarantee that it is utilized properly. This involves gaining consent before collecting data and adopting data storage and transmission security measures.
Customer preferences must be respected:
Customers' preferences for communications frequency and substance should be respected. Ensure that consumers who no longer wish to receive messages have the choice to opt out, and avoid sending irrelevant or persistent messages.
Improve your strategy:
Monitor and analyze the success of your WhatsApp marketing activities, and make any necessary adjustments to optimize your approach.
Conclusion:
WhatsApp marketing is critical for Ecommerce businesses looking to contact and engage with customers in a cost-effective and efficient manner. The WhatsApp API allows businesses to integrate their systems into WhatsApp and automate client communication, which can help improve customer experience and manage messaging operations.
Ecommerce Businesses that want to utilize the WhatsApp API must first apply for access to the API and then choose a business solution partner, such as MsgClub, to help them create and manage their account. Businesses can use Verified WhatsApp API to send and receive messages through the service and profit from its capabilities to streamline customer interactions once established. Businesses may use WhatsApp API to increase sales and improve customer experience by following best practices, tracking, and analyzing their progress.